10 Websites Software Testers and QAs Should Bookmark
DZone 's Guide to
10 Websites Software Testers and QAs Should Bookmark
Title pretty much says it all, doesn't it? Take a look and see if there's any websites you may not already have in your favorites.
Join the DZone community and get the full member experience.
Join For Free
Software Testers and QA enthusiasts need their share of the latest happenings in the software industry and the information bank of the trends and practices being followed by the masses.
Here, we have compiled 10 websites that you need to follow this year for the most updated information about testing software, conventions, and bug fixes.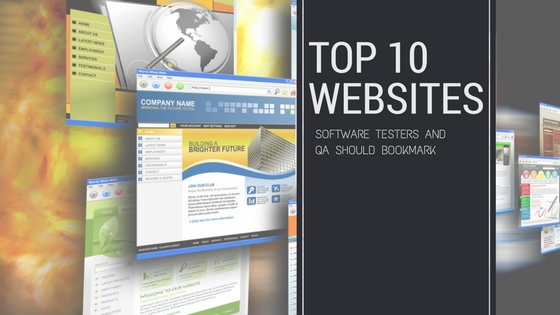 http://www.softwaretestinghelp.com — This website is the one-stop shop for almost all of your needs as a software tester. With more than a million monthly views, this is the most recommended site to be visited frequently for updates on software tutorials, certifications, manual testing, automation testing, interview questions, testing templates, quality assurance, job openings, Agile testing, test design techniques, books to read, and much more.
http://www.softwaretestpro.com — Software Test Professionals is an online community of testing and QA enthusiasts who provide insights to about 50,000 professionals globally. The website contains research-based material like whitepapers, news from the industry, articles, information on events and conferences, and more.
http://www.ministryoftesting.com — This is a UK-based platform run by Rosie Sherry, a leading influencer of the Software Testing industry. You can follow her articles on LinkedIn here. She focuses on creating a collaborative community through her website and shares important updates on events, conferences, and useful insights on software testing as an industry. She also features a wide directory on her website that showcases test management tools, testing tools, and test service providers.
https://www.utest.com — uTest is a professional network that binds more than 200,000 testers from around the world. It provides a platform for freelance software testers to get paid projects and enhance their skills and knowledge base too. The website offers two memberships: as a Full User giving access to the tester community and paid projects, and as a Light User with access to the tester community only.
http://www.testingexcellence.com — This website mainly provides to its visitor's information pieces and tutorials on testing. For the latest software testing trends and alerts on testing strategies, join this website. They also inform their visitors of the common interview questions and the probable questions in the ISTQB examination.
https://huddle.eurostarsoftwaretesting.com — This online platform aims to bring different QA and testing enthusiasts into the same ambit with events like EuroSTAR Software Testing Conference. Visitors get standard quality resources from the industry's thought leaders through forum conversations, local meetups, user-driven software testing events calendar, and Special Interest Groups formed for the promotion of Software Testing. They also indulge in a number of webinars, fun games, and surveys all around quality assurance and testing.
http://searchsoftwarequality.techtarget.com — This is a community of developers, architects, and executive professionals interested in building high-quality software through rigorous testing and QA practices. The areas the website covers are Software Project Management, Software Testing, QA, Application Performance Management, Application Lifecycle Management, etc. They provide an unbiased view of all the latest trends, introductory content for newbies, and changes and revolutions in the testing industry.
http://www.guru99.com — Guru99 is apparently the most trusted and reliable source of knowledge for the QA and testing topics. With a huge list of learning resources and a vast library of information around test management, performance testing, enterprise testing, mobile testing, and security testing, this website has a whopping 7+ million people joined with it for their training needs. Their vision is, "Fun & Free Education for ALL".
https://www.dzone.com — If you love software testing and would love to contribute to the community, Dzone.com is the place for you. With over a million members the community provides information about the latest advancements in test automation, test management, DevOps, etc. You are free to share articles and announcements and also join the team as an MVB (Most Valuable Blogger).
http://www.teatimewithtesters.com — This is the most widely-circulated software testing magazine which provides comprehensive understanding and knowledge of the testing industry. With regular updates, the website gives professionals a continual chance of learning and growing.
These are the top 10 websites that any Software Testing Services provider and Quality Assurance enthusiast must follow for enhancing his knowledge and know-how of all of the testing industry.
Topics:
software testing ,software testers ,qa engineers ,websites ,performance
Opinions expressed by DZone contributors are their own.
Performance Partner Resources