11 Secret Agile Tools Every Product Manager Should Know
DZone 's Guide to
11 Secret Agile Tools Every Product Manager Should Know
These tools may be less well-known, but that certainly doesn't make them invaluable. Some of them might even be just what you are looking for.
Join the DZone community and get the full member experience.
Join For Free
We all know by heart the must-have tools for agile product managers – InVision, MixPanel, JIRA, Slack, ZenDesk and Trello. They are amazing tools: not only do they provide the essential, oxygen-like services for a growing product team, but they keep developing and coming up with new features that allow them to reign supreme in a crowded, competitive environment.
That said, there are a variety of smaller, more niche-oriented tools that don't always find their way into the spotlight, but can be just as helpful. Between user testing to simple device syncing that will make your life that much easier – here are the ones you don't want to miss out on.
1. Build Trackable Links with Effinamazing
An end to the chaotic spreadsheets and tracking which UTM was built for each campaign. Effinamazing can help you build, track and manage your UTMs and also integrates with Google Spreadsheets (so that any previous tracking monsters can be poured in and out) and Bit.ly.
2. Network from Your Inbox with Rapportive
Rapportive integrates with your Gmail and displays the Linkedin profile of whomever has popped into your inbox. This way you can instantly network with anyone you are corresponding with, without schlepping to LinkedIn, looking them up, and spending the best years of your life on finding the right Brad Smith out of a million.
3. Shape Your Product from Idea to MVP with Craft
It's an amazing feeling, to work on your product using your product. Craft is a tool by product managers for product managers, bringing together all aspects of the product development process in a friendly, customizable way. On our team, we use Craft for everything in product improvement and feature development: ideation and discovery, story mapping, prioritization, task management and team communication on the different aspects on the product development.
4. Improve UX with User Testing
User Testing are one of the most affordable user testing solutions out there at this time. They have access to over 1 million users worldwide. The way it works is that users record their actions and narrate their experiences out loud as they try out your product. It is the only tool I know that allows you to hear users' experiences directly from them, and not have to depend on analyses and interpretations.

5. Sync Devices with Pushbullet
You know how sometimes you wish you could simply bump two devices together to transfer a photo or link? It all seems so close, and yet you have go through all those actions. Pushbullet makes a lot of those actions obsolete, and syncs content efficiently between devices. "Never send yourself another link again." Deal!
6. GrooveHQ is a Terrific Help Desk Solution
I'm a fan of ZenDesk myself, but I know other people prefer more compact solutions. Groove HQ is just that – a smart, easy-to-use customer support solution for small teams. It is affordable, easy to master and offers a variety of help desk products to be that spoonful of sugar to help customer support go down.
7. A/B Test with Optimizely
I've looked, but I still can't find an A/B testing platform to beat Optimizely. Their simple, accessible approach to A/B testing is worth every penny. If your product or website is focused enough to start testing for user experience, functionality and navigation, Optimizely is a good place to start. Plus, their new Optimizely X module for web experimentation looks really promising.
8. Boost Diagrams and Flowcharts with Lucidcharts
I was sure I had everything I needed with regard to flowcharts in PPT – until a friend introduced me to Lucidchart. These guys really found a way to make flowcharts…fun. There, I said it. What I especially like about Flowchart is that they offer professional tools for high powered business analysis users alongside simple tools for laypeople like myself. You can then export the flowcharts you create (REALLY easily) and embed them in presentations.
9. Understand Users Better with Hotjar's Heat Maps
Similarly to CrazyEgg, Hotjar offer a reliable, solid tool for tracking user paths on your product or website via heatmaps. At Craft, we rely on heatmaps heavily for product optimization. Heatmaps are an critical part of our improvement process – they are like an X-ray for user patterns and preferences, reflecting exactly where users get stuck, which are the best CTAs and which areas in the product are rarely visited.
10. SurveyMonkey's Neat and Effective Customer Surveys
SurveyMonkey is one of the best survey services out there at the moment. They have a comprehensive, smartly modular survey solution that can really make a difference in customer service. Harvesting user feedback is essential to touching base with users in the agile process. Their main advantages are a neat analysis system and the friendly backend for survey design.
11. Open Source Gamification Done Right with Mambo.io
Mambo is funky because it's 1. A platform gamification for customers and not just employees, and 2. Open source, and as such very flexible and modular. I have heard recommendations of Mambo left and right and am yet to actually try it, but quite a few of my peers speak highly of it and vow it shows results, in terms of user engagement and satisfaction.
Bonus Tool: Dexy.it: Do Documentation the Way It Was Meant to Be
Get Dexy.it now, your R&D team will thank me later.
---
DZone Editor's Pick: Markup Hero: Capture Ideas and Communicate Clearly
Markup Hero is a screenshot and file annotation tool that product managers use for a slew of use cases. From QA to product requirements, mockups to wireframes, giving and getting feedback and much more. Markup images, screenshots and PDF's with a range of annotation tools like arrows, callouts, boxes, ovals, text and highlights. The product is lighting fast, easy to save and edit markups and makes sharing a breeze. It will almost certainly be a handy addition to your product team toolbox.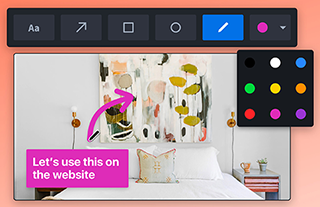 ---
Topics:
agile, collaboration, product management, product management tools, software development, time to market