3 App Monetization Strategies to Earn More With Your App in 2019
3 App Monetization Strategies to Earn More With Your App in 2019
We take a look at three things developers can do to better monetize their applications and officially get their side hustle going.
Join the DZone community and get the full member experience.
Join For Free
January is the perfect time to rethink your monetization strategy and map out new milestones for the year. Here are three mobile app monetization strategies which definitely have the potential to boost your revenue in 2019.
2018 proved the fact that everybody knew but refused to admit. We are hooked on our smartphones. An average US user spends over three hours per day with their mobile device in hand which is 10% more than the previous year. This time is expected to go up and reach an astonishing 5-6 hours in 2019. Can you believe that?
This ubiquitous obsession with mobile devices has positive upsides for app developers above all others. The fact is that 90% of mobile minutes are spent on mobile apps.
Even though everyone thinks that users don't like spending money on apps, the statistics show otherwise. Last November, Candy Crush Saga generated $59 million dollars only within the Google Play Store. With its $37 million, Tinder took third place in the list of 10 most profitable Android apps of November 2018.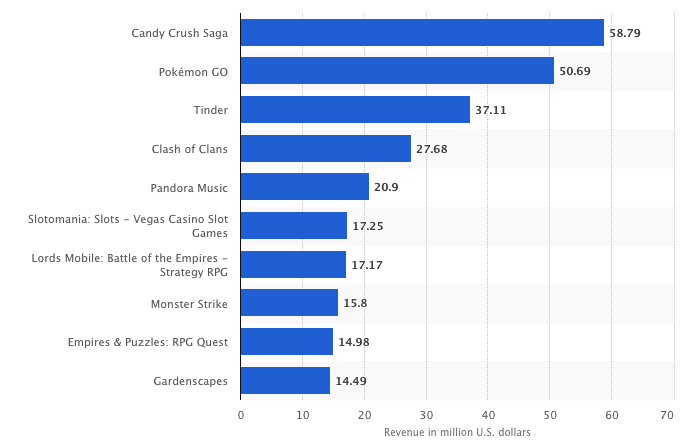 Source: Statista
App Annie predicts that consumers' in-app spending is expected to surpass $76 billion globally (which is 20% more than in 2017). The numbers don't lie – if we really like or get used to a specific app, we don't mind paying for it. Good news for mobile app monetization, isn't it?
Unfortunately, the moment of glory doesn't last forever. So you should make the most of what the industry gives you right now. In this article, we gathered three easy-to-implement strategies which will certainly help you earn more in 2019.
Mobile App Monetization Strategy #1: Data Monetization
Data Monetization is one of the non-obvious ways of effective mobile app monetization. In our data-driven era, data helps set up the right direction for business development or improve existing products and services for the better.
The quality of users' data is able to reveal hidden insights about consumers. For both online and offline companies, these insights are the key to the betterment of businesses that may turn into flows of revenue.
And here is where app developers come into play. Where do users hang out today? You are absolutely right – in mobile apps! Mobile apps have access to a tremendous amount of user data. However, data monetization is not all about user data.
Mobile app monetization with data means collecting, segmenting, and transferring the non-personal identifiable information about users to the data collectors. Data monetization has nothing in common with personal information. Though with data monetization all your users stay anonymous.
Among the basic non-personal information that data collectors usually gather are:
Device type
Device version
Screen size
Mobile operator
Network Type
Country
As this mobile app monetization method works only with non-personal identifiable data, collectors are usually looking to buy it in bulk. The more non-personal data they bring together, the more precise it becomes. This is why apps with a significant number of daily active users (DAU) have a higher priority for data collectors.
With data monetization, the story is as simple as this: the more daily active users you have, the higher your revenue will be.
Hence, if your app has less than 10,000 DAU you should keep scaling up your user base. When your app reaches at least 50,000 DAU, add a data monetization SDK to your app and enjoy your earnings.
There are two different ways to monetize your in-app data:
Sending data to the collector directly.
Opting for intermediaries.
First, the data can be sent to the data collector directly. For doing this, you need to find trusted companies looking for data and implement their SDKs into your app.
The situation with this type of mobile app monetization is slightly reminiscent of ad mediation — the more data collectors you have in a pool, the more data you'll monetize.
Second, you can look for the companies that are also known as intermediaries. Intermediaries are already partnered with global brands, telecom companies, research institutes, marketers, etc.
For example, AppGrow operates as an intermediary. When creating a specific SDK for the app developer, they will put all their supply into it. As a result, you avoid SDK bloat and eliminate the risk of unmonetized inventory.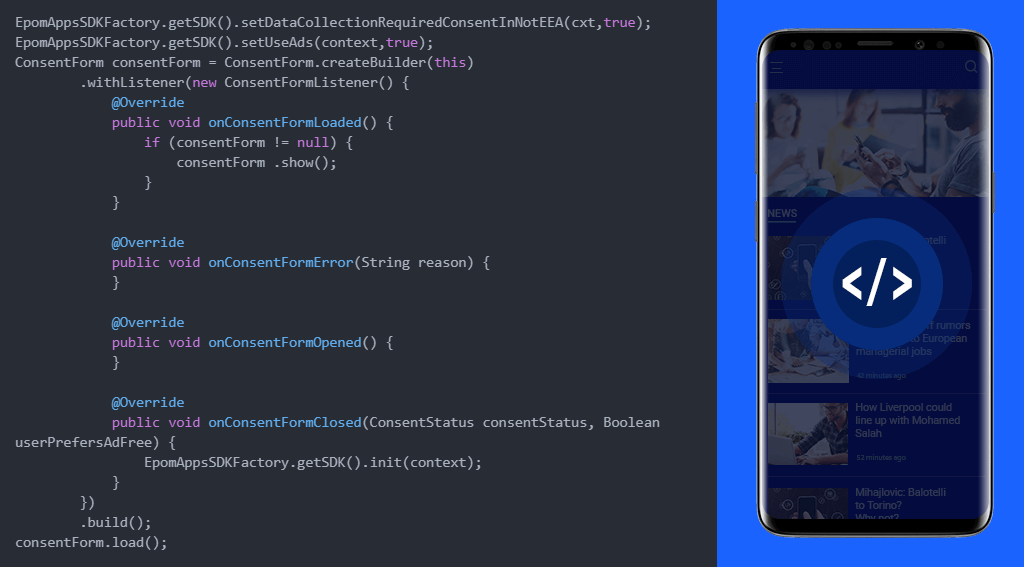 The most important thing to keep in mind is that this type of mobile app monetization calls for users' consent. You have to always ask users for their permission to gather their data. Always prepare a user's consent form like the one above and add it to your code.
Your users will see it when opening your app and decide whether to share their data or not.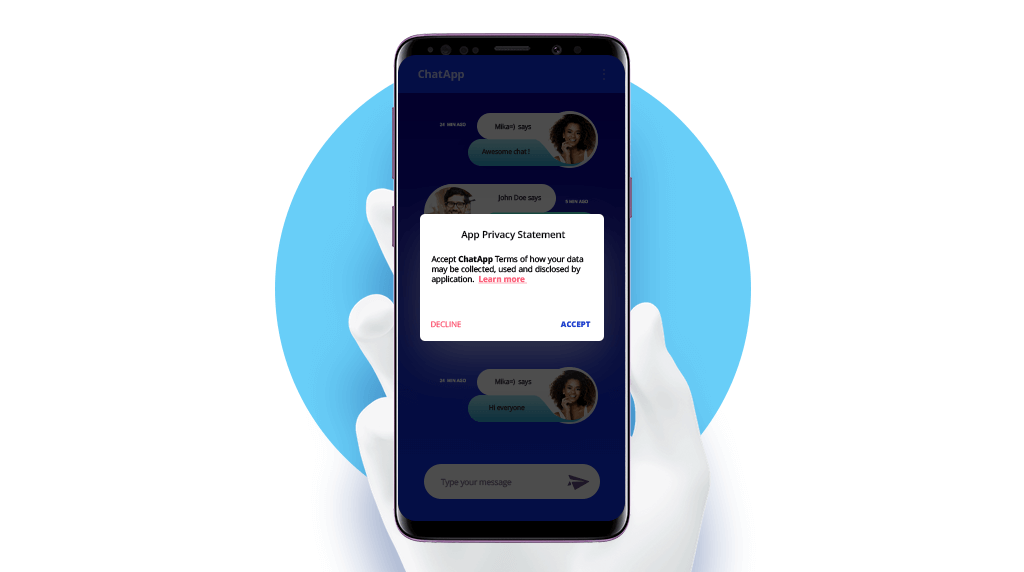 The best part of mobile app monetization with data is that you don't have to monitor and optimize the process. Once added to your app, the data monetization SDK will start generating ever-growing revenue without any effort from your side.
What Are the Main Benefits of Mobile App Monetization With Data?
Data monetization suits any category of mobile apps. So whether you roll out a mobile game or utility app – the data monetization SDK will drive stable earnings for your app.
As the competition in quality data is not so enormous yet, CPMs are way higher than in mobile advertising.
The data collection takes place in the background of the app, so the user experience stays untouched.
From month to month, you'll get paid for every user who agreed with the data collection consent. So you will receive payments for the same users again and again.
The SDK for mobile app monetization with data is only 50KB and it doesn't provide battery or memory consumption.
Data monetization doesn't affect your existing SDKs. So you can run it separately or alongside in-app ads.
Mobile App Monetization Strategy #2: Native Ads, Smart Banners, Rewarded Videos
As the amount of time which users spend on apps has increased, they have become one of the most effective channels for driving conversions. After advertisers and brands have revealed that in-app inventory performs well, they started to shift their budgets from the web to apps in 2018.
App Annie estimates that in-app advertising spendings will triple and reach $201 billion by 2021. Because of massive investments coming from advertisers, the app industry is expected to become the third biggest economy on the planet by 2021, providing ground for more efficient mobile app monetization.
In-app traffic is considered to bring higher user engagement among the targeted audience. This is why CPMs for in-app impressions cost more than web traffic.
Even though mobile app advertising is no novelty in the digital market, the industry keeps evolving. And so do various ad formats.
In-app users do not like to be distracted from their in-app activities. So advertisers more often opt for native ads and other non-intrusive yet high-paying ad formats. Native ads wear a tailor-made design that perfectly suits the app environment. They don't affect UX or user loyalty while remaining an ever-growing mobile app monetization driver.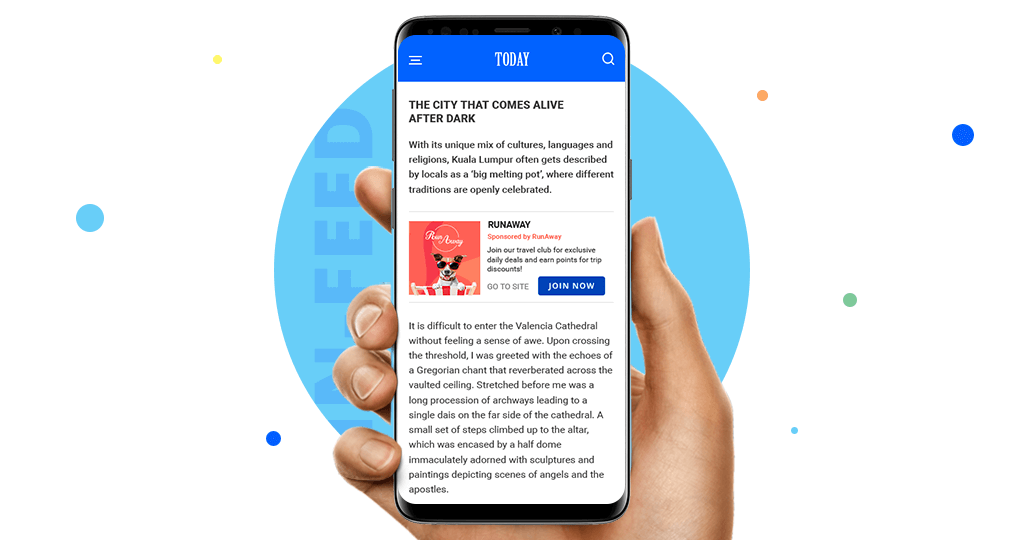 Another rising ad format is the smart banner. The smart banner is an upgraded version of a standard mobile banner. While good-old banners have fixed sizes, width and height, smart banners dynamically adjust to the size and orientation of the mobile screen.
Whether the app is used in the portrait or landscape orientation, smart banner ads change their width automatically to achieve better user experience.
According to the IAB video ad study, half of the advertisers are going to increase their spendings on digital video, mobile video, and Advanced TV. Mobile video is the fastest growing video ad format. Among the various types of mobile videos, rewarded videos have been dominating the mobile market in 2018.
Watching ads in exchange for in-app rewards entices people to spend more time on your app. As a result, mobile app monetization blooms and in-app revenue coming from ads increases. The best part of it is that rewarded videos don't interrupt users' in-app activities; users are the ones who decide whether to watch an ad or not.
A few tips to consider when implementing ads for your mobile app monetization:
Analyze the interests and behavior of your users before going live with specific categories of ads.
Think of the place and time for ads to be shown. Make sure that ads don't affect the UX in a negative way.
Try different ad formats to discover the most engaging and cost-efficient ones.
Don't overload your app with ads.
Try out ad mediation with a bunch of demand partners added to maximize your in-app revenue.
Mobile ads bring ever-increasing revenue and you can always choose by yourself how many ads and which ad units to insert in your app in order to optimize mobile app monetization efforts.
Mobile App Monetization Strategy #3: Reconsidering Good Old In-App Purchases
If you are not into ads, in-app purchases are a tried and true mobile app monetization strategy to bring your revenue to the next level. In-app purchases include different items that you can sell in your app. For example, exclusive features, virtual currency, extra health, or any other consumable things that can be spent in your app.
Subscriptions and freemiums are also types of in-app purchases. Freemium combines a free-to-install app and an opportunity to upgrade this app to its premium version.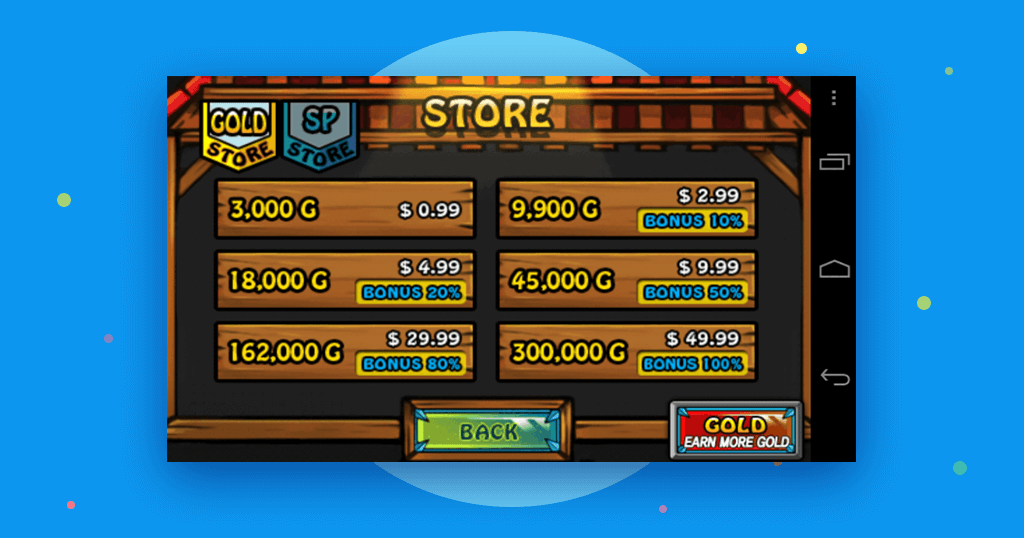 A lot of apps use this strategy, even well-known companies like Spotify Music, Tinder, and Evernote. In November, Tinder earned around $37 million by offering users an upgrade to its Plus and Gold versions.
Subscriptions are often applied as mobile app monetization strategies for video and audio streaming apps, fitness apps, cloud services, and online magazines like The NY Times.
Today only 5% of users spend money on in-app purchases. It sounds frustrating until we turn this number into a yearly income of $86 billion that iOS users invested in mobile purchases in 2017.
Maybe you feel skeptical or guilty when charging your users? These numbers will help you relax: the average monthly in-app spending on gaming apps is $0.32/user, and $2.68/user on shopping apps. Doesn't sound like that much, right?
The real challenge of mobile app monetization with help of purchases is gathering a base of users where $0.32/user will turn into a solid revenue for your app.
In-app purchases work only in the case when users understand the real value of an item that you offer.


Make sure your offer is worthy of its price and won't make your users look for a free alternative to replace your app. Think of which type of in-app purchases will suit your app, and reconsider embedding them into your mobile app monetization strategy in 2019.
All-in-all, in 2019 mobile apps will continue to be a goldmine for their creators. Today is literally the best time to optimize your mobile app monetization mechanism and make the most money with apps. Choose any of the three mobile app monetization strategies and let it bring never-ending revenue to your pockets.
mobile app
Data (computing)
ADS (motorcycle)