30 Day Testing Challenge
DZone's Guide to
30 Day Testing Challenge
The Ministry of Testing has called all testers to take a 30-day testing challenge. Check it out and think about joining in.
Join the DZone community and get the full member experience.
Join For Free
Easily enforce open source policies in real time and reduce MTTRs from six weeks to six seconds with the Sonatype Nexus Platform. See for yourself - Free Vulnerability Scanner.
The Ministry of Testing has called all testers to take a 30-day testing challenge. For each day of July, there is a new task to do related to the world of testing. At Abstracta, we decided, since we test Monday through Friday anyway, why not join in on the fun? The challenge will ultimately help us to become better testers, which is what we always strive to do.
Tasks and Schedule of the Testing Challenge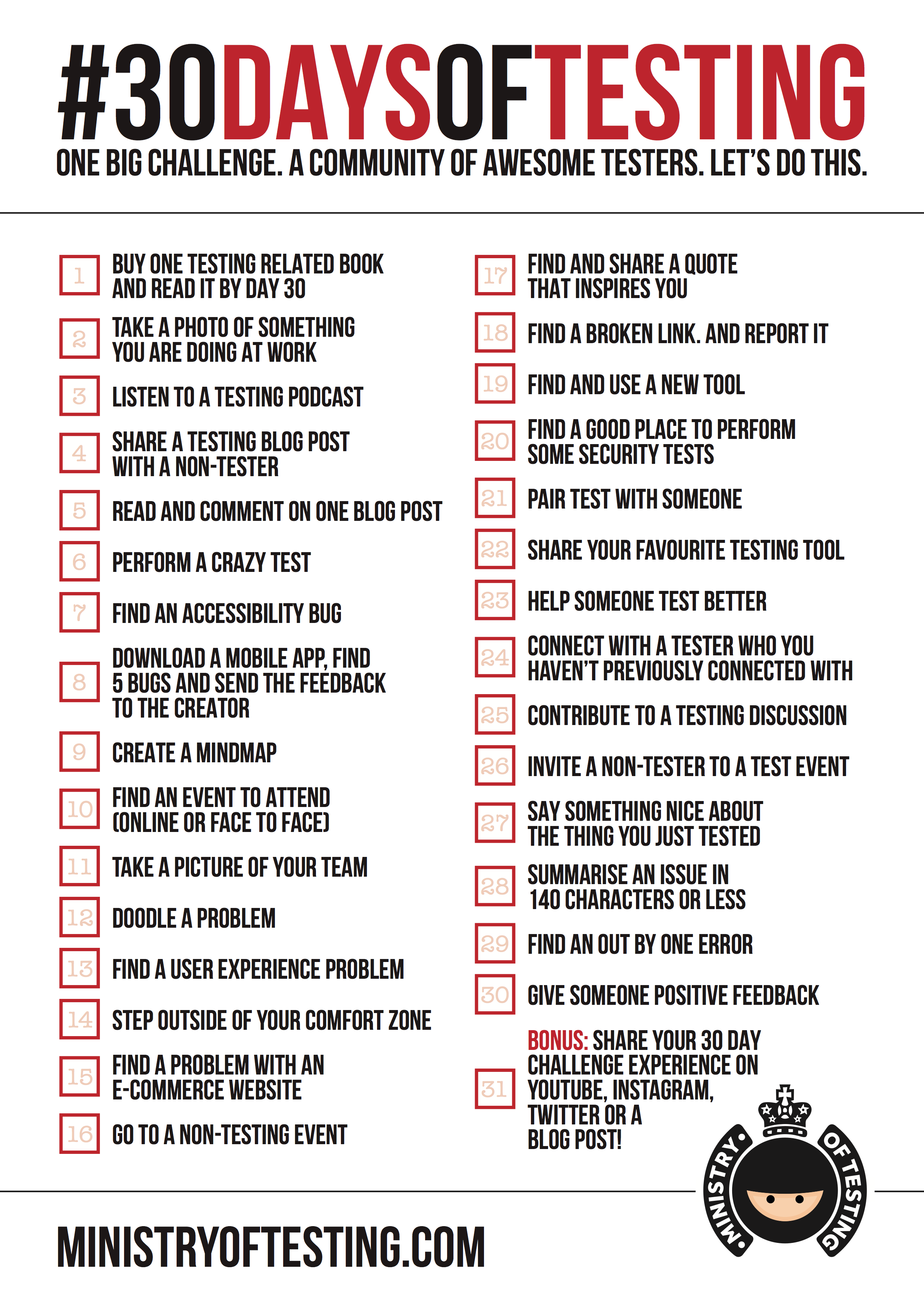 When we saw the testing challenge, we said:
So, we printed out dozens of copies of the challenge and hung them all over our offices, encouraging all of our testers to participate. Some of our teams have created groups that want to compete against each other in some (hopefully healthy) competition to amp up the motivation to complete it. Starting today, we will be working on each task every day, updating this post once a week with our progress and using the hashtag, #30daysoftesting on social media. Will you take the challenge?
For more information about the rules, go here.
Automate open source governance at scale across the entire software supply chain with the Nexus Platform. Learn more.
Topics:
testing ,social media
Published at DZone with permission of Federico Toledo , DZone MVB. See the original article here.
Opinions expressed by DZone contributors are their own.