35 PaaS Providers for Infrastructure and Scalability (Part 2)
DZone's Guide to
35 PaaS Providers for Infrastructure and Scalability (Part 2)
This mix of PaaS providers details their features, costs, and outlines of what sets them apart from one another to see which best meets your needs.
Join the DZone community and get the full member experience.
Join For Free
Learn how to migrate and modernize stateless applications and run them in a Kubernetes cluster.
Continuing on from Part 1, here, we've gathered together the second half of our list of the biggest players in the PaaS provider space. To help you find the right PaaS provider for your infrastructure and scalability needs, we've rounded up 35 of the biggest players in the space. The providers listed below are listed alphabetically for easy reference.
19. Google App Engine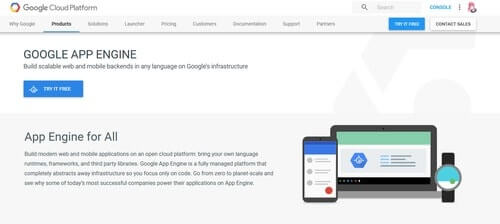 Google App Engine helps you build mobile and Web back-ends using the programming language, frameworks, libraries, and runtimes that you are most comfortable with. Google takes care of the infrastructure while you work on your code. Check out our handy feature comparison chart to compare Google Compute with Azure and AWS.
Key Features
Google App Engine natively supports Java, Node.js, C#, Ruby, Python, PHP, and Go
Open source to help you avoid lock-ins
Supports SQL and NoSQL databases
Offers a wide variety of monitoring, troubleshooting, and other helpful developer tools
Can host different application versions
You can split traffic to different versions
Cost: Free trial is available. Billing depends on standard or flexible environments. For standard environments, pricing starts at $0.05 per instance per hour. On the other hand, flexible environment instances start at $0.0526 per core hour, $0.0071 per GB hour, and $0.0400 per GB per month.
20. Heirloom PaaS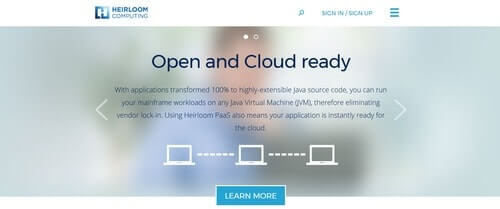 Heirloom PaaS is a development and deployment platform that can help you transform your legacy applications into Java apps. If you have any COBOL applications and other legacy codes, you can still use them and continue to drive returns on that investment. In the end, you will still be using the same application, but this time, the application is written in Java. You can also retain both source codes. This helps you reduce your risk of vendor lock-ins.
Key Features
Transforms your current applications into Java in just minutes, even automatically, in just one step
100% accuracy, which means your legacy applications will work the way they have always been even after being transformed
Supports Micro Focus, JES/JCL, CICS, SQL, VSAM, and IBM
Uses open source stacks
Cloud ready
Gives you easy access to Elastic COBOL
Cost: No pricing details available.
21. Heroku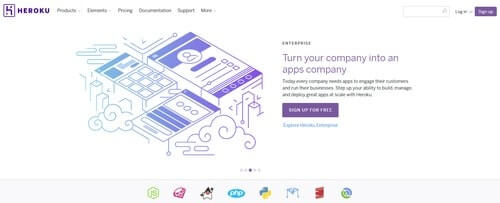 Heroku allows you to run your apps inside containers. It takes care of everything else needed to run your apps, including orchestration, load balancing, configuration, logging, failovers, security, and others.
Key Features
Heroku supports a wide variety of languages such as Node.js, Ruby, Java, PHP, Python, and Go, among many others.
PostgreSQL as a service that you can use, setup, and scale easily
Allows you to scale horizontally and vertically in just a few seconds
Pre-integrated technologies such as MongoDB, New Relic, Searchify, SendGrid, Papertrail, Fastly, TreasureData, and ClearDB MySQL, among others
Get updated data insights with Data Clips
Access to app metrics, code and data rollback, and continuous delivery services
Github integration
You can customize using your own buildpacks or use community-authored buildpacks
Cost: Free plans are available; paid plans start at $7 per dyno per month.
22. Jelastic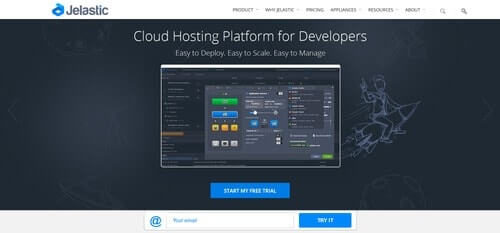 Jelastic is geared towards developers and offers multi-cloud PaaS services for applications. It is also a business platform for hosting providers and a private cloud provider for enterprises.
Key Features
You can deploy Python, PHP, Java, Node.js, Ruby, and .NET applications without changing the code
Supports Docker, SVN, archives GIT, Maven, NetBeans, Ant, IntelliJ IDEA, Eclipse, and similar technologies
Automatically scales your application
Dashboard-based management
Easily creates development, testing, and production environments
Supports legacy applications and microservices
Cost: Public and private cloud pricing starts at $150 for the Jelastic license; installation fees of up to $1,000. Partnership pricing and free trial are also available.
23. Mendix

Mendix offers you the platform and tools to work on your application, from just toying with ideas to actually creating it, up to deployment and then operation.
Key Features
Create your applications using a set of visual development tools, including a WYSIWYG page editor and visual modeling tools
Collaborate effortlessly
Supports responsive design right off the bat
Use of themes to make your applications look more professional without having to spend too much time on UI design
Support for big data, machine learning, and IoT technologies
Supports continuous delivery
Provides enterprise level security standards
Helps you manage software quality and cut lifecycle costs
Ensures that your apps seamlessly integrate with other cloud and application services
Cost: Free plan available. Paid platform edition starts at $5,375 per month for an unlimited number of apps. Single app plan starts at $1,875 per month.
24. Microsoft Azure

Microsoft Azure helps you deploy applications, services, and infrastructures. You can run your apps using close to three dozen data center regions, all giving you business grade service level agreements. You can reduce coding time by using readily available components that you can include in your own application. These components include security features, directory services, search, workflow, and others. Check out our post on Azure monitoring for tips and best practices for monitoring Azure apps and servers.
Key Features
Access to 70 Azure products that touch on storage, containers, databases, analytics, mobile, AI, IoT, and security, among other technologies
Facilitates easy collaboration even with development team members from all around the world
Supports different platforms, including mobile, desktop, and browser application development
Cost: Pay-as-you-go pricing starts with a free option. Shared Service Plan starts at $0.013 per hour per site, while the Basic Service Plan starts at $0.075 per hour. The most expensive plan (Premium) starts at $0.30 per hour and can go as high as $2.40 per hour.
25. OpenShift Online

OpenShift lets you build, create, deploy, and manage your containers easily using any public or private infrastructure.
Key Features
Supports Kubernetes for utilizing and managing containers
Provides tools that facilitate easy and fast deployment, scaling, development
Gives you access to several automation tools
Can dynamically provide storage regardless of type
Easy management of projects using a Web dashboard
Supports Node.js, .NET, Java, PHP, Python, MongoDB, MySQL, PostgreSQL, Redis, CakePHP, Ruby on Rails and other languages, databases, and application templates
Supports different container images from Red Hat, as well as applications from partner vendors
Cost: Starter plan allows you to sign up for free. Pro plan (for pro hosting and projects) is coming soon.
26. Oracle Cloud PaaS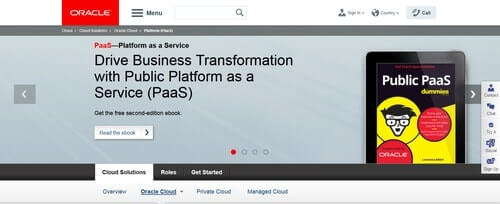 Oracle Cloud PaaS gives you a way to develop, deploy, and test applications fast and in the cloud while keeping costs down. Developers can finally focus on writing their code and worry less about infrastructure.
Key Features
Build and deploy applications using the development environment of your choice
Access Oracle services such as Java Cloud, MySQL Cloud, Application Builder Cloud Service, Developer Cloud, Mobile Cloud, Node Cloud, and others.
Supports Java EE, Jave SE, Python, JRuby, PHP, Node.js, and other application frameworks, libraries, and languages
DevOps ready platform
Managed platform that helps you reduce the risk and total cost of ownership by moving your apps to the cloud
Cost: Free trial available with the following paid plans:
Oracle Database Cloud Service – Standard Edition One is $400 OCPU per month.
Oracle Database Cloud Service – Enterprise Edition is $1,500 OCPU per month.
Oracle Database Cloud Service – Enterprise Edition High Performance is $2,000 OCPU per month.
Oracle Database Cloud Service – Enterprise Edition Extreme Performance is $3,000 OCPU per month.
Download: Infographic, webcast, article, and white paper.
27. OutSystems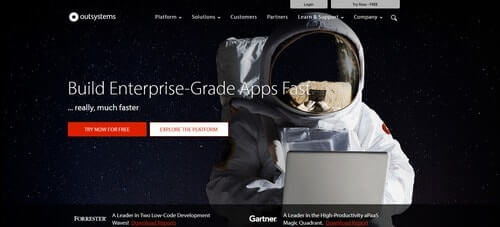 Outsystems is a platform that uses visual tools to help you create and build your application while writing the least amount of code. Outsystems also allows you to modify, deploy, and manage your applications quickly and easily. You get to have better applications without coding too much, reducing development time and costs.
Key Features
Use of visual development platform that lets you drag and drop all the functionalities you want to add to your application
Visual development encompasses the user interface, data models, and business logic
One-click deployment of different components, including deployment processes and database scripts
Easily creates mobile apps
In-app feedback
Tests your application on any device
Includes your own code
Cost: Paid plans start at $2,100 per month. A free plan is available.
28. Pivotal Web Services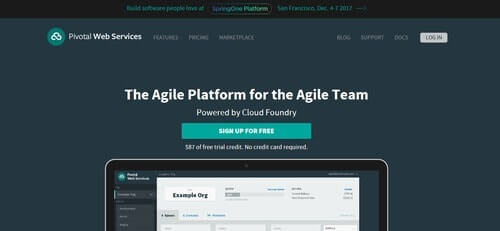 Pivotal Web Services delivers platform as a service that allows you to easily deploy, execute, and scale your application. It works with Cloud Foundry, which supports a wide number of cloud services, application services, and frameworks.
Key Features
All you have to do is upload your code and files onto the platform, where your application can be staged, distributed, and run
Uses Diego container management system to help distribute and manage your application
Buildpacks help ensure that your applications just work
Supports Grails, Java, Play, Node.js, Ruby on Rails, Go, Sinatra, Spring, and other languages
Supports third-party email services, monitoring, databases, and other services
Offers powerful monitoring and log management tools, as well as agile development and collaborations tools
Cost: Pay only for the resources you use at $0.03 per GB per hour
29. Platform.sh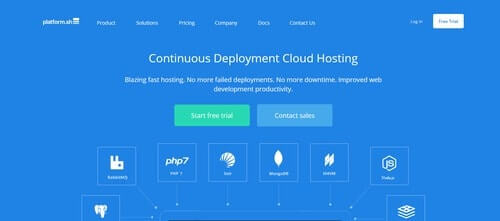 Platform.sh can help ensure that everything runs smoothly even for your most in-demand applications, with you not doing any administrative tasks. The company promises a fast hosting platform that is always available while eliminating the chances of failed deployments.
Key Features
Use git to deploy your applications, microservices, message queues, and other clusters
High availability and automated processes including filesystem, network, building process, and deployment
Supports Ruby, Python, Node.js, and PHP, as well as RabbitMQ, MongoDB, HHVM, Redis, and PostgreSQL
Access to fully managed content delivery systems
Ready for continuous delivery
Cost: Paid plans start at $10 per month per site. A free trial is also available.
30. PodSpace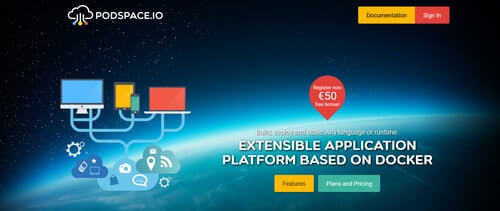 Podspace.io is based on Docker technology and offers an application platform that enables you to develop, deploy, and scale your apps regardless of language and runtime.
Key Features
Easy and fast deployment of containers using only a few clicks
Access to automatic load balancing and scaling
Access to your preferred health checks for self-healing applications
Allows you to build containerized applications
Manages everything related to your app, from building, testing, to deploying your applications, to distributing upgrades
Uses Kubernetes, OpenShift, and Docker
You can easily manage the entire development lifecycle
Cost: Metered pricing that can be as affordable as €0.5 per week (adaptive metered pricing), or free for personal projects. Startup plan is €6.99 per month while the Professional plan is €14.99 per month.
31. SAP HANA Cloud Platform

SAP Cloud Platform is a PaaS that offers a wide range of development capabilities and services. You become more agile while also being able to accelerate your app development.
Key Features
Build and deploy mobile, machine learning, and IoT apps easily
Integrate your cloud and onsite applications seamlessly and securely
Embed analytics into your applications and get valuable insights from different data sources
Facilitate collaboration with team members from all over the world
Focus on user experience by building simple and responsive apps
Secure platform
Supports Node.js, Java, HTML5, XSC/XSA, and other languages
Cost: Free developer edition is available. Paid plans start at €399 a month.
32. Scalingo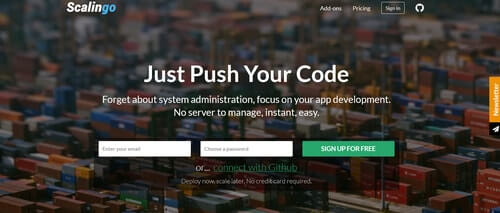 Scalingo takes care of system administration work and lets you forget about managing servers or keeps you from worrying about software dependencies, databases or application stack so that you can devote more time to developing your apps.
Key Features
Supports Cakephp, Clojure, Express, Go, Groovy, Groovy Grails, Java, Java Play Framework, Java spark, Node.js, PHP, Python, Ruby, Ruby on rails, and Scala, among other technologies
Supports MySQL, PostgreSQL, InfluxDB, MongoDB, Elasticsearch, and Redis
Access to several add-ons such as Scalingo Docker Image, VPN IP Sec, and other tools and databases
Cost: App containers costs €0.02 per container per hour. Paid plans start at €7.2 per month.
33. Software AG Live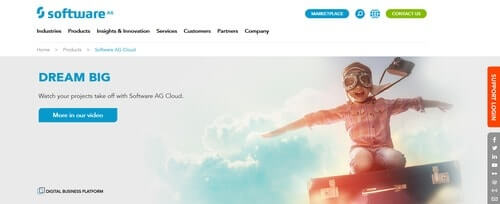 Software AG Cloud is a Platform as a Service provider that offers a fast and easy-to-use platform for your applications. It also offers support for mobile and social collaboration and allows you to develop applications fast while using the systems and languages that you are comfortable with.
Key Features
Alfabet Cloud service provides intuitive and quick IT management. It uses the best practices on how to collect, assess, and connect data that is relevant to your business and IT decisions.
Aris Cloud allows you to collaborate with people from other departments or even other parts of the world
WebMethods AgileApps Cloud provides visual modeling tools that give you a situational and process driven application that is immediately accessible on any mobile device
WebMethods API Cloud is an API portal that helps your users find and test your APIs
WebMethods Integration Cloud helps you bring your on-site or private cloud applications onto the platform
Cost: Pricing details are not available.
34. Standing Cloud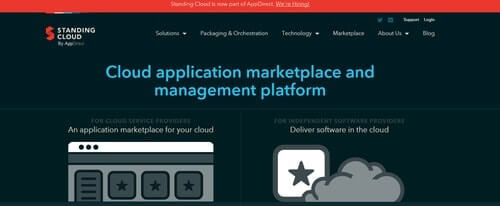 Standing Cloud provides cloud application management and marketplace solutions that enable you to distribute or sell your apps on the cloud. They have specific solutions for ISVs, cloud service vendors, and technology solution vendors.
Key Features
Automated application management helps you manage software effortlessly, allowing your users to find, download, and purchase your software with ease
Application management tools include single-click upgrades, scaling, monitoring, and backups, among others
Supports Linux, Java, jBoss, PHP, Python, Rails, and other OSes, languages, and platforms
Scripted developments let you forget about image libraries and gives your applications more portability, stability, and flexibility
Cloud hosting happens at the point of sale, with a Try & Buy solution that permits interested users to test your applications
You only need to develop your application or software once and deploy it wherever you want to
Cost: Pricing information not available.
35. webMethods AgileApps Cloud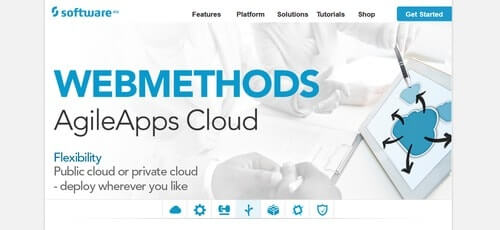 webMethods provides PaaS services related to business process and application platforms. Developers and even non-technical people can now develop and then deploy applications using visual tools. It also allows you to have a better and easier way to manage and track service requests, conduct investigations, and respond to issues. Applications are more data-driven and richer. Plus, you can deploy these apps just about anywhere.
Key Features
Manage your activities better by getting customized business and app development processes. This way, you can use a visual tool to design and customize processes, assign tasks as they arise, and create processes on the fly.
Create business-grade case management applications easily
Get the Web applications you need while ignoring the applications you don't
Business rules engine allows you to control business processes, approvals, notifications, and escalations
Use all communication channels that you want, from Twitter to Facebook and just about any available avenue
Advanced reporting capabilities
Cost: Free trial available. No pricing details available.
Conclusion
If you're using a PaaS provider, it's important to monitor your apps as well as your servers. Read this post to learn how cloud monitoring differs from server monitoring and how to best monitor PaaS-style app hosting. And, if you're hosting apps in the cloud, you should know the 7 Ps of high-performance cloud apps: Proper Planning and Preparation Prevents Poor PaaS Performance. Learn more about the 7 Ps in this post.
Topics:
cloud ,paas comparison ,cloud infrastructure ,scalability
Published at DZone with permission of Angela Stringfellow , DZone MVB. See the original article here.
Opinions expressed by DZone contributors are their own.