4 Lessons From busuu on Increasing Mobile Subscription Revenue
DZone 's Guide to
4 Lessons From busuu on Increasing Mobile Subscription Revenue
This look at busuu's research into winback tactics at Mobilize 2017 shows the workflow they used to prevent 30% of cancellations.
Join the DZone community and get the full member experience.
Join For Free
At this year's Mobilize Conference in San Francisco, we took an in-depth look at how some of our favorite brands use data, experimentation, and behavioral science to enhance their customers' digital experiences across their web and mobile platforms.
Antoine Sakho is the Head of Product at busuu, a London-based product that builds language learning apps that have been used around the world by over 75M people to date. Their dream is to empower anyone, anywhere to learn a new language through personalized courses, enriched by interactions with native speakers.
Antoine gave us an in-depth look into busuu's subscription optimization strategy and offered the Mobilize audience a firsthand look at their revenue equation and experimentation tactics that can potentially make an immediate impact to your mobile subscription revenue.
Antoine began by citing a recent report by App Annie that showed 8 out of the world's 10 top grossing apps of 2016 were freemium, subscription-based apps. This shows that users are more willing to switch to subscription-based pricing if they find value in your app content.
Until summer 2014, the busuu app offered in-app purchases that would unlock a specific level in a specific language. They switched to subscriptions after 2014, offering monthly, 6-monthly and yearly plans, thinking they'd see an increase in revenue due to the higher lifetime value subscriptions naturally have thanks to their recurring nature. However, without rigorous testing, they found that this wasn't the case...
Purchase conversion rate decreased by a whopping 75% after introducing subscription payments!
"While slowly but surely, and thanks to many experiments, our conversion rate started trending up and up until we reached the levels we had before we switched."
Antoine points out that when you reach a similar purchase conversion rate level as in-app purchases you can actually achieve a much higher, compounding revenue with subscriptions due to the recurring nature of subscriptions.
"Looking back, it was a painful switch from in app purchases to subscriptions - but absolutely worth it in the long run."
The team approached the problem scientifically by thinking of subscription revenue as the following equation:
Subscription Revenue = Number of Active Subscribers x Average Lifetime Value of Subscriber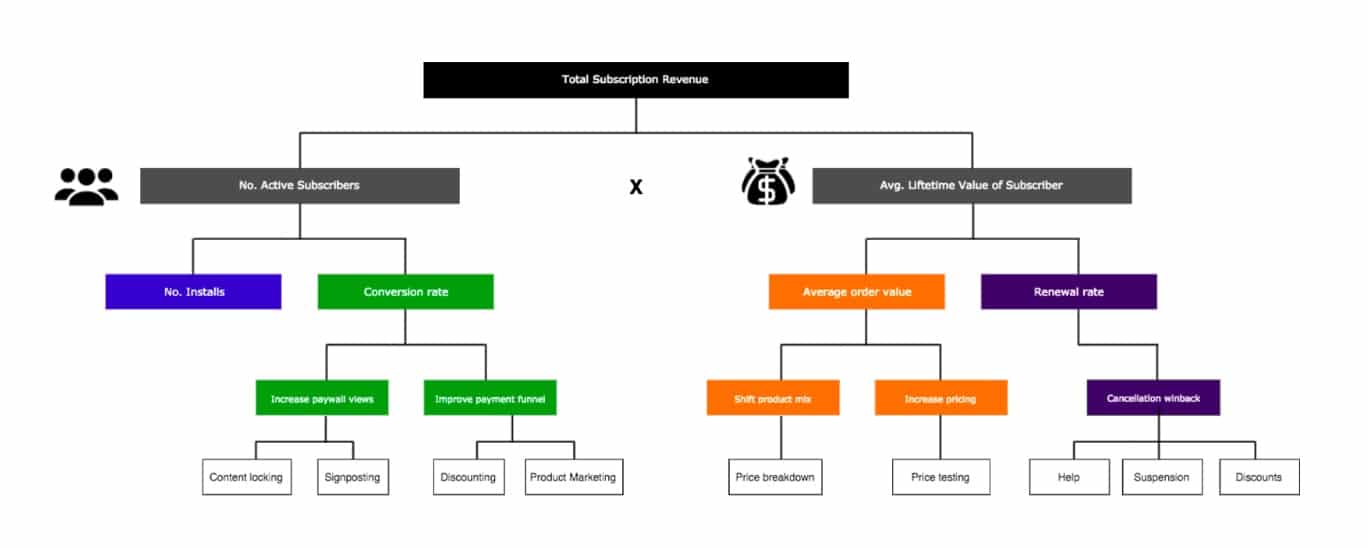 Antoine further broke down the equation: Number of Installs, Conversion Rate, Average Order Value and Renewal Rates that would optimize the overall subscription revenue number for busuu.
Note: Number of Install tactics were tested outside of the app environment.
Antoine began by explaining two strategies and their corresponding tactics to increase purchase conversion rate:
Increasing paywall views through tactics such as content locking and signposting.

Improving payment funnel through tactics like discounting and product marketing.
He described two strategies and tactics to influence Average Order Value:
Shifting product mix through making longer plans the default.

Increasing prices using price elasticity testing.
And finally, he explained how busuu increased renewal rates through a branching cancellation flow which provides help and support, offers a last chance discount and provides the ability to suspend the subscription.
Below are our top 4 Lessons Learned from busuu and tactics you can begin testing today!
"How do you know how much locking is too little or too much? A/B Testing is the answer."
The team tested restricting access to all languages to Premium users only.
Previously on busuu, free users could switch at will between any language, but they would encounter locked content in each of them.
Hypothesis: Hardcore free power users who learn several languages at a time would upgrade to continue learning.
Result: 83% conversion rate increase for the power user participants (around 20% of our user base learned >1 language) - one of the strongest they've seen through hundreds of experiments!
Lesson learned: If you have a limited group of free, power users who exhibit a very particular content consumption behavior, consider locking access to that content and you might see significant improvements to your conversion rates.
"We're still experimenting with content locking at busuu - it's a never ending journey - and are working on dynamically locking and unlocking content based on user's likelihood to convert as assessed by the predictive conversion model we've built."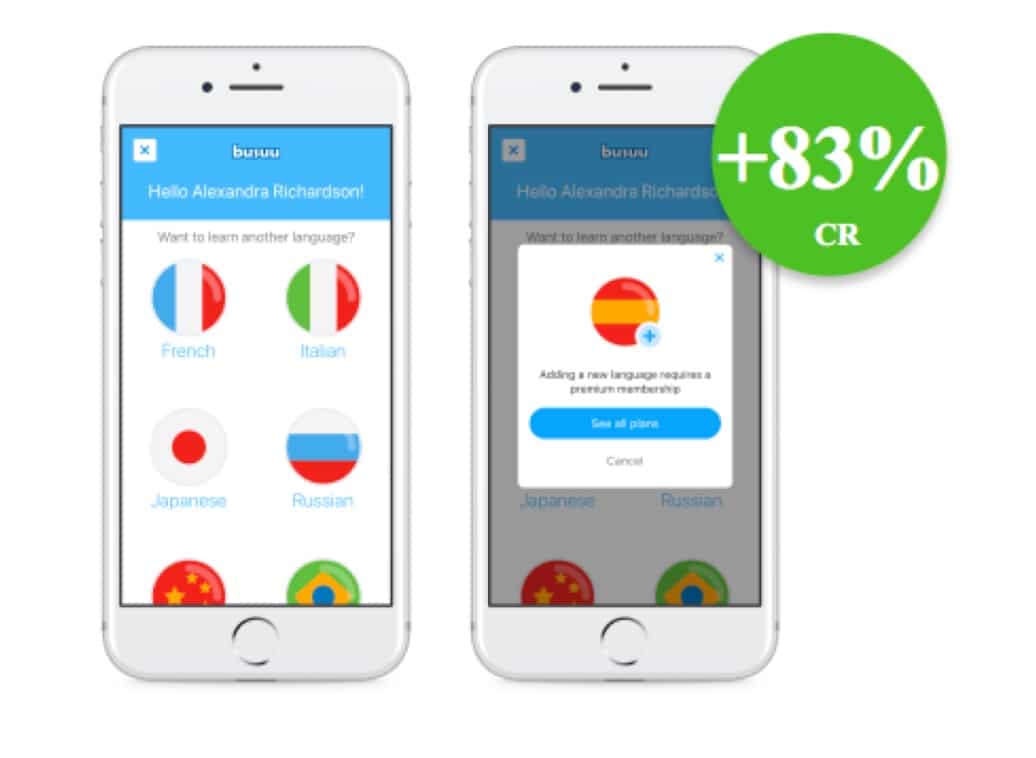 In April 2017, busuu started experimenting with offering 50% discounts on 12-months plans only instead of 30%.
Hypothesis: They have virtually 0 cost per marginal unit sold - they could literally discount to 90% so they gave it a try.
Result: They saw a 40% increase in conversion and 88% increase in bookings, as users went for longer plans. This is because an increased discount made longer plans look more affordable.
Lesson learned: A higher discount rate doesn't necessarily mean less revenue, if you can drive users to go for the longer plans by offering discounts on these plans only.
"Since then, we've been further experimenting with discounting, especially discounts triggered by some sort of user action, like a buying streak or completing a set of activities. It's been hugely successful and we'll keep testing."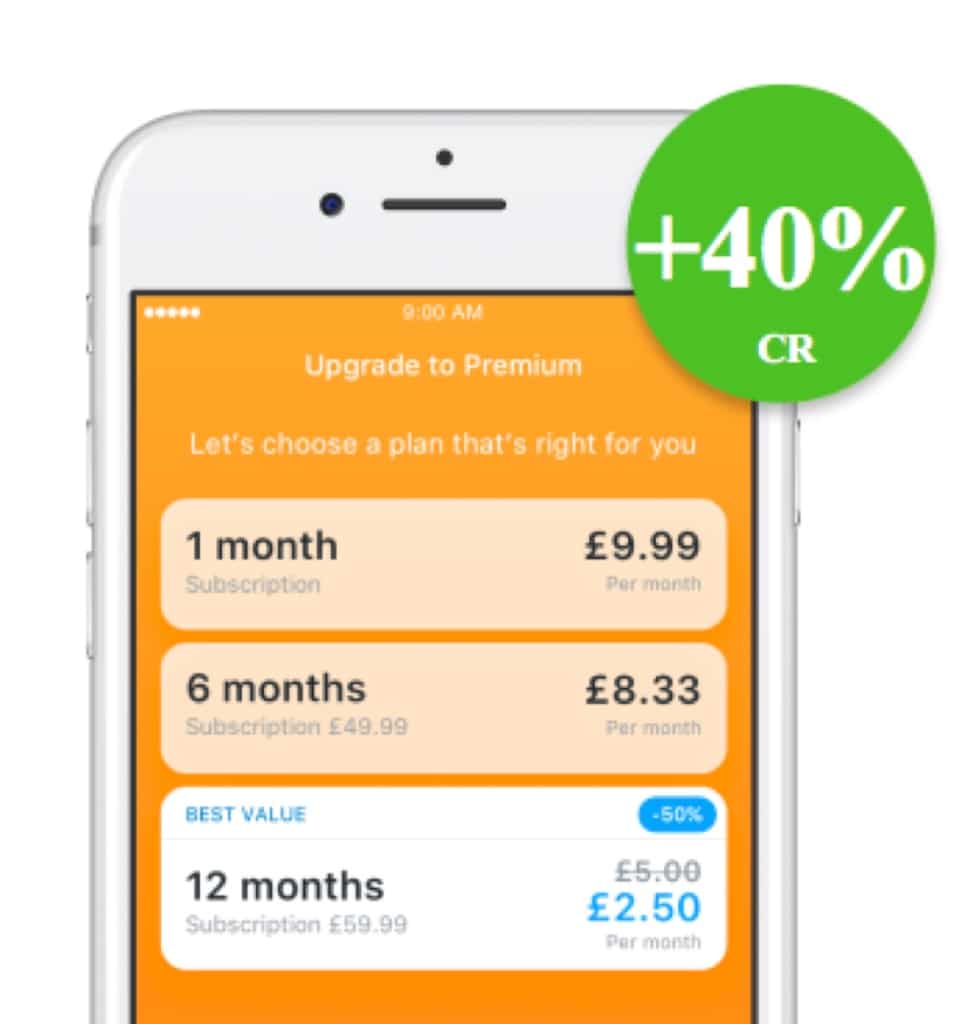 Hypothesis: One experiment they ran focused on incentivizing users to choose the yearly plan by breaking down the yearly price. The yearly price had already been broken down to its monthly equivalent a couple of years ago - that is, instead of showing 60$/year, they show 5$/month above the total, a very common practice to anchor customers to the lower price and make yearly plans comparatively more attractive. Just from this, they saw a 12% increase in the purchase of annual plans.
Now they wanted to push it a bit further by experimenting with breaking it the yearly price down to its weekly and daily equivalent.
Lesson Learned: The more you break down prices to more granular time scales, the more the "savings" from longer to shorter plans appear to be smaller. E.g. 5£/month on yearly plan or 10£/month on a monthly plan VS 0.16£/day on yearly plan vs 0.33£/day on monthly plan As the savings difference appears much smaller, it changes the trade-off between savings and flexibility of cancellation and pushes users to go for shorter plans, reducing overall revenue. Make sure you test your price breakdown!
Similarly, testing prices is crucial, as you might unlock incremental revenue as long as the price increase isn't matched by an equal or stronger drop in conversion. Understand your price elasticity.
Hypothesis: Prevent users from canceling by providing a multi-step flow with multiple winback tactics
Test Flow
As users go through the cancellation flow, they are now presented with:
A help screen which inquires whether the user might just need some help with the service
If the user goes ahead with the cancellation, another screen offering them a discount if they stay
If the user goes ahead with the cancellation, another screen asking them about the reason for their cancellation (from which busuu gathered really good data on churn reasons). Then the flow branches:

If the user chooses "the free option is enough for me" they are presented with one last screen reminding them of the benefits of a premium membership and what they will lose if they cancel.
If the user chooses "I want to change my subscription" - busuu realized some users canceled because they wanted to switch plans to longer ones, so they presented them with the option to do so.
If the user chooses "I am too busy" busuu offers them the ability to pause the subscription.
If the user still continues with the cancellation, busuu finally presents them with a confirmation screen and a button, which if clicked, will end their subscription.
Results
Through this flow, we save nearly 30% of cancellations from happening!
Lessons Learned
Work on understanding why your subscribers are canceling and try saving them through a multi-step flow that addresses possible reasons.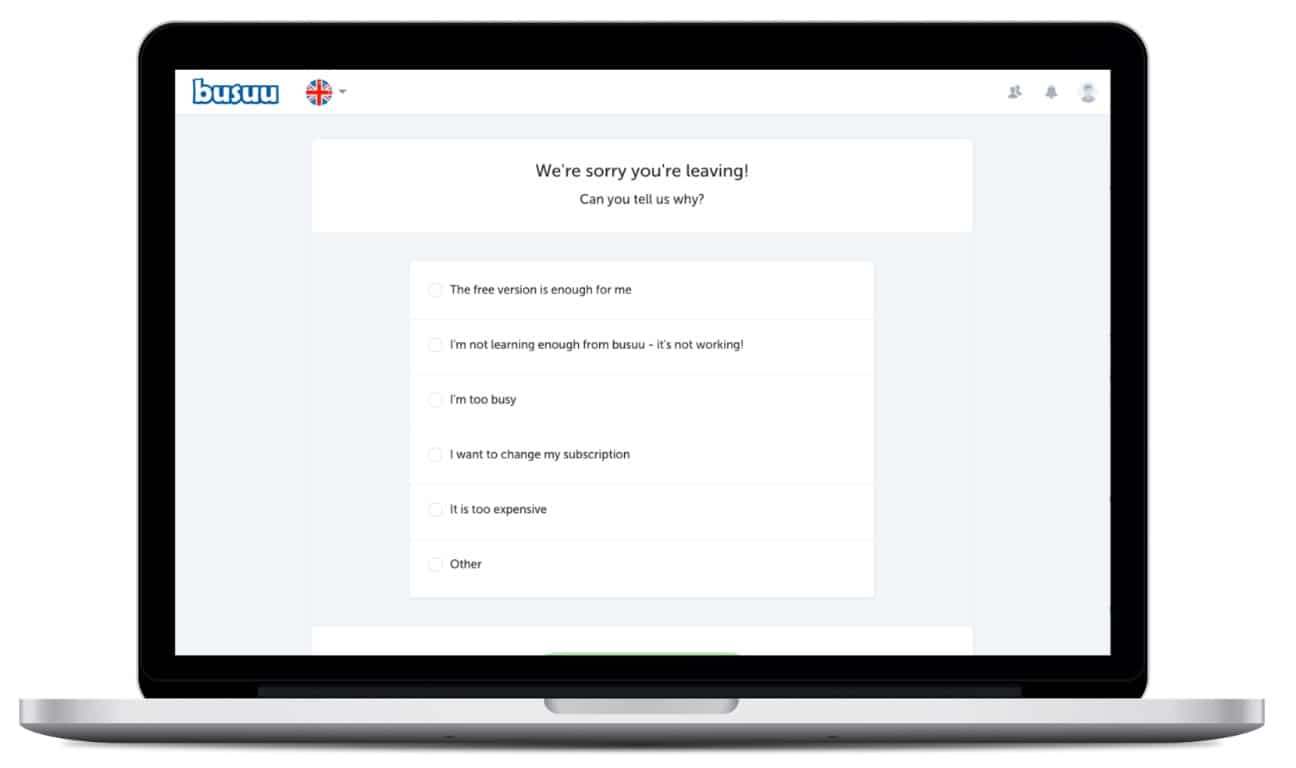 Check out our Mobilize 2017 highlight reel here!
Topics:
mobile ,mobile app development ,subscriptions ,mobilize 2017
Published at DZone with permission of Chakshu Mehta , DZone MVB. See the original article here.
Opinions expressed by DZone contributors are their own.