5 Digital Marketing Trends SMBs Should Consider Budgeting For in 2015
DZone 's Guide to
5 Digital Marketing Trends SMBs Should Consider Budgeting For in 2015
Join the DZone community and get the full member experience.
Join For Free
With 2015 just around the corner, small and mid-sized businesses across the globe are busy planning their marketing budgets in advance to greet the first quarter of New Year with a revenue boost. As per a survey released by Gartner on 3rd Nov 2014, online marketing budgets are likely to increase by 8 percent in 2015 and 51% companies are planning to increase their digital marketing budgets by as much as 17% more in the next year.
Since SMB's always run out of budget when it comes to aggressive digital marketing (both organic & paid advertising) and the pressure to pull returns on investment is always high; it is wise for online marketers to plan ahead. So, before you even start allocating your digital spend, you should know the top 5 online marketing trends that are likely to dominate 2015.
This article outlines how business owners should spend their marketing dollars to continue reaching potential customers online while bridging gaps between traffic & conversions.
What's trending in 2015 Digital Sphere? Watch out here
1 – Leveraging Digital Marketing Automation Tools will be more important than ever
When it comes to positioning your brand in front of your targeted customers, Digital Marketing Automation tools save a lot of time, money & efforts. This trend is slowly picking up amongst online marketers, especially to automate updates and conversations on social media networks like Facebook & Twitter.
In fact, a recent report from Digital Marketing Depot reveals that the marketing automation trends are slowly shaping up new online opportunities for SMB market helping them grow their space and reach potential audience.
So, what is Digital Marketing Automation & How it can achieve business goals for you?
Digital Marketing Automation basically refers to software applications that are introduced to automate both organic & paid advertising efforts & analyse social media engagement. Online Marketing Automation Tools complement your marketing efforts by offering you myriad of valuable features that improve your ROI. Some of these include –
1. Capturing leads, engaging with new people, growing network and converting traffic
2. Constantly stay connected with your fans, followers, influencers, brand evangelists, customers and potential audience in your wide social media network
3. Generate more qualified leads using multiple criteria
4. Aligning your sales & marketing goals wisely on multiple channels.
5. Spark conversations with random people & promote your brand
6. Evaluating performance of various marketing campaigns
7. Gain insights on your target audience
8. Keep track of your ad revenue
9. Integrating search and social data to visualize it for greater consumer insights
10. Reduce costs-per-acquisition and maximize profits via posting content updates
11. Reengagement and Remarketing by scheduling pitches and bringing back the lost customers
12. Fixing up holes in your purchase funnel to improve final returns
Which Automation tools are worth your investment?
If you're thinking to include the investment on tools in your marketing budget, be wary. Don't consider paying unless you try it for free (most tools offer a 15-30 days trial). To help you, I've compiled a pretty good list of tools that are worth your hard earned dollars. But since every business has unique requirements, I will again recommend you to experiment them before deciding the best that suit your marketing needs.
1. Best Social Media Automation Tools to increase Engagement & in-depth Analytics – Buffer, Timely,Riffle, Socialoomph, Tweetdeck, SocialBro, Twibble, Twitterfeed, Tweetreach, Hootsuite, Twilert, SocialRank, Pluggio, ManageFlitter, Flounder and Followerwonk etc.
2. Best Automation Tools for Email Marketing - Marketo, Customer.io, Hubspot, Constant Contact etc.
2 – Peeping into buyer personas: Brands will spend more time knowing their customers
With customer's experience & satisfaction being the most important factor in driving revenue for small & mid-sized businesses, brands will be spending more time knowing their customers. Precisely, we call this as Micro-targeting. Here, the key to running a profitable digital marketing campaign is to commit to buyer persona development and carve customization and personalization strategies to target the potential customers directly.
What are Buyer Personas?
Buyer Personas are basically real-life instances of actual buyers that influence the purchasing decisions of end-customers about the products you sell or the services you offer. Also, a complete persona lets you know about your customers' interests, lifestyle, buying preferences, needs and motivations. Outreaching to people when you already know everything about them leaves a positive impact on your campaigns.
Shared below is a sample buyer persona profile – an image taken directly from www.buyerpersona.com. Notice that every minute-detail of the customer that can influence her purchasing decision is carefully written to outreach to her with an intelligent strategy.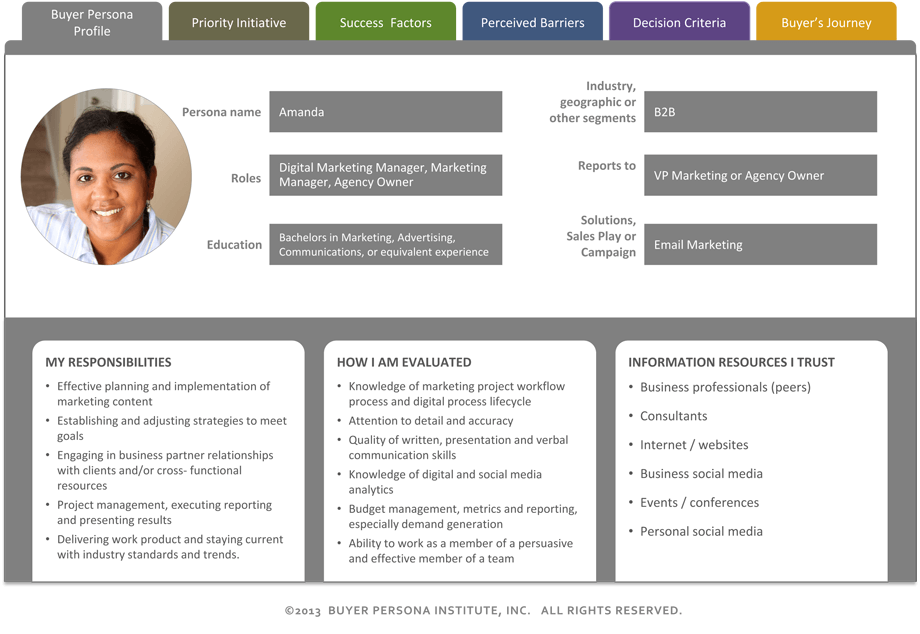 Another customer persona example that I would like to share is taken from Crackerjack.com. See the screenshot below. Notice the important pointers that help businesses to target customers efficiently.
3 – Mastering Mobile Platforms to enhance digital communications will be a pre-requisite for online marketers
To move your brand even more close to customers across all handheld devices, online marketers will be more concerned about mastering mobile platforms to increase engagement and deliver incredible customer experiences. This is because mobile consumption across the globe has seen a meteoric rise as people perceive it as an easy mode to connect with peers and stay upto date in the digital world. As per statistics collected from various resources, the rapid adoption of mobile in daily lives has influenced consumers' preferences upto a great extent and due to this mobile marketing is now the top priority of online marketers.
From responsive web design to mobile application development and mobile-ads targeting; mobile marketing is likely to dominate every other form of digital marketing in a big way.
Why mobile platforms help in increasing engagement & end-user experience?
Omnichannel marketing using a combination of mobile platforms and social media to find, engage and interact with audience more effectively is trending amongst small and mid-sized businesses. Here's why you should budget for a mobile-first strategy to match consumer trends –
1.Demographic segmentation to outreach only to genuinely interested buyers
2.Wider reach to your target audience and effective engagement
3. A Single point to access all other engagement channels like organic, paid and social media that saves time, money and resources
4.A better way to track & mange user's actions across multiple channels
5.Data-driven, automated personalization to retain loyal customers
6.Powering up content distribution channels with micro-targeting & micro-content creation. For e.g. creating thumbnails for popular social networks like Facebook for mobile, cropping out images with Instagram app and posting information on Linkedin etc.
However, it's not just about the mobile engagement; it's all about the integrated digital experience that you deliver to your end-users and customers. To start with, revamp your mobile strategy for the coming year and tune your online presence in sync with the latest technologies & trends in the mobile industry. From persona modelling to front-end themes and responsive website design to marketing campaigns; include a mobile optimized plan for everything that you're going to represent on the web.
4 – Inbound Marketing will reign in 2015
Undoubtedly, Inbound Marketing is going to rule 2015. The reason being – it is the most effective method of digital marketing for doing business online & increasing brand value. While the outbound marketing methods focus on buying ads, mailing lists and paying to generate leads; Inbound marketing throws light on cost-effective methods of marketing like quality content creation & distribution, driving organic traffic through ethical SEO and aligning the overall strategy with customer's interests to maximize returns on investment.
Below, I have shared an image to explain how inbound marketing helps online marketers to convert new prospects to qualified leads.
What constitutes a successful Inbound Marketing Strategy?
1. Content Creation, Distribution & Updation
Creating and sharing quality content is the core of any inbound marketing strategy. Content Marketing is the bandwagon with which you can target your prospects effectively without seeming as a blunt advertiser. It also increases social media engagement and helps you outreach more & more people. Publishing the right content at right place using the right strategy is the ultimate thing inbound marketers need to keep their focus on. Also, avoid publishing thin content to save your website from Panda 4 penalty.
You can create valuable content in 5 Different types of content formats–
E-books, Online PDFs, "How To" videos & Images, Whitepapers, Case Studies and Webinars. Before publishing & sharing your content, find answers to important questions like – "Which social channels my audience loves to interact on", "Who is my target audience on social media" and "What type of content can get viral". Update fresh content regularly to gain more visibility & improve engagement.
2. Personal Branding
Personalization and internal brand messaging are crucial to online success of your business. This also includes tailoring your content according to what people are actually looking for and then personalizing messages and brand communications to convert leads over time.
3. Multi-channel Marketing
Inbound Marketers need to focus on multi-channel marketing to cash online opportunities quickly. This involves approaching customers where they are while sparking effective conversations to influence decisions. Whether it is social media marketing or search engine marketing, engaging with people through various channels gives them a green signal to trust you and interact with you.
5 – Monetizing social participation for lead generation - The next big thing in the Digital Consumer Pipeline
Monetizing social media platforms to leverage lead generation capabilities is going to be the next big thing in the digital consumer pipeline. Combining social content and social participation with conversion optimization will directly connect brands with fans, followers, prospects and customers across the globe. Incentivizing effective social participation using automated tools and mobile apps will bring SMB's closer to the revenue model they've always cherished for. Also, pulling leads into CRM systems directly will gain weight as brands are slowly moving forward to build a comprehensive network of connected consumers.
What marketers can do to keep up with the "socializing" trend??
1. Find your Brand Evangelists and Engage with them via multiple channels.
2. Curate exclusive content for social engagement, social conversations and social participation (Online surveys on Facebook, Twitter etc).
3. Nominate brand ambassadors every month or quarterly to influence your fans and followers to talk about you in the social sphere.
4. Spread your wings across all social touch points to enhance your brand value.
5. Encourage other popular brands to connect with you and collaborate your marketing efforts with them
6. Reach out to the world with social-savvy messages in the News Feed. Don't forget to evaluate the right time to inject these messages & track performance of the whole campaign once you finish.
So, with all the trends that you should budget for in the coming year, we wish you a big year in 2015!! To stay ahead of the digital marketing game & plan a winning strategy for 2015.
Opinions expressed by DZone contributors are their own.