5 of the Best Free Monday Alternatives (formerly DaPulse)
Those who use Monday.com may be satisfied with the software, but if some features are noticably missing, check out this list of alternatives.
Join the DZone community and get the full member experience.
Join For Free
Introduction
Monday.com, formerly known as DaPulse, has been around the project management block for quite some time. Bagging some major clients including Fiverr, Discovery, McDonald's and more, Monday has surely made its mark as a great productivity and project management tool, with over 10 years of history.
Monday is a project management tool with a multitude of features for team management and project delivery. So, why do we need alternatives?
Like each entity present on the surface of the earth, this tool, too, is not perfect. It's not exactly a one-size-fits-all solution. For instance, here are some of the basic features it lacks:
No Gantt Charts
Yes, you read that right. Monday does not believe in Gantt charts. In fact, they have an entire blog on why they pride in offering a tool that does not include Gantt charts. It's sad but if you're looking for a Gantt chart software in a project management tool, Monday will be a no-go for you.
Pricing vs. Features
With so many tools that offer a vast feature set for reasonable prices, Monday seems to lag behind in competitive pricing. The preliminary package costs $25 per month for features other tools offer for less than one-third of the price.
Recurring Tasks
Monday does not have an built-in module for scheduling recurring tasks. Teams often need to work with certain types of tasks on a daily level. It can be monotonous setting a schedule every day and many tools allow one-time scheduling for such tasks.
Time Tracking
As with recurring tasks, Monday does not even have its own time tracking feature. You need to make use of third-party integrations to implement it.
So, here is a list of top Monday alternatives you can avail today resulting in an equal or even higher level of user satisfaction and team productivity.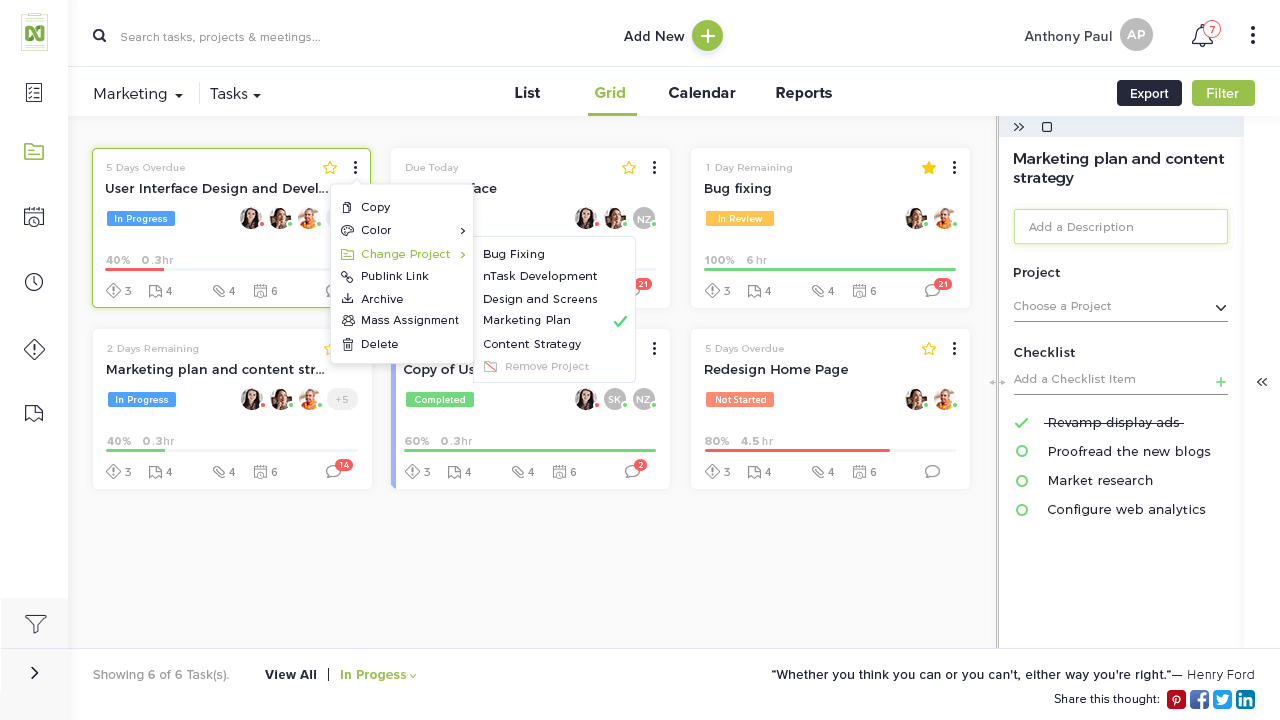 First up on our list of free Monday alternatives is nTask. A project management and team collaboration tool, nTask caters to teams from numerous industries with varying work patterns. nTask has a clean interface and very intuitive to learn.
With efficient modules placed neatly on the side, it helps you work with tasks, projects, meetings, timesheets, risks, and issues with ease while managing multiple workspaces simultaneously.
Key Features
Check out the following robust set of features you can make use of with nTask:
Comprehensive task management that allows you to structure your work through task creation, organization, prioritizing, assigning and sharing. You can schedule tasks on a one-time and recurring basis. You can either create projects and associate tasks or treat tasks independently. Plus, you can switch tasks between projects, which makes it easier to improvise along the way.
By integrating with Slack, you can create tasks and projects during discussions with team members as well as send updates from nTask to Slack conversations relevant to tasks and projects.
Efficient project management through timelines, percent-complete tracking, Gantt charts, efficient reporting, and resource allocation.
Track time for each task individually for better task planning.
Through the timesheet management module, employees can list down the hours spent on tasks and shows the cost incurred per resource. You can manage employee task efforts and payroll with this dedicated module.
A complete meeting management module for scheduling meetings. You can schedule meetings as one-time or recurring with sending invites to attendees, adding timing and location details as well as adding follow-up tasks and decisions.
The issue management feature helps you easily track issues through listing them down with multiple statuses and assigning an issue owner.
Identify potential risks through the risk management module. You can list down the risks assigned to a risk owner and with multiple statuses.
Send alerts, notifications, and reminders to keep teams on track.
iOS and Android mobile apps
Pricing
Free: 5 workspaces, 200 MB storage, up to 10 team members

$2.99 per user/month: Unlimited members, Pay-as-you-grow, unlimited tasks and projects
With Hygger, you get a free Monday alternative that offers team and project management, all the while catering to popular Agile frameworks.
With Hygger, you can effectively implement Agile practices through Scrum and Kanban boards. You can also combine both the approaches to customize the way you keep track of your team and projects.
You can avail a spectrum of features dealing with task and project management, time tracking, issue management, and customer feedback.
Key Features
Get to work with the following capabilities with Hygger:
Task and project management through Scrum and Kanban boards. Through Swimlanes or Labels, you can organize tasks on your boards. Plus, you can identify and tackle potential issues via visible bottlenecks.
Time tracking and estimation for tasks through hours, log time it took to complete a task and the hours logged and hours estimated ratio.
Project reporting through Gantt charts, percent complete tracking, milestone tracking, Burndown report for Scrum and Cycle Time for Kanban real-time monitoring.
Ideas storage and scoring
Ability to create roadmaps and share with teams
Time and expense tracking for accounting and payroll
Release management
iOS and Android mobile apps
Pricing
Standard: $7.00 per user/month

Enterprise: $9.00 per user/month

Both come with a free trial
Allthings is a Kanban based tool for project management and team collaboration. This is one of those free Monday alternatives that help you organize and monitor your work via a neat interface using drag and drop.
View tasks, status updates, send notifications, share lists and track time for efficient project planning and coordination. Plus, with Hygger, you can add your own custom fields to have more control on the way you steer your projects.
Key Features
Allthings allows you to make use of the following feature list:
Task management including creating, organizing, prioritizing and sharing tasks and to-do lists. You can set deadlines for one-time as well as recurring tasks.
Project management options including daily email of work summary and highlighted deadlines to stay on time.
Time tracking for tasks and estimation of time spent.
Comments and file attachments for added information.
Capacity and resource planning
Customization of fields
Group collaboration tool
Mobile apps for Android, iOS and Windows Phone
Multi-platform
Kanban boards
iOS and Android mobile apps
Pricing
Free 30-day trial, no strings attached

$3.99 per user/month: Pro and Team plans, unlimited everything
Another tool that makes it to our list of free Monday alternatives is Avaza.
Avaza covers project management from the very beginning, i.e. customer quotations and to the very end, i.e customer invoicing.
This project management tool is one of our top suggestions as an alternative to Monday. Just like other basic project and team management software, Avaza also allows you to be more responsive to customers using the Questions tab.
You can also share detailed project estimates with potential clients. On approval, these estimates can be converted into a project right away.
Key Features
Task management including group tasks, task views via Kanban, Gantt, and List
Project management including project budgeting, Gantt charts, reports, project burn-down charts, and project progress dashboards
Time tracking for tasks
Activity feeds
Comments, file sharing, and collaboration
Timesheet entry and payroll management
Online payments (partial payments, PayPal payment integration)
Invoices and online billing
Cloud accounting
Credit notes
Invoice, Quotation and Estimation
Billing and expense management including multi-currency expenses, invoicing, payments, credit notes, and support for split payments across invoices
iOS and Android mobile apps
Pricing
Free: Free forever, no strings attached

$9.95: Startup plan, great for small teams

$19.95: Basic plan, for growing teams

$39.99: Business plan, for enterprise operations
Our 5th pick for free Monday alternatives is Project Insight. Catering to project and portfolio management, avail numerous features through a centralized interface including task and project management, team communication, resource management, expense estimation and more.
Plus, you can customize themes, labels, and fields as required.
Key Features
Here are key project planning features you can avail with Project Insight:
Task management including customization for fields, forms, and other elements.
Project management including project dashboard reports, Gantt charts, status updates, project budgeting, reporting, and scheduling.
Time tracking
Team collaboration and discussion channel
Cross-project resource allocation
Resource management
Expense assessment and management including Budgeting and costing
Capacity planner for resource management
Workflow and approvals
Pricing
Free: PITeam plan, basic functionality. Free forever.

$45.00 per power user/month: PIBusiness plan, best for small teams

$65.00 per power user/month: PIEnterprise plan, best for large teams
Which Monday or DaPulse alternative does your team rely on? Give your suggestions in the comments below.
Task (computing)
Project management
scrum
agile