5 Ways to Drive Results With Conversational AI
A discussion of some practical business applications for artificial intelligence (AI) and machine learning (ML).
Join the DZone community and get the full member experience.
Join For Free
Communication drives businesses and strategically implemented artificial intelligence (AI) and machine learning (ML) can tangibly improve your business results. A wide variety of AI and ML solutions are now available to integrate with API-enabled Unified Communications as a Services (UCaaS) solutions. This article will provide an overview of major use cases that have been successfully built and deployed so you can get an idea of where your opportunities lie. The specific examples have been implemented and are available with the RingCentral Office unified communications suite.
Topics covered include:
Automated and Assisted Call Coaching.
Real-Time Agent Assist.
Operator Consoles.
Internet Ad Call Attribution.
Compliance and E-Discovery.
These are powered by a broad set of APIs including, but not limited to:
Real-time voice streaming.
Dual-channel voice recordings.
Real-time unified presence.
Directories.
1. Automated and Assisted Call Coaching
For B2B firms, sales team performance is one of the key factors that can affect the bottom line. With cloud communications partners, a variety of call data is available for analysis, including call recording files in both dual-channel and single-channel formats.
The key functionality of call coaching involves identifying proven methods for achieving results and using natural language processing to see how closely team members are following these methods.
This can be done manually, but automated solutions provide several key advantages: (a) every call can be analyzed vs. ones the manager listens in on, (b) the employee can receive feedback and improve in a self-directed manner, (c) the system came be gamified, and (d) managers can access summary data when working with employees.
For some examples on individual recommendations check out Gong.io. To give a quick overview, it allows managers to see a dashboard that aggregates this information across their team. Some public case study results from Gong.io show customers achieving:
+30% Close Rates
+33% Deal Size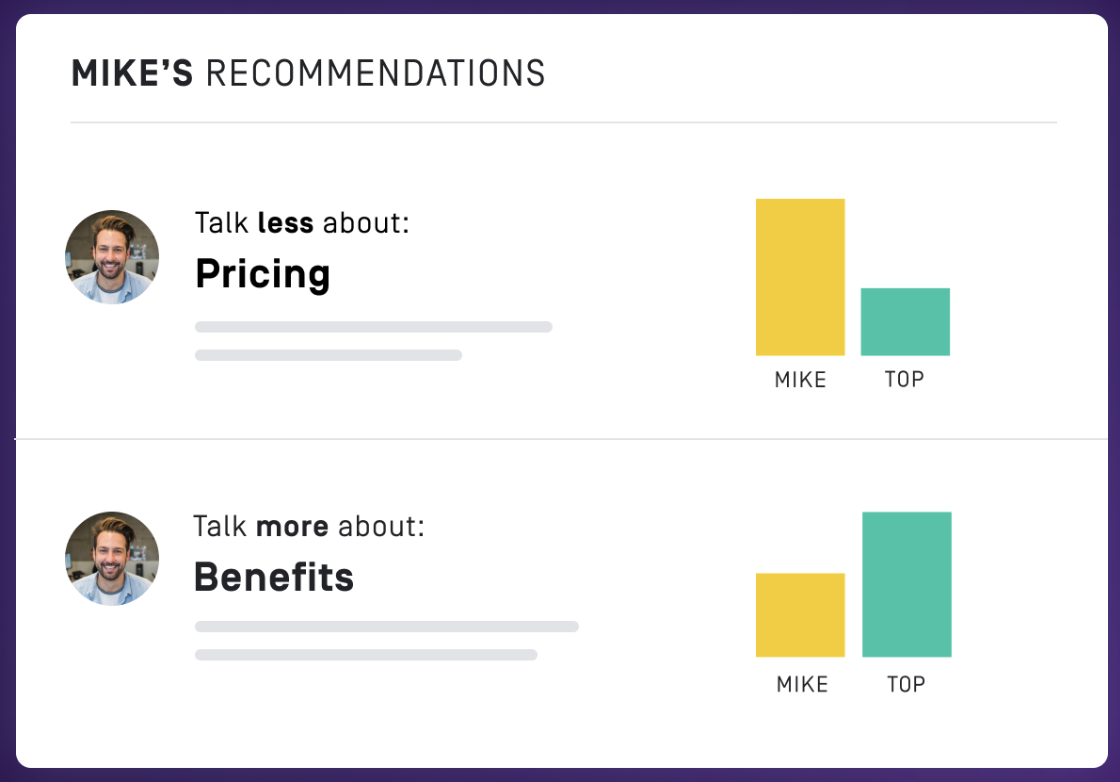 Here is another example deal dashboard from Chrous.ai.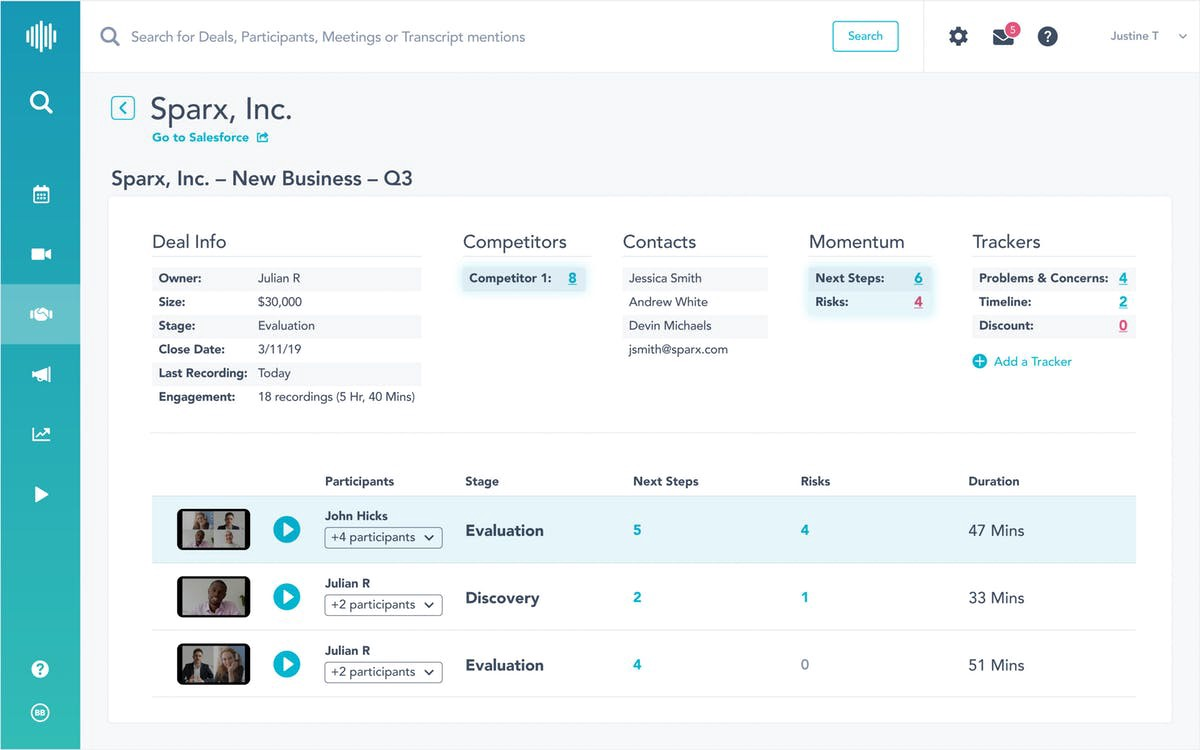 2. Real-Time Agent Assist
Employee agents on calls with customers can be much more effective when being provided real-time assistance to the context of the call. In the analogue world, a supervisor would listen in on the call and whisper suggestions to the agent that can't be heard by the customer. With AI-based solutions, real-time, context-specific, step-by-step guidance is given to your agents based on their conversations with clients in order to provide scalable assistance solutions to make employees more effective.
Real-time, agent assist solutions are built on call data identifying successful and unsuccessful calls and call flows. When a call is running, real-time voice streams are converted to data understood by the machine learning model which then provides information such as the topics being discussed, actions the the employee should take (such as "trial close"), and specific text the agent can use to inform their strategy.
Below is a screenshot of such a solution. The left shows detailed, real-time hints and tags from X-Sell Technologies while the right shows a real-time call transcription from Velvetech. RingCentral customers have experienced large performance gains including:
80% more effectiveness for their lowest performing agents.
15% improvement across the board.
3. Operator Consoles
When a caller escalates a call to a human operator from the IVR, he or she is already looking for better service, however, directing such callers to the right employees internally can be challenging. With large company directories and heavy call volume, even the most efficient operators can be challenged.
AI can be used to identify the most appropriate people or departments a caller is trying to reach and making suggestions the operator. This can reduce the amount of time it takes for a caller to reach his or her final destination.
Bridge Communications provides this in the Bridge Operator Console application as the Predictive Transfer feature. In customer environments:
87.2% of calls are transferred to the first choice.
94% of calls are transferred to the top 3 choices.
75% of customers have a positive ROI.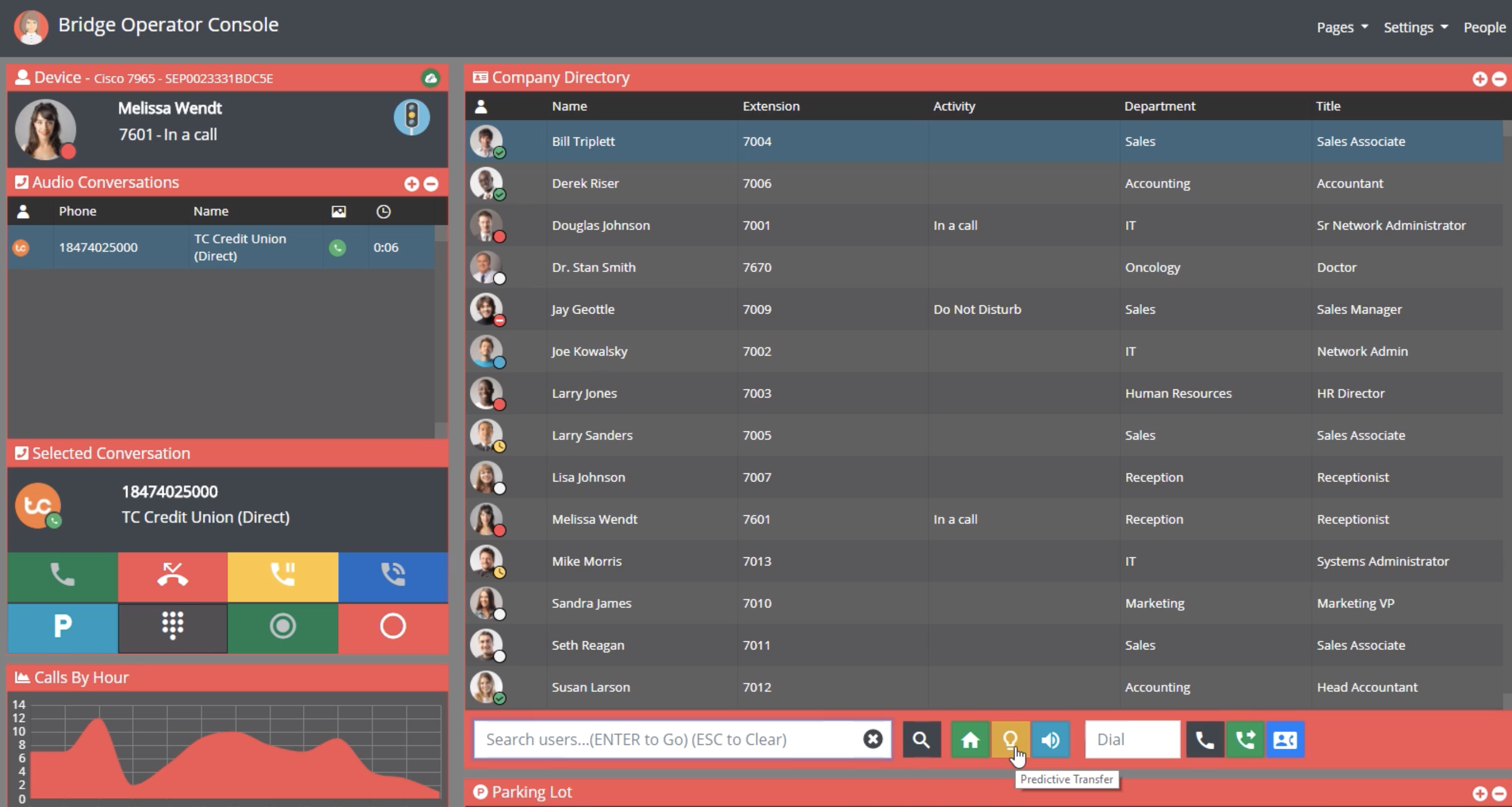 4. Internet Ad Call Attribution
Internet ads are an essential way to generate leads, however, it can be a challenge to measure their effectiveness, especially when doing keyword targeting. When using phone-based call-to-actions (CTAs), call attribution solutions can link Internet ads to phone calls and phone calls to desirable business results for a direct link between ads and results.
Internet ads and website pages can often display phone numbers for users to call. Call attribution systems work by inserting dedicated phone numbers, called Call Tracking Numbers (CTNs), into various ad campaigns for call tracking purposes. These CTNs can either be displayed in specific ads or dynamically inserted into webpages over default numbers when the user is arriving via an ad. When the user calls the number, the call media (real-time stream or call recording) is run against a natural-language understanding (NLU) engine to analyze the success of the call. By associating specific phone numbers with ads, the successful calls can be tied to ad campaigns.
Contact Marchex and DialogTech for solutions in this area.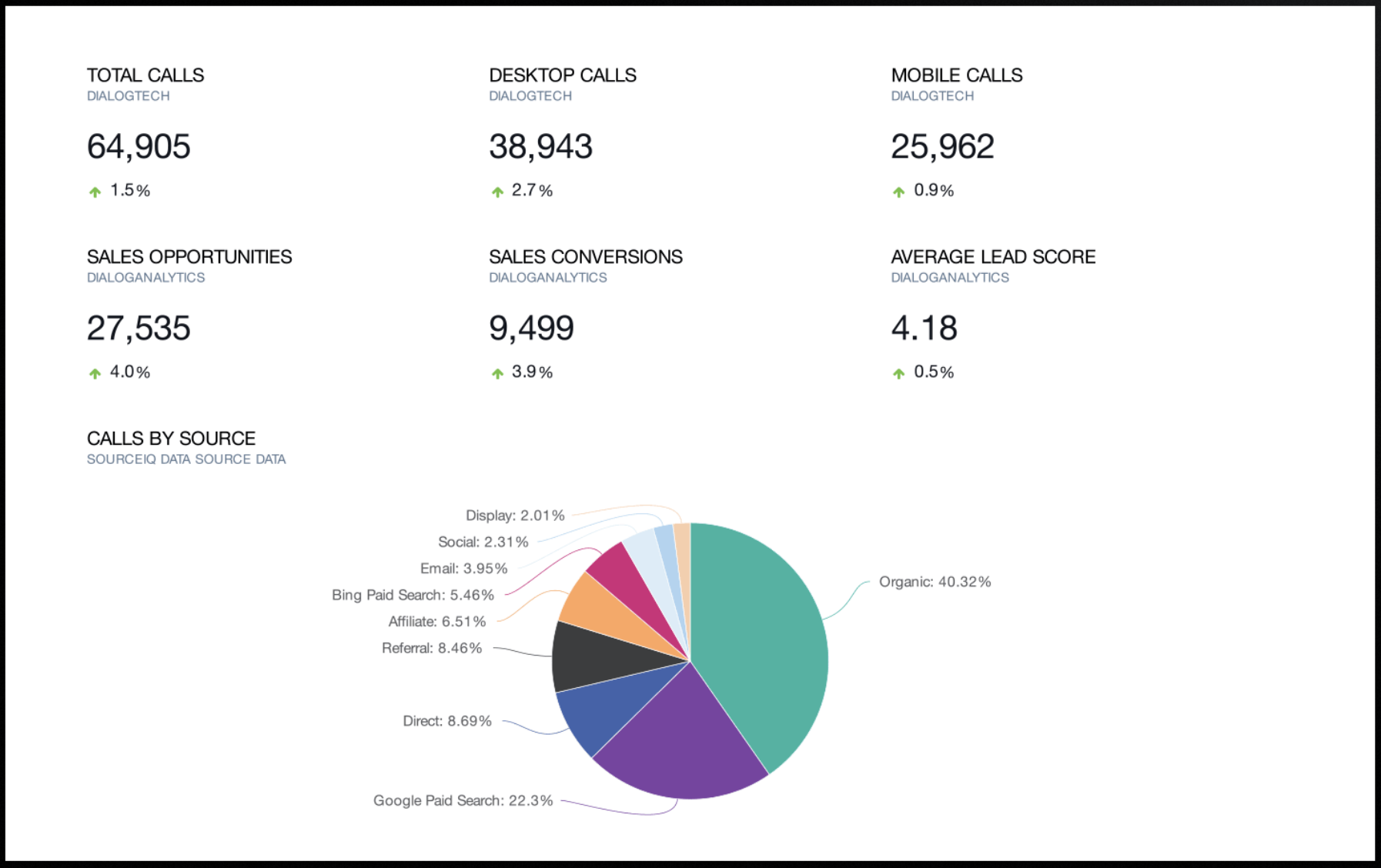 5. Compliance and E-Discovery
Reviewing customer communications for compliance and E-Discovery purposes can be required to meet various regulations and provide businesses a competitive advantage. Due to the array of communication data, including video, calls, and text, human review can be slow and costly.
AI Compliance and E-Discovery solutions have the ability to perform natural language understanding analysis to improve review quality and risk detection while also lowering costs. A Unified Communications solution like RingCentral provides a wide variety of channels that can be used and thus must be reviewed, including voice recordings, video recordings, chat, SMS, fax, and voicemails.
Learn more from Theta Lake, a AI-based compliance solution optimized for video and voice calls.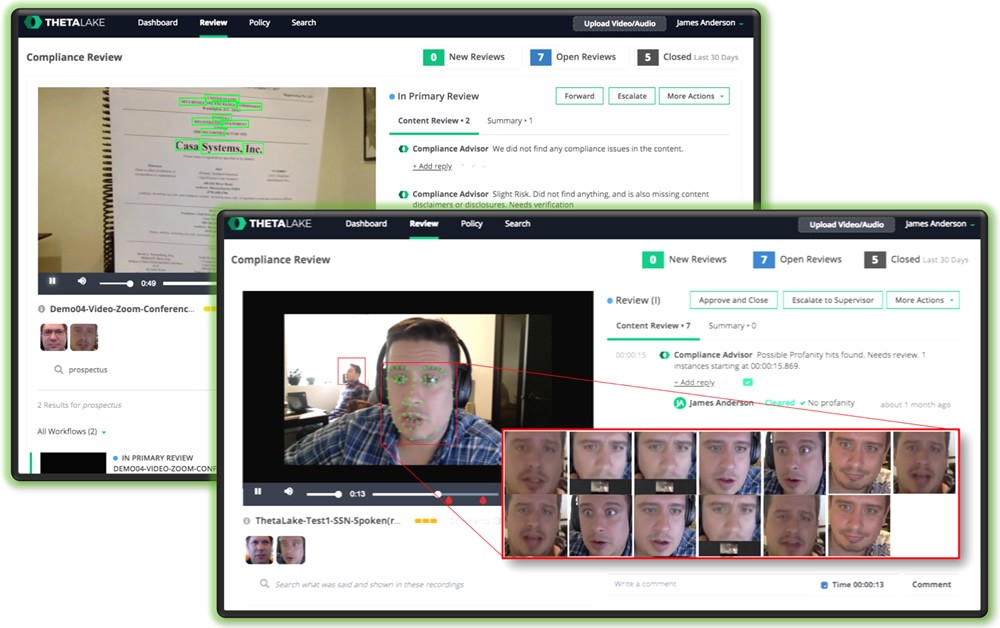 Learn More
Communications systems provide a rich set of data to analyze that is ideal to apply AI and ML techniques and solutions against. Learn more about pre-built applications using RingCentral's APIs at the RingCentral App Gallery. Learn more about specific APIs at RingCentral's Developer Program, including Voice Streaming and Monitoring.
Topics:
artifical intelligence,
machine learning,
ai