6 Best Business Management Software to Use in 2019
6 Best Business Management Software to Use in 2019
Here is a list of best business management software to use in 2019, whether you're running a small startup or a multi-level enterprise.
Join the DZone community and get the full member experience.
Join For Free
Whether you're running a startup or an enterprise, handling too many things at once can take a toll on your sanity. Which is why you always need professional business management software to help you smoothly glide through your daily operations.
To serve distinct business needs, there are dedicated business management tools present in the market. But these tools can be real deal breakers if they start failing you at any point. Therefore, it's important to understand what you want to do with the tool.
To help you navigate through the endless ocean of business management software, we've compiled and categorized a list of best ones among them according to the purpose they serve.
Best Project Management Software: nTask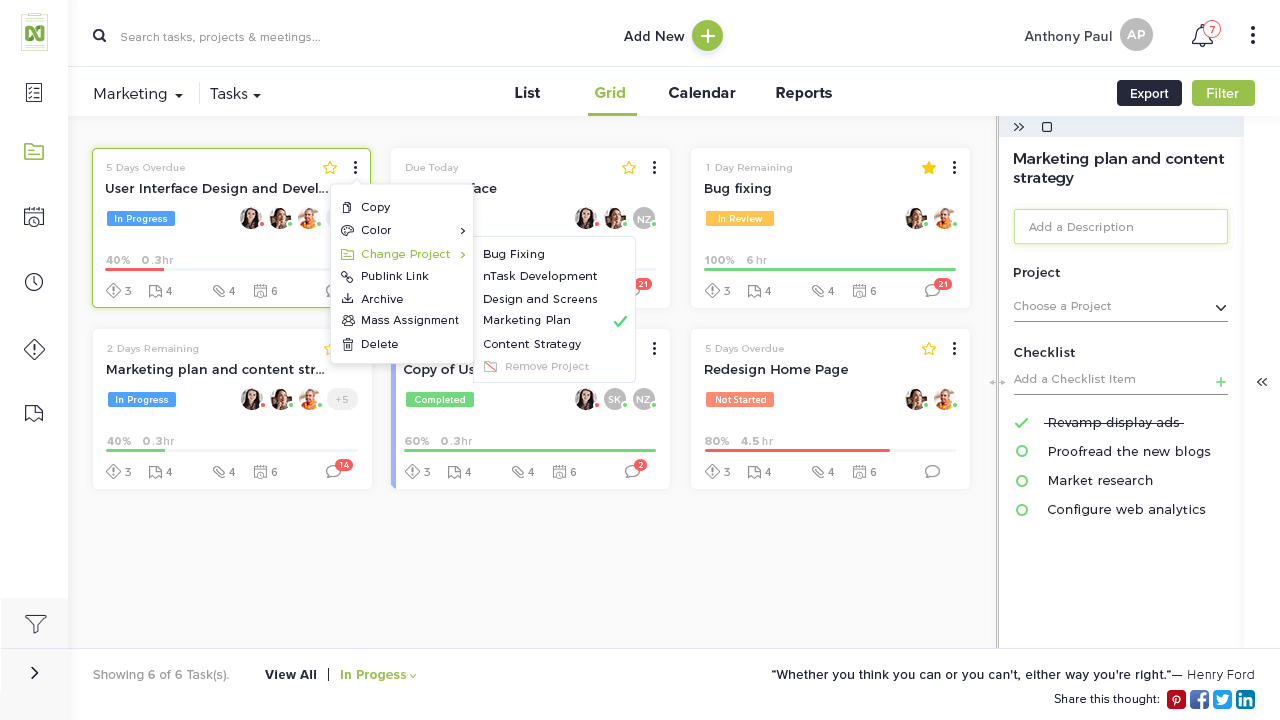 Forget about effective business management without using a dedicated project management tool. That's why we're starting off the list with nTask, a project management tool that comes with a multitude of features to help you complete your business projects successfully.
A single platform to plan, collaborate, and monitor your project performance without switching applications, nTask comes with powerful native modules which provide a multi-dimensional solution to all your project needs. With nTask, you can get a holistic view of what lies ahead in your project lifecycle.
Through beautiful Gantt charts and built-in timesheets, the tool also allows you to track your project performance seamlessly.
Let's see what you can accomplish through nTask:
Top Features
Create and manage your projects through systematic workflow which allows you to add things as you move along with the project.
Use it as a to-do list app and assign tasks instantly to your team members and make roles transparent.
Automatically repeat tasks by setting task recurrence according to the frequency of your choice.
Execute successful team meetings through a powerful native meeting management solution which lets you take control of your meeting details with more precision.
Create and associate issues with your respective projects and resolve them proactively through smart issue metrics, like issue severity and issue priority.
Safeguard your project from potential hazards by documenting risks earlier in the project lifecycle.
Monitor your project performance through built-in Gantt charts and auto-generating timesheets.
Communicate with your team members and provide timely feedback through comments within tasks.
Pricing Plans
nTask comes with three plans:
Free plan: unlimited tasks, unlimited meetings, timesheet reporting, up to 5 projects, and 5 workspaces
Pro plan: $2.99 - unlimited everything


Best Team Communication Software - Slack
Slack is where team collaboration is. No matter at what stage your business might be, the chances of information slipping through the cracks is real. Save yourself the horror of miscommunication and choose Slack as a professional team collaboration tool.
Whether you're onboarding a new employee, sharing critical files, planning your next meeting, or simply exchanging routine messages, Slack has you covered! With distinct channels for multiple teams, Slack not only makes team communication easier but better.
Not only this, but Slack also comes with hundreds of integrations to serve your respective project needs. Through these integrations, the software makes sure you don't have to constantly switch applications for executing basic business functions.
Key Features
Specific channels for teams, projects, or topics
Hundreds of third-party application integrations
Search option for instant access to desired messages
Customized availability statuses
In-app notifications
Plans
Free and paid plans. Paid plans start from $6.67
Best Financial Management Software - FreshBooks
Quite a popular tool for invoicing and accounting, FreshBooks is one of the best small business management software when it comes to financial management. Coming with a complete suite of accounting features, FreshBooks provides a fast and reliable solution for creating quick invoices, tracking expenses and much more.
Through native time tracking, you can easily monitor the time your team is spending on tasks and bill your clients accordingly.
Not only this, but the tool also facilitates project management through an elaborate feature set for effectively handling project related activities. A few prominent features include centralized file location, team chat, and project assignment.
Key Features
Expense tracking
Time tracking
Invoicing
Cost estimates
Accounting reports
Dashboards
Customized team permissions
Team chat
Plans
The tool comes with paid plans which start from $15 per month. All plans come with a free trial of 30 days.
Best Email Service - Gmail
Email serves as a critical component of a robust business management system, which is why the fourth tool in our roundup of best business management software is Gmail. Powered by Google, Gmail is one of the most widely-used email platforms around.
An easy-to-use application with an array of free features, Gmail is a go-to option for most individuals for personal and professional communication alike.
With powerful spam filtering, the application automatically detects junk and keeps it out of your inbox. Furthermore, the program organizes emails into designated folders according to their type, and categorizes them as primary, social, promotions, and others.
Key Features
Spam filtering
Email categorization
Free storage
Conversation threads
Instant messaging
Video chat
Virus and malware scanning
Search bar
Language support
Offline access
Powerful sync with other applications
Plans
Best CRM Software – Bitrix24
If you're looking for a CRM software that doubles as a task management tool, Bitrix24 might be your answer! Bitrix24 provides a unified platform for CRM, tasks management, documents management, and team collaboration.
The tool provides basic client management and marketing automation capabilities to small and mid-sized businesses in its free version. Add in a few bucks and you'll get access to some solid customer relationship management features, along with integrations for email marketing.
Furthermore, Bitrix24 comes with distinct CRM solutions for different teams enabling them to track their sales pipeline, automate marketing, and provide customer support through multiple communication channels.
Key Features
Lead management
Sales reports
Email marketing
CRM pipeline management
Customer contact center (chat, email, phone etc.)
Invoicing
Tasks management
Multiple third-party application integrations
Plans
Bitrix24 comes with free and paid plans. The paid plans start from $35, but you can also get a full-featured version for $69 per month.
Best Cloud Storage - Dropbox
With great businesses come great storage requirements. For any business, safe file storage and collaboration is one of the most sensitive matters. If you're not properly utilizing a cloud storage tool, good luck storing and retrieving your files.
This is where Dropbox comes into play.
It is one of the most popular cloud storage tools available in the market. Easy to set up, this business management software helps teams keep all their data in one centralized location for quick and instant access.
The software comes with multiple built-in tools to streamline other business operations too. For instance, Dropbox Paper allows for quick note-taking and to-do list management.
Key Features
Files storage
Files sharing
Custom access controls
Integrations with other applications
Pricing Plans
Dropbox is a paid tool and the plans start from $8.25 per month for individuals, and $12.50 per user/month for teams.
Best Customer Support Software - Intercom
Customer support is one of the most important things to run successful business operations, which is why the last tool we have in this collection of best business management software is Intercom.
Combining artificial intelligence with user-insights, Intercom allows you to automate the way you communicate with your customers. The tool facilitates this through customer segmentation and customer profiles.
It also enables you to manage and track customer requests using a single platform through features of live chat, and targeted personalized messages.
Key Features
Live user data
Real-time performance tracking
Live Chat
Instant messages
Email campaign creation
Behavior triggered messages
Customer segmentation
Customer profiles
Third-party application integrations
Plans
Intercom is a paid tool and the plans start at $136 per month. The plans come with a free trial of 14 days.
Which software do you use for your business management? Is there any tool that you would like to add to this list? Let us know in the comments below.
Software
Customer relationship management
teams
application
Project management
Task (computing)
Cloud storage