6 Best Risk Management Software to Avoid Project Failure
6 Best Risk Management Software to Avoid Project Failure
Projects are frequently derailed due to foreseeable but unmanaged risks. Check out these tools that can help you keep a lookout.
Join the DZone community and get the full member experience.
Join For Free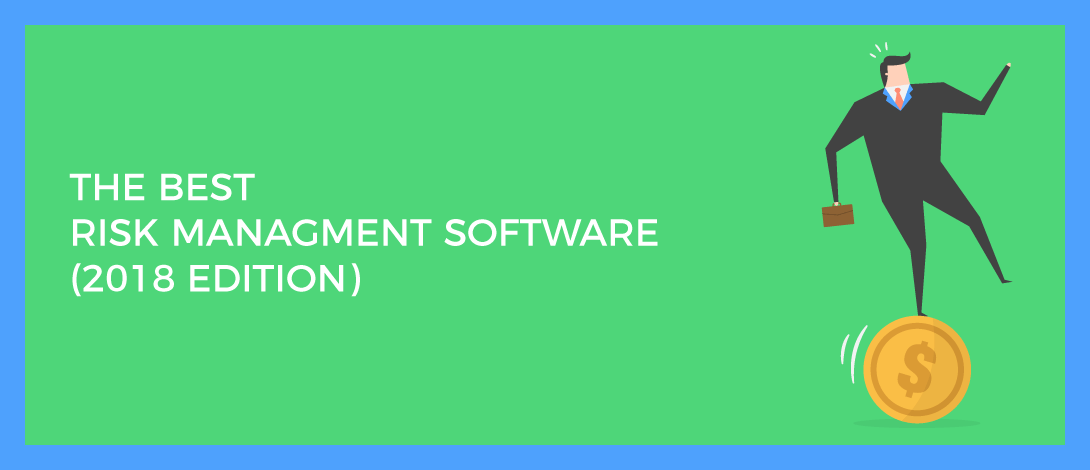 A PMI study revealed that 86% of organizations use at least one form of risk management methods.
I wouldn't be surprised by these statistics, given that digital technology has become a permanent part of all organizations now, which only means a business is likely to run into more technical if not mechanical hazards.
Knowing what risks are likely to occur and wherein a business can be a time-consuming job for project managers who already have enough on their plates as it is. Also, its important to realize that, with a growing number of projects and business scope, the nature of risks inextricably expands as well. And when that happens, a single static risk management approach does more harm than good.
According to McKinsey, 70% of senior managers have begun planning on adopting digital risk management. In other words, the use of a risk management software is becoming increasingly critical to maintain the resilience of a company.
Take a look at the 6 best risk management software that will add a cushion to your free-fall:
If your risk management software is clunky and complex to use, it will only aggravate your ability to track and assess harmful risks rather than simplifying the process of risk management.
Which is why nTask ranks first on our list. In nTask, the prospect of having to deal with and resolve identified risks doesn't seem too formidable. And the credit for which is single-handedly accounted to the extremely friendly, and pleasantly neutral tones of its risk management board.
The strongest suit that elevates nTask to a higher pedestal than it's fellow contenders is that it is a fully featured project management tool. So, whether you're working on a task or conducting a meeting, nTask lets you keep one eagle eye on risk updates.
Benefits & Features:
Proficient Risk Reporting – Made to please Agile Teams, in particular, nTask lets you create a plethora of risks whenever the need arises. Each risk is meant to have a specified Risk Owner that is accountable for coming up with ways to resolve the risk and monitor its progress.
Easy Visibility – Identifying risks is not enough. You have to be able to view each risk whenever you require and locate them without having to lose precious time. Using the List view, gain quick visibility of an entire set of risks, where each risk is currently standing and who is responsible for handling them.
Determine Risk Impact – Risks of any nature, in any department are at times uncertain and other times fairly predictable. Either way, to keep project stability intact, it is vital that the best risk management software offers the advantage of presaging the likelihood of the risk and how severe is it. Select from three different severity options to let everyone know how urgent a risk is.
Risk Matrix – A self-generating risk matrix that provides a tabular summary of the probability of each risk in cross-reference with its frequency of occurring. So instead of sifting through each risk individually, access the risk matrix in a single click.
There's no knowing when a risk will erupt and jeopardize the foundation of your project, leaving you with nothing but remorse. The only panacea to this predicament is constructive planning.
Resolver is one such tool that focuses primarily on risk planning and preparation. It supports early planning of risk identification, in stages when project objectives and regulatory requirements are still in the making.
There's an entire set of consolidated products offered by Resolver that are specific to organizations of all sizes and from all industries.
Corporations like Delta Airlines make use of Resolver's Enterprise Risk Management solution for Global Security challenges. On a different front, clients like Farmer Mutual Hail chose Resolver's Internal Audit and Risk Compliance software for efficient reporting of risks to their management team.
Benefits & Features:
Effective Assessment – Resolver Ballot facilitates a data-driven approach for conducting the risk assessment.
Flexible & Custom Reporting – Visualize your security data, risk matrix summaries and trending threats in customizable reports and heat maps that can be exported into spreadsheets and presentations.
Real-time accessibility & Insight – A centralized dashboard, that allows easy tracking of total risks assigned, resolved and unresolved.
Incident Management – Establish links between risks associated with external events from a third-party source.
Prioritize Risk Analysis – Use risk scoring algorithms to rank each threat based on various attributes such as priority and severity level.
Rapid Risk Retrieval – Resolver integrates with 40+ apps that let you share and transfer your risk inventory with outside parties or on your favorite project management tool.
Risk Response Management – Manage and monitor your team's thoughts on each vulnerability assessment and mitigation technique used to resolve it.
Sometimes the simplest of vulnerabilities are the most injurious, silently weakening the integrity of the project until it suddenly collapses, resulting in complete and utter project failure. Simple management tools such as TimeCamp, are the perfect fit for addressing such seemingly benign risks.
Though TimeCamp is fundamentally a time tracking tool made to assist teams in delivering on time, users can also conduct a risk assessment with special built-in features for multiple facets of their workflow.
Benefits & Features:
Determine Financial Risk – Allows users to monitor when their project budget is falling out of proportion. In such cases, users can sort and control leaky expenses with simple and easy editing options.
Evaluate Time Management Risk – Owing to its chief feature of time management, TimeCamp enables teams to reach project and task completion on set deadlines with the help of due date options, instant alerts, inactivity tracking and a weekly summary of how each employee is spending their time.
Curb Project Failure — In TimeCamp, project managers enjoy the ability to track and monitor the likelihood of a project reaching its completion. Options such as the state of the project and status allow teams to keep a solid check on any impending risks that may be festering beneath the surface and keeping the project from meeting its deliverable deadline.
Trusted by many, Integrum is one of the best risk management software in the world.
Winner of multiple awards and appreciated for being the most configurable system on the market, Integrum helps companies accelerate their business by helping them manage and reduce risks creeping out at any stage of a project.
Integrum's strongest suit is that it is particularly built for the health and safety management of an organization.
Australia's largest water supplying facility renders successful in supplying safe water and wastewater services to over 500,000 people with the help of Integrum's Quality, Health and Safety Management system. Integrum proffers a sophisticated range of integrations to help a legion of legacy systems streamline their processes and business growth.
Benefits & Features:
Governance Risk & Compliance – Equipped with features such as incident, investigation and document management, Integrum aims to help companies in identifying potential risks before, during and at the end of a project.
Business Optimization – Integrum takes great pride in being the most customizable software on the market. You can use their intelligent built-in tools such as the SMARTForms that extracts your data to generate comprehensive forms. A similar in-built tool responsible for designing workflows helps ensures that company work is up to speed and whether any roadblocks are imminent.
Business Intelligence – Risk identification is incomplete without a proper reporting system.
Integrum BI reporting system is a world-class reporting system that allows users to create as many dashboards, reports and graphical analysis of their mitigation plans. On top of efficient reporting, an easily maneuverable interface is a cherry on top. All and any members from a team can access a complete list of potential and identified risks from a centralized hub where data can be moved from one board to another via drag and drop option.
Every project scope is different from the previous project and the one next in line. With differing projects, arises differing vulnerabilities in the system as well.
The small and menial ones are often captured and dealt with little fuss. It is the highly specialized ones that need a mechanized system of host scanning to avoid any sneaky loopholes that may later damage the entire project development.
Qualys is one of the most advanced tools that offers vulnerability scanning, malware detection, and remediation tracking.
Qualys has a generous compilation of security solutions included but not limited to: asset management, IT security, Cloud security, Web App security and Policy Compliance. It is because of its simpler, safer and cost-effective suite of features, that Qualys is used across 130 countries and is trusted by major global brands like Microsoft and Deloitte Inc.
Benefits & Features:
Vulnerability Management –Vulnerability Management works with additional Qualys tools such as Continuous Monitoring that provides teams with a hacker's-eye view of their business empire. This feature proactively sends alerts to whenever there is a risk-breach anywhere within the system. These alerts can be tailored and altered according to user preference or the circumstance.
Host Scanning – Qualys VM conducts a comprehensive scan of the entire business perimeter and protects all fronts of a company by identifying any vulnerabilities and bringing them to surface for remediation. Remediation details and the entire security posture of a project or a company domain can be easily viewed in the executive dashboard. Users can obtain role-based reports and documentation of identified or unresolved risks through VM report generator.
Malware Detection – Companies can use Web Application scanning to detect viruses roaming close by, faulty website policies and technical infections. The scanner also performs behavioral analysis, that demonstrates visual reports of malware trends, scan activity, and risk-prone pages.
Threat Protection – Use Qualys powerful search engine to search and retrieve specific vulnerabilities and risk history from the inventory, and fine-tune your results with the help of various filters and sorting options.
Some risks are fairly predictable, some are hidden, and some are recurring. Which is why the monitoring of risks that keep re-surfacing or that are ongoing, should be a vital part of the risk management software that you choose.
CURA provides companies with the expertise of supervising each risk, in accordance with its impact and probability.
It offers solutions, to multiple industries ranging from banks, healthcare, insurance firms, utility firms and telecommunication, in the form of project risk management, enterprise risk management, operational risk management and incident risk management.
Organizations all across the world, rely on CURA to manage risks. Kellogg's, one of the world's leading cereal producers, uses CURA's automation system to manage their SOX Section 404 compliance.
Benefits & Features:
Risk Identification – With the help of Governance Risk Compliance, users can identify risks and regulatory requirements at any stage of the project from the beginning to the very end.
CURA's project risk management is extremely flexible. You can link risks to projects to ensure vulnerability assessment is a major part of your decision-making process. Once the risks have been identified, you communicate the update on the risk management process with teams within the organization and with outside sources such as stakeholders or clients.
Risk Monitoring – Using the Goals & Objectives features, project managers can examine and monitor each member's performance and activity, related to risk remediation.
Risk Reporting – In CURA, companies enjoy the highly configurable feature of risk reporting facilitated with flexible dashboards. Users can formulate reports in the form of lists, tables or even visually interactive graphs. Once created, all reports can be exported to a third party via email, Word Doc, Excel Spreadsheets, and PDF.
Finding the best risk management software can be a challenge at the beginning. But with free tutorial guides and company training, companies can practice risk control and risk elimination at any level of their business structure.
Software
agile
Vulnerability