7 Data Management Pitfalls To Avoid
Cloud technology is a necessity in today's big data world so big data investment is clearly advantageous, but poor management can mean more work down the road.
Join the DZone community and get the full member experience.
Join For Free
Introduction
Most businesses are aware of why migrating applications and workloads to the cloud is beneficial. Cloud technology is a necessity in today's big data world. However, with change comes risk. When IT systems go down or aren't managed effectively, the entire business suffers.
Big data investment is clearly advantageous, but poor management can mean a big mess. Averting a data management crisis is easier when you're aware of the common mistakes others have made. That way you can be ready with a solution instead of spending time on the phone or on a video call with your team.
With that in mind, here are seven common data management pitfalls to avoid.
1. No Data Protection or Governance
All company data must be safe while being stored or transferred. You need to ensure, no matter what, that it's recoverable if something goes wrong. Stay vigilant in case of corruption, ransomware, human error, and other risks.
Before beginning a data transfer, you must ensure an effective data governance framework is implemented. This is possible only when a governing authority is created, made up of people equipped to oversee proper data administration, transfer, and recovery if needed.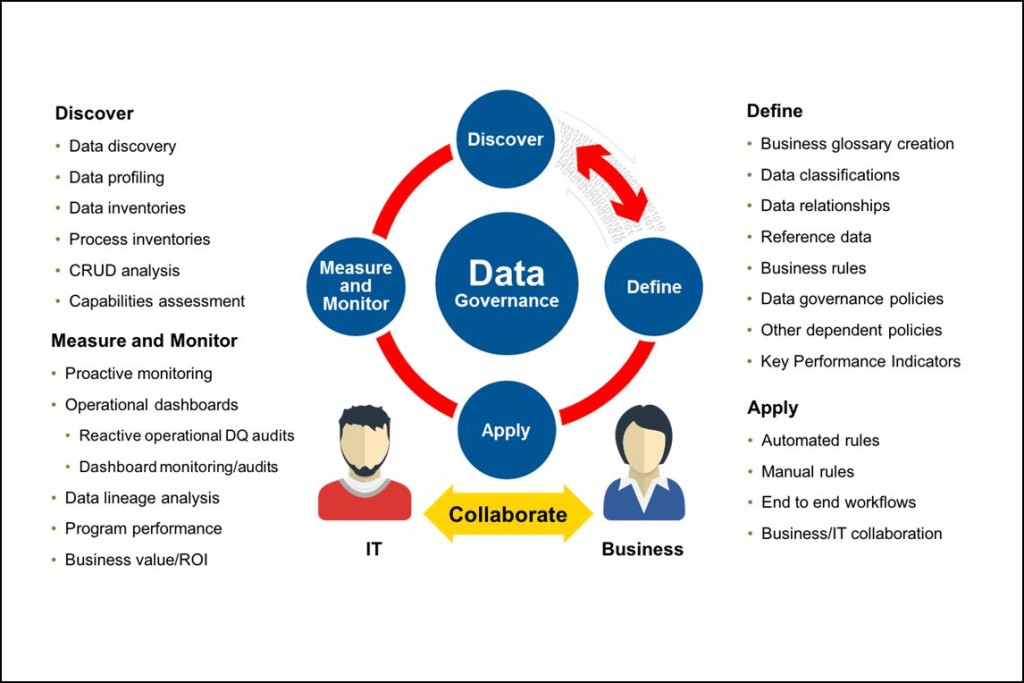 Source: Informatica
2. Seeing Governance as a "Project"
Some organizations treat data governance initiatives as traditional projects. Data is forever changing, fluid, and has multiple points of interaction. Thus, a standard project management approach doesn't fit. A program approach works better. That way there can be a defined series of separate project streams all focused on a single task with different approaches and skillsets. As long as there's fresh data going in and out of an organization, the governance of said data should be ongoing with no defined end.
3. Forgetting the Different Interpretations of Enterprise Data
If there are differences across divisions in the definition and usage of data, it can mean insufficient quality data is entered, handled, and reported. A data quality strategy must combine the general business workers, data governance team, and external specialists.
Those individuals can then collaborate to define steady and universally agreed-upon definitions to improve data quality. Modern collaborative features, such as screen share, make such cooperation easier. Data governance progress is made possible when a business sees its data as an organizational asset.
4. Profiling Poor Data
Data profiling is necessary for advancing data integration applications. Extract, transform, load (ETL) developers specialize in data transfer. They study current datasets to clean and process them; however, that's only half the work.
If, for example, Customer A adds their phone number to the postal code field, ETL is instructed to extract the phone number from the postal code field and place it in the phone number field. For your current dataset, this works, but if in the future Customer B does the same thing, will the method be repeated?
If you're not taking future datasets into account and only supporting what's already there, then Customer B's information won't be processed correctly. You can't predict data, so flexibility within the dataset is essential. To fix this, in-depth profiling right at the start of any project means less time spent in the future updating the data cleaning portion of ETL going forward.
Get it right, and your customer support team will be forever grateful.
5. Not Creating and Utilizing Data Quality Standards
If data evaluation is both regulated and dependable, then the quality of data within each application is of a higher standard. Additionally, a data quality strategy based on categories that are monitored and reported on consistently will be far easier to create and manage.
6. Ignoring a Data Quality Roadmap
A data quality roadmap can be defined by collecting the input of the governance team, developers, support staff, and the business community. That ensures a foolproof sequence of defined projects. This roadmap considers the size, stability, and time-cost of an application. As well as whether the right team members can get involved in the right projects. All steps, then, make business and technical sense.
Deviating from this roadmap will create problems in the future.
7. No Interoperability Strategy
Many organizations are adopting a hybrid infrastructure to optimize efficiency and reduce costs. If that's you, you must fully understand data management options and the impact a new strategy may have on your business.
How easy will it be to switch vendors? What kind of code needs to be rewritten? It's in a cloud vendor's best interest to lock you in with proprietary APIs and services. Still, the onus is on you and the governance team to keep all data and applications multi-cloud capable. That way, you're agile and have more choices.
Conclusion
When beginning a new data management strategy, success comes from being aware that it's an ongoing and ever-changing process. So, go slow and take many small steps as opposed to fewer big ones. Slow and steady wins this race.
Topics:
data protection,
cloud technology,
data management,
data management solutions,
data quality management,
interoperability
Opinions expressed by DZone contributors are their own.
Big Data Partner Resources