A No-Frills Guide To Facilitating Customer Journey Mapping Workshops
In this article, I'll share the simple structure to facilitating customer journey mapping workshops, so you can understand how to improve customer experience.
Join the DZone community and get the full member experience.
Join For Free
To better understand how your customers interact with your products or services and to envision how to improve their experience, work with your team to collaboratively develop customer journeys. Simply put, a customer journey is the sequence of steps a customer follows to reach a goal. As we build the journey, we highlight points where the customer interacts with the product. Developing the customer journey helps us identify and prioritize pain points and provides us with ideas regarding how we might improve the customer experience.
As you may have guessed, when building the customer journey, we're building it from the perspective of the customer – i.e. we put ourselves in our customer's shoes and narrate the steps she or he takes to achieve their goal.
In this post, I'll share the simple structure I follow to facilitate customer journey mapping workshops.
1. Introduction: Context-Setting:
Welcome everyone and create context by referencing how the need for the workshop came about (what motivated you and the team to attempt customer journey mapping?). Broadly explain the concepts of the customer journey, customer journey mapping, and customer personas
Go around the room and ask people about what they hope to achieve by the end of the workshop. Clarify misunderstandings about what customer journey mapping is and is not about. This could take some time but it's very important.
2. Collaboratively Develop Working Agreements For the Workshop:
Explain what working agreements are and why we need them for a successful & productive meeting
Start by giving examples for what to include (e.g. no phones), people usually have no problem shouting out things to be added but sometimes have difficulty to start. This shouldn't take more than 10 minutes.
Here's an example (just to show you – the facilitator – what agreements could look like):
Only one person can speak at a time.
We will respect each other's opinions and ideas even if we don't agree with them.
Anything discussed during the workshop will remain confidential – none of this should be repeated outside of this meeting.
Be aware of the time and any constraints – helping to stick to it, and move on when necessary
Computers and mobile phones must be turned off during the workshop to minimize disruptions. They can only be used during breaks.
Regular rest breaks to keep everyone focused.
Write legibly on post-its, one idea per post-it.
At this point someone from the group usually asks, "what do we do if someone broke the agreement?" or "how do we enforce the agreement?" – refrain from suggesting anything here and instead let them figure out what's the best way to make sure the group adheres to the agreement. Add whatever they come up with to the agreement itself. The working agreement should be visible to everyone.
3. Develop Personas
Give the group 10 minutes to individually think about the customer personas they believe we serve. Ask the group to write those personas on post-its (one post-it, one persona). Only a title/general description per persona. (e.g. small mom-and-pop store, artisan coffee shop, medium-size creative agency, etc.)
The group should then place the post-it's on the board and remove duplicates, cluster similar personas, etc. It's important here that the group, not the facilitator, does the clustering. Important conversations usually spring from trying to cluster different persona types into groups.
Ask people to pair up, and each pair to focus on just one persona. Let them figure out which pair does which persona (don't assign personas to small groups). Each pair will have 25 minutes to brainstorm the following aspects of the persona they chose:

A little bit of background: who is the customer? what are their key characteristics? what are their top/most important values?
Motivators: what are their goals/objectives? what are their priorities?
Needs: what do they require to accomplish their tasks and reach their goals?
Challenges/pain points: what are some of the challenges they face while trying to reach those goals?
Anything else that you think is relevant to better understand and empathize with the customer - this is not an exhaustive list

Each group can write their persona on butcher paper
After the 20-25 minutes is up, each pair should tell the story of their persona back to the entire group and answer questions
The next step is prioritization: Depending on the number of personas, give each person 2-3 votes. have them vote for what they believe are the most critical personas that we need to map now. Emphasize that ALL personas are important, but we might not have time to map out all of them today.
Rearrange the personas or put numbers on them to reflect the ranking
4. Journey Mapping:
Starting with the most important/critical persona, have the group silently brainstorm what stages does that persona goes through to have their needs met. They should write the stages on post-its, one stage per post-it. I prefer to use one color for the stages (e.g. ask the group to use purple post-its, for example, to write the stages)
Example: let's say we offer corporate health care solutions to companies.
We identify one of the personas of our business customers, a small high-tech company (less than 50 FTEs), and then think about what stages does that customer goes through from having the need arise all the way to having it met.
The need may have originated from negative press coverage of companies who do not offer adequate health insurance to their employees, for example, or from the CEO reading an article about how the best way to attract and retain skilled millennial employees is through attractive health insurance packages, etc. Some people call this 'discovery' – as in the persona discovers the need.
The next stage would normally be for the company to do some research on the different alternatives available in the market, maybe talk to other companies who have used similar products/offerings from different providers, etc.
That would be followed by them contacting a provider, getting a quote, (or maybe issuing an RFP) – you get the idea.
After the timebox (~10 mins) is up, simply ask each member of the group to line up their post-its on the board (from left to right to show the journey of the persona as he/she sees it). The next person should line-up their posts underneath the first one, and so on.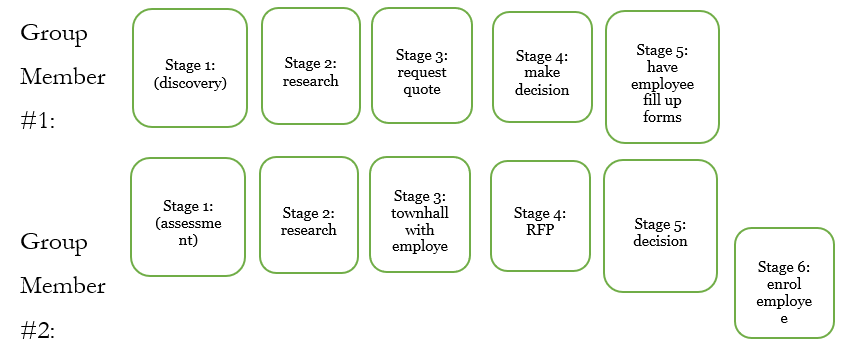 There WILL be differences (as you can see from the example above). The facilitator should lead a conversation about each stage (e.g. in the example above group member #1 put 'discovery' as the first stage, while group member #2 put 'assessment') – ask them to clarify and ask for the group's opinion.
The result of this activity should be a consolidation of what the group came up with to have a good enough understanding of the stages the customer persona goes through from need arising to need met (it doesn't have to be perfect, and there will be things that could not be consolidated – that's completely ok).
This is a sample journey map skeleton (just an example – your map will look different):
| | | | | |
| --- | --- | --- | --- | --- |
| | Discovery | Research | Purchase | After sale |
| Tasks | | | | |
| Questions | | | | |
| Touchpoints | | | | |
| Pain points | | | | |
Tasks: Actions that the customer completes at a particular stage (e.g. using the example above, during Research the customer might look up different options online, purchase reports/assessments from independent research agencies, etc.)
Questions: What questions do customers usually have at this stage? (e.g. around price, coverage, etc.)
Touchpoints: how does the customer interact with the organisation (our organisation) at this stage? (e.g. during research, they may look up our website, during purchase they may call a sales representative or place an order online using our website or app, during after sale they may call, send emails, use interactive customer support on our website, etc.)
Emotions/pain points: I love to think of this as "how are we letting the customer down?" – i.e. during research, for example, is our website difficult to navigate for someone to find the information they're looking for? During purchase, is it a painful/long process for someone to sign-up for our services or request a quote? During after-sale, does it take a long time to respond to customer service requests, etc.? When I'm facilitating, I usually encourage the attendees to spend a good chunk of time to think about what potential pain points we may have been causing customers.
After building the skeleton of the journey map, I simply ask the group to start the actual mapping process from stage 1 (first column). I ask them to write as many ideas on post-its as they can and place it under column 1 against each of the 4 areas (tasks, questions, touchpoints, and pain-points). I like everyone to do the first column together so they can understand how to do it.
After column 1 is populated, I usually ask the group to pair-up again so that each pair could focus on just one column (e.g. one pair could focus on the research stage, while another could focus on the research stage, while another could focus on purchase, etc.)
By the end of the exercise, the map would look something like this: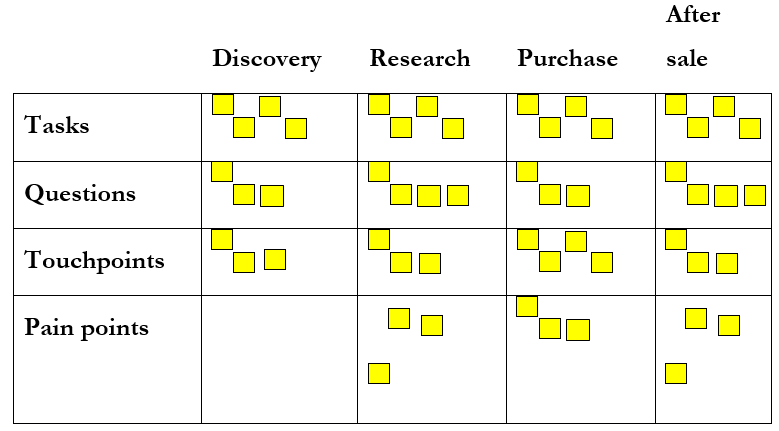 Topics:
agile adaptation,
agile adoption,
scrum,
product management,
devops
Opinions expressed by DZone contributors are their own.