Adobe, Microsoft, and SAP Open Data Initiative Details
DZone 's Guide to
Adobe, Microsoft, and SAP Open Data Initiative Details
Use AI to connect data and gather insights.
Join the DZone community and get the full member experience.
Join For Free
It was great having the opportunity to hear Shantanu Narayen, CEO of Adobe, and Satya Nadella, CEO of Microsoft, share details about the Open Data Initiative (ODI) at Adobe Summit as well as their throughts on how organizations can successfully transform.
Originally announced last September, Adobe, Microsoft, and SAP are working on a collaborative new approach to business data to help companies transform their customer experiences (CX) through real-time insights delivered from the cloud. The partners outlined a common approach and set of resources for customers in an initial announcement last September, for the purpose of helping customers create new connections across previously siloed data, more seamlessly garner intelligence, and ultimately better serve brands with an improved view of their customer interactions.
The ODI has been focused on enhancing interoperability between the applications and platforms of the three partners through a common data model with data stored in a customer-chosen data lake. This unified data lake is intended to allow customers their choice of development tools and applications to build and deploy services.
Narayen and Nadella discussed the importance of culture for companies to be successful in making a digital transformation. The company and its employees need a learning culture where they have empathy with their customers and they are always looking to improve and reinvent themselves. Move from being a "know-it-all" to a "learn-it-all," they are infusing the culture with intellectual curiosity.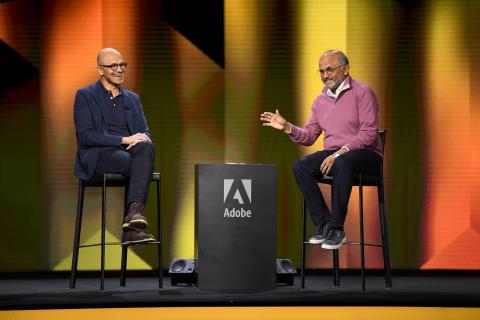 To improve the learning process and gain insights on how to add value for customer and partners, the three companies plan to deliver in the coming months a new approach for publishing, enriching, and ingesting initial data feeds from Adobe Experience Platform, activated through Adobe Experience Cloud, Microsoft Dynamics 365 and Office 365 and SAP C/4HANA, into a customer's data lake. This will enable a new level of AI and machine learning enrichment to garner new insights and better serve customers.
Unilever, a mutual customer and one of the early global brands to express support and excitement about the ODI, announced their intention to simplify a previously complex business outcome based on these data connections.
At Adobe Summit, Unilever demonstrated how they plan to bring together disparate customer, product, and resource data and use AI-driven insights to help reduce their plastic packaging and encourage consumer recycling. By eliminating the silos of data, Unilever will be able to tie inventory and plastics data into Adobe data to enhance customer experiences and encourage participation.
According to Nadella, the future is an intelligent cloud and edge where ubiquitous computing gets embedded and becomes seamless enabling transformation for every vertical. Computing becomes even more distributed. More distributed computing and more data require AI to make sense of it all and do wonderful things for customers and partners.
Key takeaways on data and learning:
The hardest thing to do is predict with high precision what consumers will like and what consumer behavior will be in the future.
Expectations keep changing, so you must keep listening.
Build long-term systems and create an experimentation harness on top of systems.
Think about how to build the social side of your system to continually test and experiment.
Reward people for disproving their hypotheses. Create a "no-regret" system of learning.
Topics:
open data initiative ,ODI ,open source ,microsoft ,adobe ,sap ,data ,open data ,CX ,cloud
Opinions expressed by DZone contributors are their own.
Open Source Partner Resources