Agile Implementation: From Theory to Practice
Agile Implementation: From Theory to Practice
Several industry experts and executives provide support for these tips and strategies to begin ushering in an Agile transformation.
Join the DZone community and get the full member experience.
Join For Free
Within a short span of time, Agile frameworks have proven their worth in the field of project management. Termed as the best-kept management secret on the planet by Steve Denning, the director of the Scrum Alliance, Agile projects are found to be 28% more successful than traditional projects.
With a defined set of rules and roles, an Agile framework not only streamlines the project flow but can also enhance team collaboration. In fact, according to Manny Gonzalez, CEO of the Scrum Alliance, "Agile is now much more than a revolutionary approach to work for the software development industry.
It's transforming a wide variety of industries and specialties from marketing and human resources to financial services".
Most Common Agile Implementation Practices
The most common practices of Agile have been summarized in the 2017 State of Agile Report. The report was compiled by VersionOne and a summary extract is pictured below.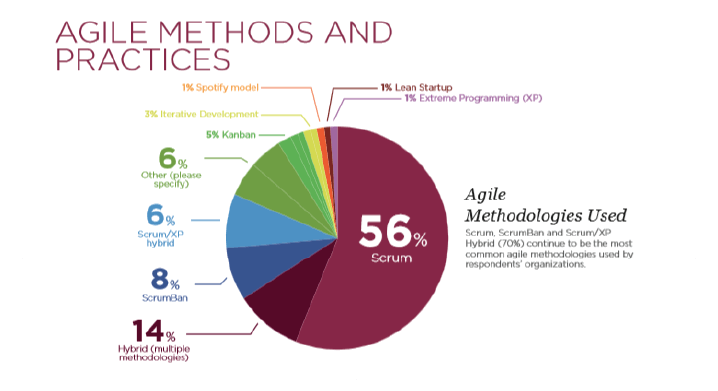 A simple process by design, the implementation of this framework has been met with different perceptions in different organizations. From defining roles in the existing organizational structure to devising methodologies for managing workflows in different departments, implementing any framework needs time and trial. It is no different for Agile.
In order to make this concept easier to understand and provide ideas for its smooth and swift implementation, here are some tips we have gathered from experts along the way:
Stay Flexible
One approach that some organizations adopt is to be all in or all out. When it comes to the implementation of any framework, it is usually attempted to go by the book. This approach is ineffective.
XBOSoft CEO Phil Lew recommends being flexible with the Agile implementation, working with it according to the pace and requirement of your organization. He believes it should not be implemented out of the box; rather, companies should focus on the purpose – which is the access to feedback.
As long as that purpose is being served, you can be flexible with the sprints, be it two weeks or three.
Keep It Clear and Documented
Clear communication is key to success in every project development cycle. The same applies to Agile methods.
David Alsbury has over 20 years of experience and serves as the CTO for StartCHURCH. According to Alsbury, clear communication regarding the framework is imperative.
In order for the team to stay in sync with decisions and to avoid confusion, he recommends appropriately documenting stories, which are one-sentence descriptions of work. These stories should be easy to understand and should be followed up on after team meetings.
Lead by Example
The management of any organization plays an important role in Agile implementation journey.
A lack of belief in the adopted framework can negatively impact the chances of the framework's success. For instance, if the upper management does not believe in Scrum and does not take it seriously, it is highly unlikely that scrum will work within that organization in the long run.
That's what Stijn Van Loo, Development Manager and Product Owner at Netlog, believes. Stijn recommends that the management proactively take part in Scrum implementation. This participation will reflect well in the corresponding teams.
Emphasize Training
Change is inevitable, but, with a good strategy, organizations can make change management easy. Adopting a framework or transitioning from an old system to a new one takes time and effort.
Employees strive within the change, which is why it is important to implement it through a systematic approach.
Scott Dunn, CEO of Rocket Nine Solutions, considers training a key element in implementing Agile framework in any organization. These trainings, according to Dunn, should not only be limited to teams but should also include management.
The Agile team needs to be clear about the concept from the beginning for easing its way into the new structure.
The importance of training the management is undeniable, as the management is responsible in implementing the change over the entire organization, in essence developing a culture for long-term success.
Facilitate, Don't Dictate
The role of a Scrum Master is to help streamline the Scrum framework by guiding the team. Daniela Field, a technology professional with 10+ years of experience, considers the role of the Scrum Master as one of the core determinants of the project's success.
According to Field, some Scrum Masters tend to go off-track and resort to dictating and micro-managing activities. This, in turn, can damage the team confidence, reflects lack of trust and can serve as a potential roadblock in achieving goals.
On the other hand, some Scrum Masters are detached, leading to lack of involvement. This leads to lack of knowledge regarding the team or the project and affects the role as well. Field recommends that the Scrum Master should be approachable, well-updated on the work patterns, and have a clear idea on issue resolution.
Keep It Simple
Intricate and complicated projects can consume a great deal of time and make it difficult to not only identify but also tackle potential issues. Field recommends breaking up complex requirements into smaller, more manageable stories that can be iterated over time.
Furthermore, planning is important. There should be well-devised backup plans for all likely issues that could arise. Even if all the issues cannot be resolved at a time, the process should be carried out in a way that allows for simplified monitoring of costs incurred by implementing changes.
Use the Right Tools
Project management tools have made a mark along with the evolution of other project management elements. In fact, according to research by PwC, the use of project management software increases performance and satisfaction.
Depending on the requirements, budget, and ease of use, the perception of the ideal tool varies within each organization. David Alsbury of StartCHURCH believes that investing in good software can be a game-changer.
He endorses project management applications that can help visualize the status of a sprint, such as a Kanban board. This will help the project more streamlined towards successful completion.
Your turn – do you have experience with Agile implementation? What are some of the practical tips you adopt in your Agile implementation journey? Let us know in the comments below.
Read the original post on the nTask blog by clicking here.
agile
scrum
Implementation