Agile Success Story in Gaming Industry
DZone's Guide to
Agile Success Story in Gaming Industry
Check out how this poker gaming company used Agile and Scrum methodologies to improve their overall delivery pipelines.
Join the DZone community and get the full member experience.
Join For Free
Adda52.com is India's largest poker destination with a mission to create a poker eco-system that is committed to providing the players the best poker experience across all platforms in a safe and a secure way. Adda52.com is a pioneer in poker gaming industry and owns and operates its own software. Within a span of 5 years, the site has grown to become India # 1 Destination for Poker Players.
There are known cases, where the Upper and Middle management cannot see the benefits of implementing Agile, or where the only benefit they see is vis-à-vis delivery frequency. In such scenarios, the Agile Coach and the teams work together to convince the management that Agile is more than a delivery mechanism; it comes with tangible benefits which can be proved via budgetary explanations and intangible benefits like building trust and ownership.
The scenario, in this case, was different as the management was onboard with the idea of implementing Agile, but the team was initially hesitant in adopting Agile. The concern stemmed from the assumption that Agile might add chaos with the meeting and planning involved during the Scrum Process. The reason was that the teams performed under a Model of Competency and felt that the approach was optimal which did not leave any room for innovative approaches. Injecting an Agile mindset in the team was challenging as it was a perspective change and there was resistance from the team.
Problem Statement
One team of around 40 individuals managed by centralized control mostly resulted in haphazard situations, failed commitments and unmanaged work. Moreover, bottlenecks were identified at last stage and there was lack of transparency in work being assigned and done.
Approach
Management evaluated various options to structure the overall process. The initial assessment for Agile was done through an external consultant and later the management identified the need for a full-time Agile Coach. Scrum was chosen as a framework based on the prevailing work culture in the team.
Scrum Values, Ceremonies, Artifacts, Roles & responsibilities are followed throughout, with the following activities being done to strengthen the processes
Manager Strategic Meet
A one-day session was organized with the entire team of managers to bring them on the same page. The task given to each person was:
"Assume yourself to be the CEO of the organization and propose the list of things to be done to take the organization from current 800 peak concurrent players to 2,500 players."
While suggesting any solution it should have the perspective of quality, predictability and stress should be given to teamwork. Others from development, testing, marketing, and CRM team were also involved to get the complete perspective of the task undertaken. This session brought fruitful results and many action items which have since then have been implemented. The complete action plan was divided into three themes: PokerSoul, Customer Stickiness, and Customer Trust. Respective action items were created under each theme and everyone was geared for action.
Benefits
Everyone was involved in planning the organization's goal
Everyone was on the same page at Managerial Level
Roadmap and vision were clear
Ownership at individual level could be achieved
Product Focus
The product team started to present a 3-month prioritized plan and every month this plan is reviewed by stakeholders from different departments. This backlog refinement activity gave the visibility of the Product Vision to everyone, which was aligned with Organization Mission Statement. The Product Board was installed to show the three-month plan to the entire Development Team.
Scrutiny of the feature at a product level.

Not only look at competitors, but generate ideas about products on their own by constantly improvising existing features.
Focused group session (f-t-f) with players to understand the customer feedback, with ideas taken from players to make the product superlative.

Finalization of the plan with management to reduce the volatility of the product stories within the sprint and take stakeholder approval for release.
Product owners were equipped with the knowledge of Product Slicing, Story Writing, Backlog Grooming, and refinement.
Product Open House, where product team discussed the upcoming features with all the teams.
Benefits
Product team won the trust of the team by imparting vision
Less change in the middle of the sprint
Overall improvement in Product from the customer point of view
Better inter- and intra-team communication and task clarity.
What Cannot Be Measured Cannot Be Managed
The team was required to make metrics with an objective to reflect on them to improve performance. Of course, the management was also drawing meaningful inferences from them. Initially, all the teams devised different mechanisms to capture the information, but to streamline the process, best practices were taken and consolidated metrics were created.
A few metrics that have been used are:
Team Velocity
Requirement volatility
Capacity planning (Planning efficiency)
Burn-down charts
Quality reports (defect rate, defect distribution, impacted area, bug reopen percentage, stories having <3 , 3-5 , >5 bugs).
Regression Reports
Benefits
Measurement of an area of improvement for the team through constant retrospections
Management trust after seeing the team improving on certain areas
One of Agile principles says, "Build projects around motivated individuals. Give them the environment and support they need and trust them to get the job done."
The environment created by including the following activities/awards/ Pulse check to voice their opinion and giving them the opportunities to discuss problems with the right Mentor under a Mentor-Mentee Program.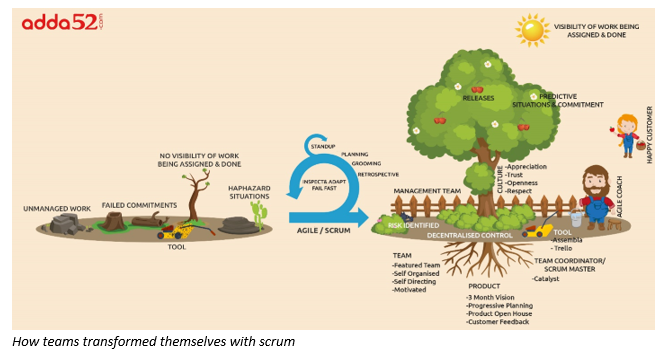 Communications
There were around 8 teams who were coordinating with each other. Daily stand up, Scrum of Scrums, town hall, and monthly manager meetings played a crucial role in smoothening the communication process.
Team Cadence for Delivery
Challenges & Solution Elected
Budgetary constraints to hire full-time Scrum Master
At the initial level, Scrum Master was picked within the team. One of the prime concerns which had been observed earlier was that there was a high level of expectation from the Scrum Masters, which made it difficult for the Scrum Master to fulfill those expectations and contribute as a team member simultaneously.
The role of the Scrum Master ensures that the Scrum is enacted, which ideally every team member should be equipped with. Based on this understanding we decided that one team member should be appointed as the Team Coordinator. It should be one's voluntary decision to become the team coordinator.
Responsibilities of a TC would be to coordinate among the entire team, making sure that Scrum processes are intact, acts as a spokesperson for the team (for both inter-team and intra-team), take the lead in inter-team communication, as well as taking the responsibility of maintaining artifacts within the team. The Team Coordinator will be contributing by involving every team member in process of improvement from their ideas coming from retrospective meetings. Once this process was established we found that team started sharing the responsibilities of team coordinator.
Tasking (in hours) perceived as Micromanagement by Teams
When the hour concept was introduced for tasks, the team considered it micromanagement. Time was spent convincing about how it will benefit the team in the longer run. A pilot run was done on two teams.
One team saved around 120 hours in overall planning and picked substantial extra work for the sprint. Sometimes it is necessary to break old habits to get the desired result. The other teams soon adopted the same process.
Parallel development on same modules
Parallel development on the same modules forced us to choose features based on teams because component teams were creating dependencies and branch merge issues. Eight teams were created (each team was equipped with required resources) to develop features parallelly. This helped in creating efficient releases.
Testing scope
With the increase in the number of features and platforms, system regression time was increasing. To minimize the regression time, the focus was shifted to automation. However, the issue was that normal automation test cases could not be used because the product was a multiplayer gaming product and it was difficult to create runtime scenarios. A homegrown automation framework was created with the help of a dedicated team. DevOps is not fully operational as of now but the milestone will be soon achieved.
Random releases to goal-based approach
Two projects codenamed Straddle and Restraddle were initiated, with a focus for the entire organization to work on making the said projects superlative and error free. These projects were under the theme One Goal, One Team, One Project. This focused approach gave us the opportunity to bring everyone on the same page and this momentum was carried further by launching subsequent projects for a duration of 3 months.
Power of three
No decision was made until all three stakeholders are the available product owner, tester, and developer.
Mindset Change
Problems are bound to happen because of working in a complex system. The important perspective was the approach taken to solve the problem and the side of the approach: problem or solution.
Fail fast and do not repeat the mistakes.
Every team member is important and its team responsibility to work for each other's welfare. management is just a catalyst for this.
Build leaders for future.
Result
The bottlenecks identified earlier in the article were haphazard situations, failed commitments, unmanaged work and lack of transparency in work being assigned and done. We transformed ourselves into featured-based teams, de-centralized control, created predictive situations and commitment, managed work, identified bottlenecks at an earlier stage, visibility of work being assigned and done. Most importantly, a motivated team which has adopted self-organized and directing culture.
Management not only received a remarkable result in term of delivery (28 to 68 % increased) but also saw an impact in other areas like increased transparency, faster turnaround time, teams making independent decisiosn by planning progressively, and more focused and frequent releases.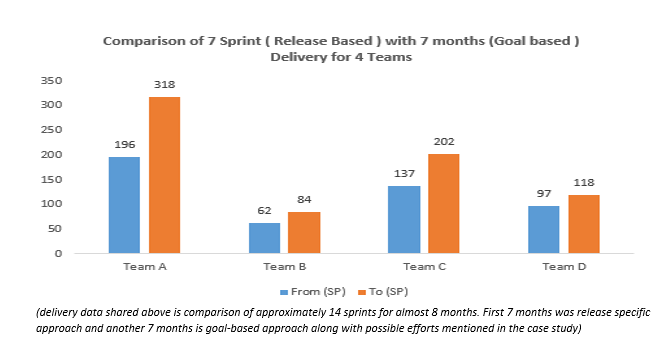 Engineers build business. See why software teams at Atlassian, PayPal, TripAdvisor, Adobe, and more use GitPrime to be more data-driven. Request a demo today.
Topics:
agile success ,agile implementation ,scrum management ,scrum master ,scrum teams ,agile software development ,agile adoption ,agile ,scrum
Opinions expressed by DZone contributors are their own.