Agile Weekly Humor: June 26, 2016
DZone's Guide to
Agile Weekly Humor: June 26, 2016
A little humor for your Sunday, Agile-style.
Join the DZone community and get the full member experience.
Join For Free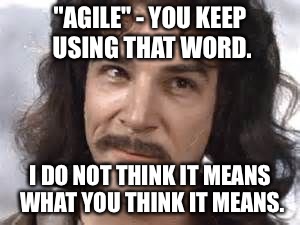 Courtesy of Inigo Montoya from The Princess Bride.

Download this eBook to learn how to prepare your business for agile adoption, how to ensure the proper business-IT collaboration that is critical for agile development, and how to choose the right stakeholders to increase productivity and enable accelerated time-to-value.
Topics:
agile ,agile humor ,the princess bride ,indigo montoya ,funny
Opinions expressed by DZone contributors are their own.