AI, IoT, Blockchain Expos Recap: 3 Awesome Conferences in 1 Location
DZone's Guide to
AI, IoT, Blockchain Expos Recap: 3 Awesome Conferences in 1 Location
I had a blast at the collocated AI, IoT, and Blockchain Expos. Read on to hear about the presentations, panels, and booths I visited to get a sense of the conference.
Join the DZone community and get the full member experience.
Join For Free
Just last week, I attended AI Expo North America 2017 collocated with IoT Tech Expo and Blockchain Expo at the Santa Clara Convention Center in Silicon Valley.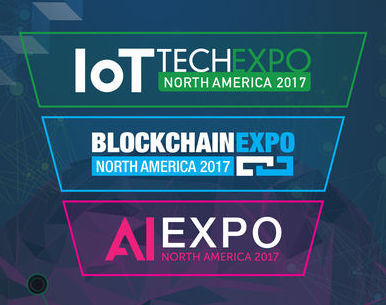 On my way to the conference last Tuesday, I remember heading to the airport thinking man, I really hope I don't fly across the country just to see a bunch of tech execs and marketers hopping on the buzzword bandwagon to try and sell me their latest, greatest AI/IoT/Blockchain cure-all... and sure, there were some folks that seemed to be there less for the tech and more for the money that surrounded the tech. However, I was greatly relieved to see many more devs and people in the industry that were legitimately interested in discussing and advancing these technologies and not just because they think that's where the money is. There were so many devs working on brand new solutions only possible because of this nascent tech, plenty of people that were planning ahead to address problems like job displacement and lack of privacy that may be introduced by the effects of digital transformation, and lots of minds working to forecast what the intersection of these technologies means for the future of software development, business, and society as a whole.
The major takeaways I'd like to highlight after visiting this conference are that these technologies are very real though often their cure-all properties are overhyped, they are already making a big impact across industries & will continue to do so for years to come, and all three—AI, IoT, and Blockchain—build on and amplify each other's effects.
Below, I'll recap my journey and give you an idea about what the conference is like. But, first off...
If You're a Dev, Is It Worth It to Go?
I think it was worth it! And, here's why:
This conference actually provided developer-focused tracks for its AI and IoT talks with a slightly more broadened, but still dev-slanted track for Blockchain too. This means you get to hear from real developers actually working with these technologies and not just execs that'll give you a high-level view you could've stayed at home and watched TED Talks for.

Most of the conference is FREE! Particularly, the dev-heavy talks which are what I think were the most interesting anyway!

There was plenty of opportunities for the audience to ask speakers & panelists questions both during each talk (questions at the end) and after each talk. This casual, open atmosphere led to interesting discussions and ability to network with speakers.

Networking! There were representatives from so many different industries doing lots of really cool stuff. If you're interested in meeting other people in the industry for the purposes of job hunting, looking for a business partner, or just hoping to make friends with a knowledgeable person in the industry, then you should definitely consider attending this conference.
Of course, you won't be able to attend this year's show as it has already passed, but there's always next year!
Day 1: Too Many Talks, Too Little Time
When you're attending a conference with 3 collocated events, you need to plan your time accordingly. Each of the expos—AI, IoT, and Blockchain—had multiple tracks for each day, and if you take a look at the agenda here, you'll quickly see that it's impossible to attend all those talks. Still, I did my best to keep busy, bouncing around from talk to talk with little time in between to do much else.
Looking back at the talks I saved in the "Favourites" section of the mobile app (super handy!) which I used to keep track of the different events I attended, I can see that I kept busy on day 1.
The line-up of presentations I attended the first day:
Developing Blockchain Applications: Chair's Welcome and Opening Remarks
A New Internet Operating System
Keynote Panel: The Application of Deep Learning Within an Enterprise
IoT Innovation: Machine Learning for Developers — A Quick Intro to the Nexosis API
Panel: Building an AI Strategy for Enterprise
Panel: Driving Digital Transformation through AI & DL Development
Challenges and Opportunities in Applying Machine Learning for Assisted and Autonomous Driving
Using Artificial Intelligence to Deliver Real Value Into Every Industry
Panel: AI for Social Good
... needless to say, I was slammed. But really, this is the best problem to have when you're attending a conference. There were so many interesting talks going on, that it was often difficult to pick one over the other.
My favorite talk of the morning was easily IoT Innovation: Machine Learning for Developers — A Quick Introduction to the Nexosis API delivered by Developer Evangelist for Nexosis, Guy Royse. During his presentation, Guy walked us through the ins and outs of the Nexosis Machine Learning Platform, showing us how easy it is for devs to start "doing the machine learning stuff without having to learn the machine learning stuff" and, with a simple interface and API connection, it did indeed look quite easy to get going! Guy pointed out that regular devs aren't data scientists and if they want to implement a solution that uses machine learning, they should consider the Nexosis API which will guide them through the process of submitting a dataset, picking the right algorithms, and creating a reusable model to solve their problem. But also, beyond covering a cool platform, Guy was a down to earth dev that kept the talk light with a really great example based on the impact popular television has on Bigfoot sightings—article that spurred the talk available here. I'll be releasing my interview with Guy soon, so if you're interested, hang tight until that comes out!
In the afternoon, I really enjoyed attending the panel on Driving Digital Transformation through AI & DL Development. Of the panelists, Dr. Danny Lange, Vice President of AI and Machine Learning at Unity, wad the most interesting to listen to in my opinion. I'm going to do my best to sum up his thoughts on digital transformation here—digital transformation is a product of the realization that data is highly valuable; industries are transforming to be more digitalized because they know that this is how they gather data that they can use to bring more value.
Following this discussion, I stayed put for Challenges and Opportunities in Applying Machine Learning for Assisted and Autonomous Driving, a presentation delivered by Pratik Prabhanjan Brahma, a research engineer at Volkswagon Group ERL. He explained the need for both real-world and simulated data for training and testing ML models, while also pointing out the pros & cons of training self-driving cars with end-to-end data samples (e.g. using longer video footage of a car drive) versus modular data samples (like photos of signage).
I ended the day sitting in on the panel AI for Social Good, part of the AI in Enterprise track. Many of these discussions revolved around AI regulation—who should be responsible for it, how should we approach it, etc.? The panel, which represented a wide variety of nationalities, had different experiences with government regulation of AI, but all agreed that we need very careful regulation to protect consumer data and to hold responsible & make transparent just how AI algorithms are coming to their conclusions. Collectively, they seemed to agree that we need to move carefully by implementing AI in low impact areas (e.g. street sweeping robots) first before rushing to incorporate AI into sensitive areas (e.g. our justice system) that could have major consequences; so this way, if mistakes are made, it's not a big deal.
Day 2: Plenty of Talks, But More Networking
I could've very easily stacked day two with just as many presentations as day one, by I opted for a lighter load and instead chose to mingle with the attendees and visit the different exhibitors to get some more conversations in and 1 on 1 time with presenters.
Talks on Blockchain and Bots
Just to quickly recap "my favourites" or the talks that I visited on day two:
Blockchain Technologies: Chair's Welcome and Opening Remarks
Keynote Panel: Realities of Bot & VA Development and Implementation
Build a Conversational Agent in Minutes
ICO Battle!
Of these talks, I enjoyed the two on bot development the most. To be honest, I missed a good bit of the ICO Battle, but I did enjoy the opener by Nick Ayton for the ICOs and Blockchain Technologies track who. He made the controversial statement that Keynsian economics has failed, and explained that cryptocurrencies based on blockchain are a response to society being fed up with corrupt centralized banks. It was a battle cry for Blockchain-based currencies. He also candidly called out a few panelists at the show for not knowing what they're talking about. If you're looking to follow someone passionate and knowledgable about the ICO ecosystem, I'd recommend keeping your eye on Nick's Twitter.
As for bot creation, the panel on Realities of Bot & VA Development and Implementation was excellent. It was great to hear directly from the bot developers that not every situation calls for a bot, and that as a bot creator, you really need to ask yourself if this is the best solution to your problem. Beyond that, certain problems can be solved better with voice-based bots versus others that are solved with text-based... for instance, if your user is having a long exchange with a bot, it might benefit them to be able to look back at the conversation as opposed to an app that hopes to engage users while doing something like driving. Other logistical concerns like hiring a writer to flesh out a good script for bots and creating a conversation that guides the user to use the bot to as intended, came up throughout the conversation. Much of this may sound kind of obvious, but the overarching message is that this is a competitive space to be in and careful planning/knowing your audience is extremely important for success.
Following this, Google's Matt Carroll offered up a quick walkthrough of the Dialogflow platform, previously known as API.ai, in Build a Conversational Agent in Minutes. This was a nice turn from the previous talk, as we got to see more about the process of creating a conversational bot and less of the planning. Matt told us the key to using Dialogflow is understanding intents or the "mapping between what a user says and what action should be taken by your software." The platform seemed easy to pick up and quite useful for developing simple bots. The docs here are actually pretty easy to glance through and get a gist of what it's like.
Networking and Booths
A big draw to attending a conference like this is the promise of the possibility to network with individuals and companies in the industry. And this conference didn't disappoint.
I grabbed up quite a few business cards, and am super excited to follow up with these companies to find us some more interesting writers for DZone!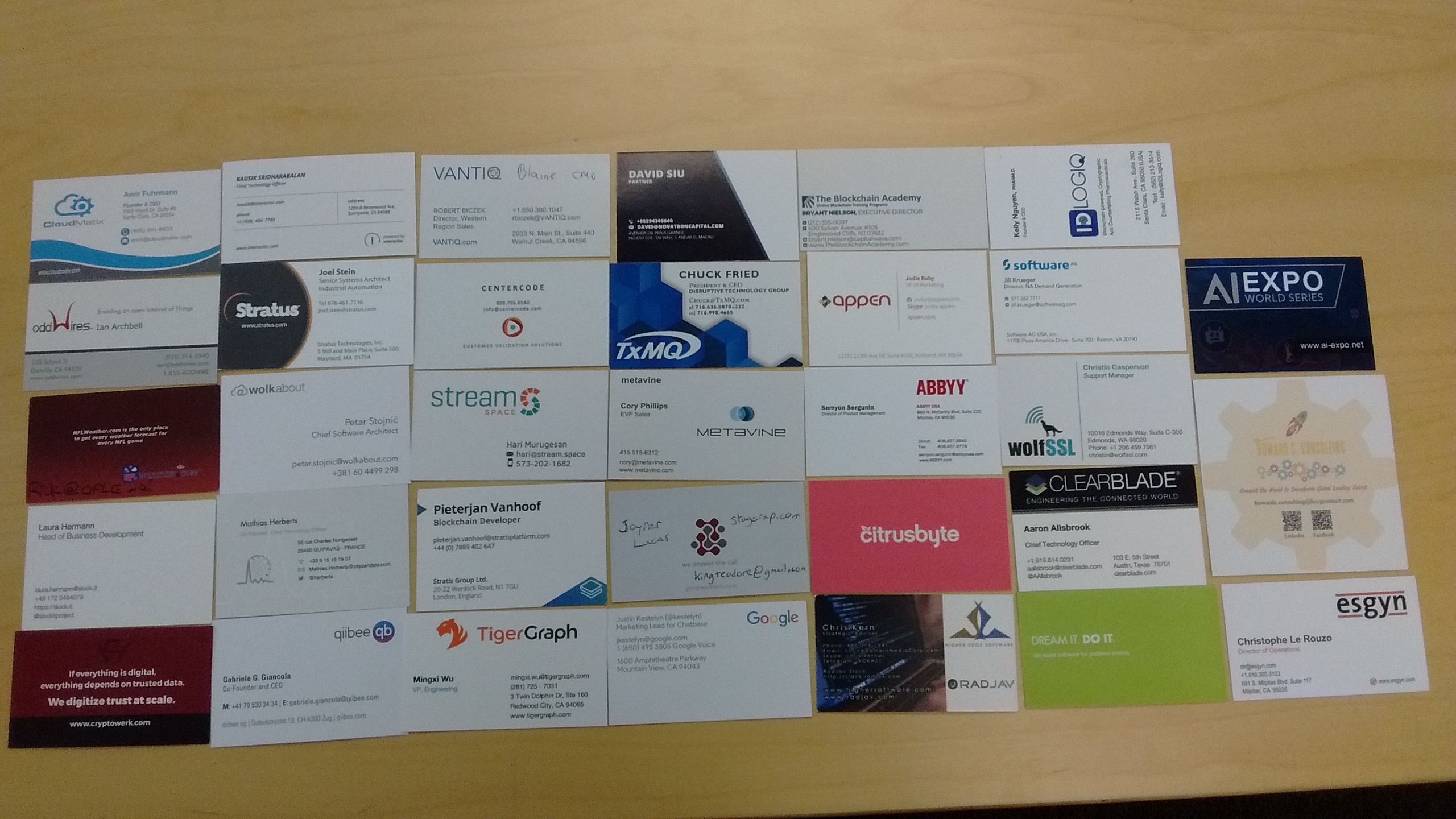 working on building a business card flag
I must give shoutouts to:
And really, this list could keep on going for too long. The point is, there were loads of cool people here and I had a blast bouncing around the different booths.
Wrapping Up
I had an excellent time at the AI/IoT/Blockchain Expo. I was constantly kept busy with the many awesome presentations & panels, really enjoyed that the synergy of the 3 separate expos at 1 location as undoubtedly these technologies are very connected, and again, the attendees and speakers were great!
I look forward to attending next year's event! Stay tuned for more coverage in the coming weeks.
Consuming AI in byte sized applications is the best way to transform digitally. #BuiltOnAI, EdgeVerve's business application, provides you with everything you need to plug & play AI into your enterprise. Learn more.
Topics:
ai ,blockchain ,iot ,conference
Opinions expressed by DZone contributors are their own.