AI Powering The Smart Greenhouse Market
DZone's Guide to
AI Powering The Smart Greenhouse Market
Learn about a platform that trains AI to provide detailed advice and guidance to farmers and help them optimize their crops.
Join the DZone community and get the full member experience.
Join For Free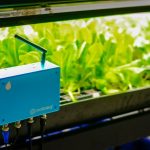 Despite appearing to be quite low-tech, I've written a number of times about how technologies such as artificial intelligence and big data are improving agriculture.
For instance, I wrote recently about a fascinating project that enabled farmers to efficiently manage the workforce that is still largely required to pick crops by hand, such as strawberries and other perishables.
"One of the aspects that I'm interested in is the fact that there are humans involved in picking," the researchers say. "Just like Internet browsing history differs from person to person, along similar lines, a workers' ability to harvest strawberries is different. This brings up the question: how do you think about data in that industry? Because the human variability has a huge effect."
Smart Greenhouses
It's a field that Canadian company Motorleaf is also active in. The startup recently took it's Agronomist.ai platform out of private beta to bring their smart greenhouses to market.
"After 8+ months of private BETA testing with one of North America's premier greenhouse operators SunSelect, our latest algorithm has cut the accuracy error rates of SunSelect by half. For such a high tech greenhouse — they've tried every method that's out there," the company says.
The platform works by gathering a whole bunch of environmental data through a combination of machine vision, agricultural sensors, and historical information. It uses this to train their AI to then provide detailed advice and guidance to farmers and help them optimize their crop.
The farmer can choose to install Motorleaf's own suite of IoT-enabled sensors, or they can plug-in their existing hardware into the Motorleaf platform to measure and adjust the environmental inputs of the greenhouse.
Growing Yields
It's part of a "smart greenhouse" market that is estimated to grow from $1.26 billion this year to $2.28 billion by 2023. It's a growth that is fuelled by changing consumer preferences and growing demand for food.
The market was especially strong in Europe last year, but analysts predict that growth to increase globally in the coming years as demand for food increases.
Companies such as Motorleaf promise to be at the forefront of this sector, and their journey should be a fascinating one to track.
Experience creating bots that include artificial intelligence and machine learning to solve complex processes with the Community Edition, free for developers. Download it now.
Topics:
smart greenhouses ,ai ,agriculture ,crops ,farming ,artificial inteligence