All You Need To Know About Automating Regression Tests
In this article, you are going to learn the importance of regression testing, how it can be automated, and some practices for successful execution.
Join the DZone community and get the full member experience.
Join For Free
During the software development life cycle, it is common for developers to modify existing code or introduce new features to their system. When doing so, the changes introduced can wreak havoc on the system by affecting the existing functionalities. To avoid code breakages every time you push changes into your codebase, you should execute a set of tests to verify that the code has no negative impact on your system. And this is where regression testing comes into play.
In this article, you are going to learn the importance of regression testing, how it can be automated, and some practices for successful execution.
Let's start with a quick refresher on regression testing.
What Is Regression Testing?
Regression testing is a form of software testing designed to uncover potential issues or bugs after performing an upgrade, re-configuration, patch, or any other type of change introduced in a software system. A regression test covers both functional and non-functional elements in a software system.
It should be conducted after any of the following events:
Deploying a new functionality
Adding a new module
Fixing a defect
Refactoring the code
Altering system configurations
Improving the application's performance
Testing the entire system after manually after any of the above-mentioned events would be tedious, costly, and time-consuming. Development teams can speed up their workflow by leveraging the power of test automation. Through automation, a series of pre-developed testing scripts are executed after every single code modification.
This way, they can cut down their testing costs, reduce human errors, and maintain higher precision while running continuous regression tests.
Why Use Automated Regression Testing?
Development teams perform regression tests repeatedly, which makes these types of tests excellent candidates for automation. Additionally, there's a need to test every system component thoroughly before it moves to the next phase of development. Otherwise, you risk piling up technical debt, which is costly and highly detrimental to your development workflow.
Remember that the cost of fixing bugs increases exponentially across the phases of software development, and could be up to 30 times more when a product is released.
Here's a quick illustration of how this cost increases over time.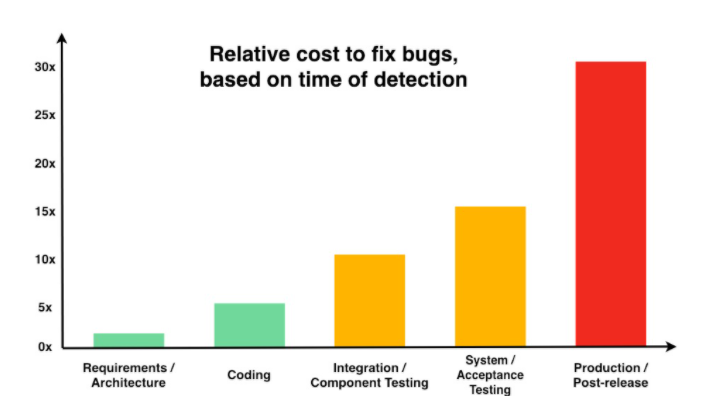 The Exponential Growth of Bug-Fixing Costs
The insanely high costs of fixing bugs can be avoided by conducting thorough tests to detect bugs in the earlier stages of development. Automated regression testing is one such effective solution that helps development teams to detect and fix the bugs early enough.
Other than improving bug detection, automated regression testing brings a host of benefits to your development workflow, including:
Higher test coverage - Automation increases your test coverage since it allows you to run more regression tests to examine your system across all facets. This level of thoroughness is not possible to achieve when using manual regression tests.
Greater testing ROI- Although automated testing comes with a higher initial investment, you always reap greater rewards in the long-run. The software development and maintenance process are a continuous one, which means automating your regression tests saves you a lot of time and money in the foreseeable future.
Fewer human resources- A single QA engineer is can test scripts when using an automation testing platform. Conversely, manual regression testing will require several professionals to achieve the same results. As such, automation cuts down the overall time and human resources needed for your regression testing sessions.
Enhanced stability - When conducting manual tests, a team relies on the expertise of QA specialists involved. The outcome of the regression tests depends on the knowledge and testing approach of the specialists. However, with automation, the QA team can ensure all regression costs across the system are performed with the same degree of expertise.
Repeatability - Automated regression tests can be executed at any time without prompted QA teams to write new tests. This level of consistency impossible to achieve when using manual testing, especially for companies that roll out product updates on a regular basis.
How To Perform Automated Regression Tests
Like any other type of automated software testing, you must follow a pre-defined testing roadmap for the successful execution of regression tests.
The first and most important step when performing automated regression tests is choosing the right tool for the job. There are dozens of tools in the modern market, so you can never go short of options. Some popular tools that support automated regression tests include Selenium, TestComplete, Ranorex Studio, and Perfecto.
Next, follow the following four steps to automate your regression tests
Discovery and planning - You start by outlining your product release scope and identifying possible test cases to include in your regression test suite.
Design and develop - After identifying all tasks that should be part of your testing project, write automation scripts for each test case.
Test execution– This is where you run the tests and identify bugs during execution.
Test closure - In the final phase, you document test reports and perform other-post testing activities.
Approaches for Automated Regression Testing
There are many techniques for performing automated regression testing. The approach you choose depends on your development priorities, the size of your codebase, and available resources that you can commit to the testing process. Here's a quick rundown of three of the most common approaches:
Retest all - Sometimes, the best bet is to execute all existing regression tests on your codebase. While this technique is relatively expensive, it unravels all unwanted regressions provided the tests were well designed. The only caveat is that it is technically infeasible when working on a large codebase.
Prioritized re-testing - In priority-based testing, test cases are executed in order of importance and urgency. This will require some expert input from QA specialists to identify test cases with the highest priority. As expected, priority tests should cover all critical code paths and uncover serious bugs.
Selective re-testing - In this approach, you select a subset of your regression test-suite for execution rather than re-running the entire test suite. Only test-cases that can be re-used on your codebase are executed in subsequent regression cycles while the obsolete ones are left out.
Other than these, you can use a hybrid regression testing technique by executing priority tests first, then running other necessary tests to achieve full coverage and avoid missing out on bugs.
Practical Examples of Automated Regression Tests
As mentioned, regression tests take different forms depending on the changes made to your codebase. Some are performed after adding a new feature while others are executed after fixing a pre-existing bug in your system. Some practical scenarios for regression tests include:
Scenario 1: Consider an application X, which serves as a database management tool. At its core, there are three basic functions, namely: Add data, Save data, Delete data.
When a new build introduces an 'update data' feature that allows users to make modifications to the data, a regression test is performed to ensure this new feature does not affect the 'Add', 'Save', and 'Delete' functionalities.
Scenario. 2: Think of a system with four modules, namely admin, moderator, client, and writer. Suppose the admin module has a bug, and a writer can log in to the system as a moderator using their credentials. The testing team will ask the development team to fix this bug.
Once an effective fix is implemented, the testing team will check the system to ensure that the fixed bug works correctly and that it does not affect other modules. The process of ensuring existing functionality remains unaffected after fixing a bug, in this case, is our regression test.
A scenario like the one above presents multiple test cases that you should look at. One such test case would be verifying the login functionality, where a user enters their login credentials (username and password) then clicks the login button.
A step by step implementation for testing this functionality would look like this: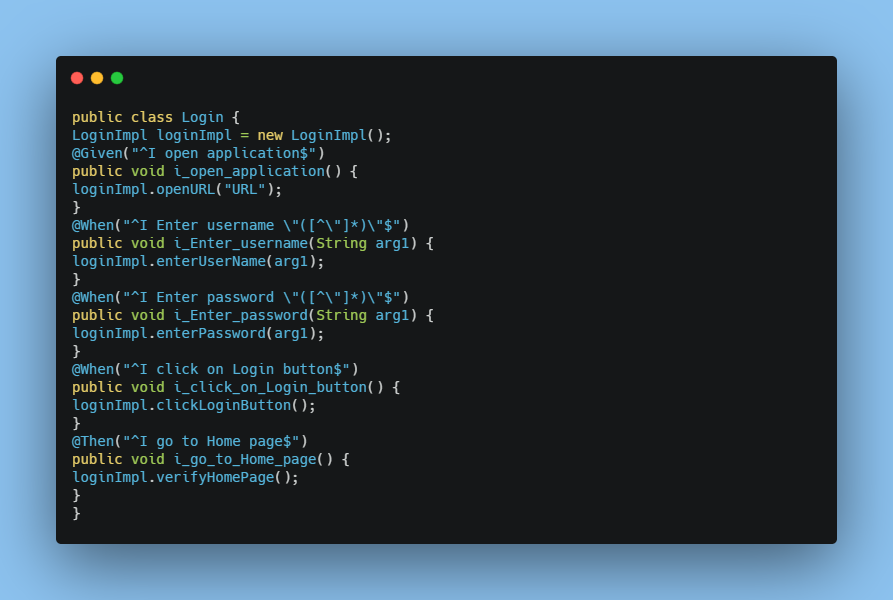 Source
When implementing the feature file for this test case, the resulting login functionality class should look like this: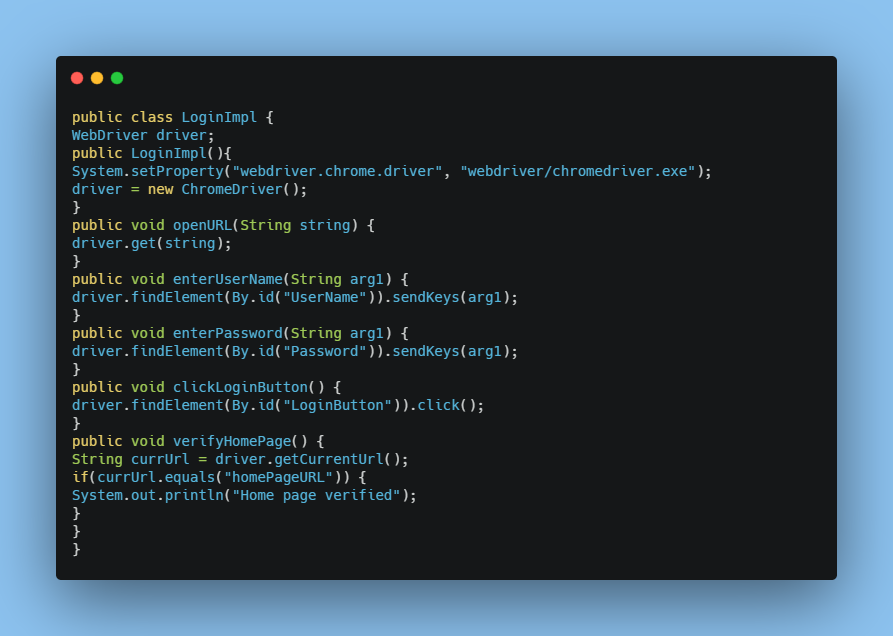 Source
The above is just an example of a manual regression test. When using automation, there's no need to hard code the test script. Let's say we're using a test tool like Perfecto, which allows you to automate your regression tests.
You'd start by identifying possible regression tests and documenting the workflow for each test case. Next, you use the Perfecto dashboard to model your test scenarios. Here, you will create a flow of steps and Perfecto will transform your workflow into test scripts.
Here's an example Test flow on the Perfecto dashboard: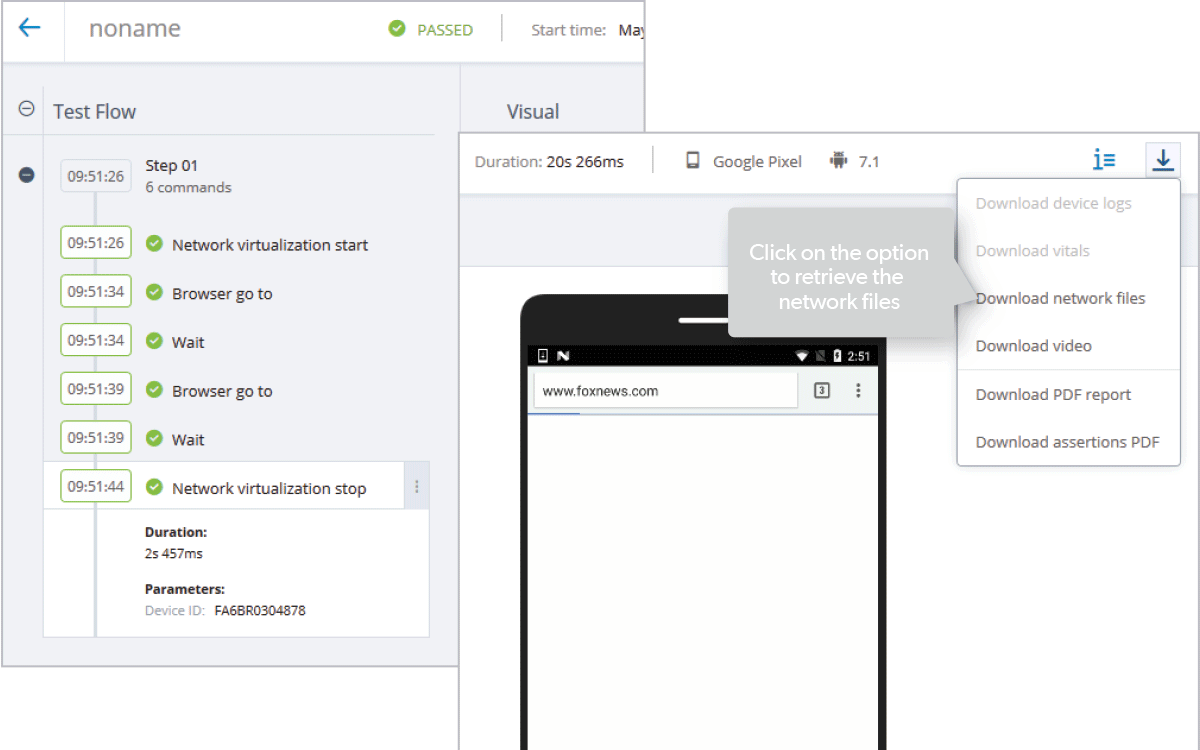 Once your workflow is ready, you can execute the test and wait for your results. After completing the test, Perfecto returns a pass or fail status with detailed feedback for every executed command. You can then analyze test results, generate reports, or re-test the changes.
Best Practices for Automating Regression Tests
When performing regression tests, development teams face a number of challenges. These include time constraints, limited financing, growth of regression tests, increased test cases, and so on. Other teams have trouble picking up test cases and determining the frequency of executing their regression tests.
So, how can you address these challenges and make your automated regression tests a success? Here are a few pointers.
Invest in a reliable automation tool to increase test coverage and capitalize on the benefits of automation
Adopt a regular testing regimen throughout your project
Separate re-usable and obsolete regression tests to save time.
Re-run previously successful tests after modifying your codebase
Update your regression pack regularly to ensure it corresponds with newer product releases.
Write negative tests for every new bug identified
Ensure all integration test-cases are part of your regression test-suite
Following the above practices will help you run smooth regression tests that guarantee a positive outcome.
Conclusion
Regression testing is an effective way of improving the maintenance of software projects while reducing potential technical debt. With automation testing tools like Perfecto, development teams can streamline their regression testing efforts and ensure the quality, stability, and proper functioning of products before they are shipped to production.
Topics:
regression test automation,
regression testing,
test automation,
software development life cycle
Opinions expressed by DZone contributors are their own.