Amazon Corretto 8
Amazon Corretto 8
Want to learn more about the Amazon distribution of the OpenJDK?
Join the DZone community and get the full member experience.
Join For Free
Amazon Corretto is a production-ready distribution of OpenJDK with long-term support including performance and security updates provided by Amazon.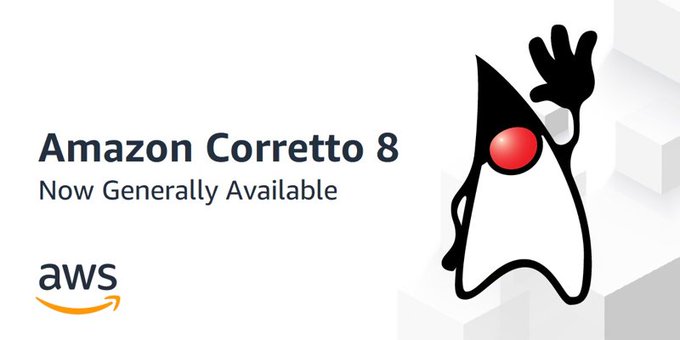 Amazon provides installation packages and instructions for Linux, Windows, and macOS, as well as a Docker. The latest installation package is based on OpenJDK version 1.8.0_202:
$ java -version
openjdk version "1.8.0_202"
OpenJDK Runtime Environment Corretto-8.202.08.2 (build 1.8.0_202-b08)
OpenJDK 64-Bit Server VM Corretto-8.202.08.2 (build 25.202-b08, mixed mode)
$
If you don't want to or aren't able to install Corretto on your workstation, it is pretty straightforward to try it out using Docker:
$ docker build -t amazon-corretto-8 github.com/corretto/corretto-8-docker
Sending build context to Docker daemon  92.67kB
Step 1/2 : FROM amazonlinux:2
 ---> 2467e0b1e917
Step 2/2 : RUN yum -y update  && amazon-linux-extras enable corretto8  && yum -y install java-1.8.0-amazon-corretto-devel  && yum clean all
 ---> Using cache
 ---> b18979bd4a12
Successfully built b18979bd4a12
Successfully tagged amazon-corretto-8:latest
$

$docker run -it amazon-corretto-8

bash-4.2# java -version
openjdk version "1.8.0_192"
OpenJDK Runtime Environment (build 1.8.0_192-amazon-corretto-preview-b12)
OpenJDK 64-Bit Server VM (build 25.192-b12, mixed mode)
bash-4.2#
Amazon Corretto is licensed under the same license as OpenJDK (GPLv2 with CPE) and there are no costs associated with using it. Amazon will provide quarterly security updates to Corretto 8 at least until June 2023.
But Java 8 Is Sooo Old!
Relax, Amazon plans to make Corretto 11 available during the first half of 2019. Corretto 11 will be based on OpenJDK 11.
OpenJDK
security
Distribution (differential geometry)
Docker (software)
Java (programming language)
Linux (operating system)
Multiplatform
MacOS
AWS
Published at DZone with permission of Ivar Grimstad, DZone MVB. See the original article here.
Opinions expressed by DZone contributors are their own.