An Introduction to Open Source IoT OS, RT-Thread
In this article, take a look at RT-Thread, an open source IoT OS.
Join the DZone community and get the full member experience.
Join For Free
RT-Thread was born in 2006, it is an open-source embedded real-time operating system (RTOS) that provides a wide range of components and 250+ software packages for the Internet of Things (IoT).
RT-Thread Architecture
RT-Thread is mainly written in C language, easy to understand, and has great portability that supports quickly porting to a variety of mainstream MCUs and module chips. RT-Thread applies an object-oriented design method to the real-time system, which helps to build the elegant code, clear architecture, highly modularized system, as well as easy to tailor.
RT-Thread has a Standard version and Nano version.
For resource-constrained microcontroller(MCU) systems, developers can tailor a Nano kernel that requires only 3KB Flash, 1.2KB RAM through the easy-to-use tools.
For resource-rich IoT devices, RT-Thread Standard version is recommended, which enables intuitive and fast modular tailoring through the online package management tools and system configuration tools, and the standard version can seamlessly import a wealth of software package, to achieve an android-like graphical interface and touch sliding effects, smart voice interaction effects and other more complex functions.
The architecture of RT-Thread is shown as follows: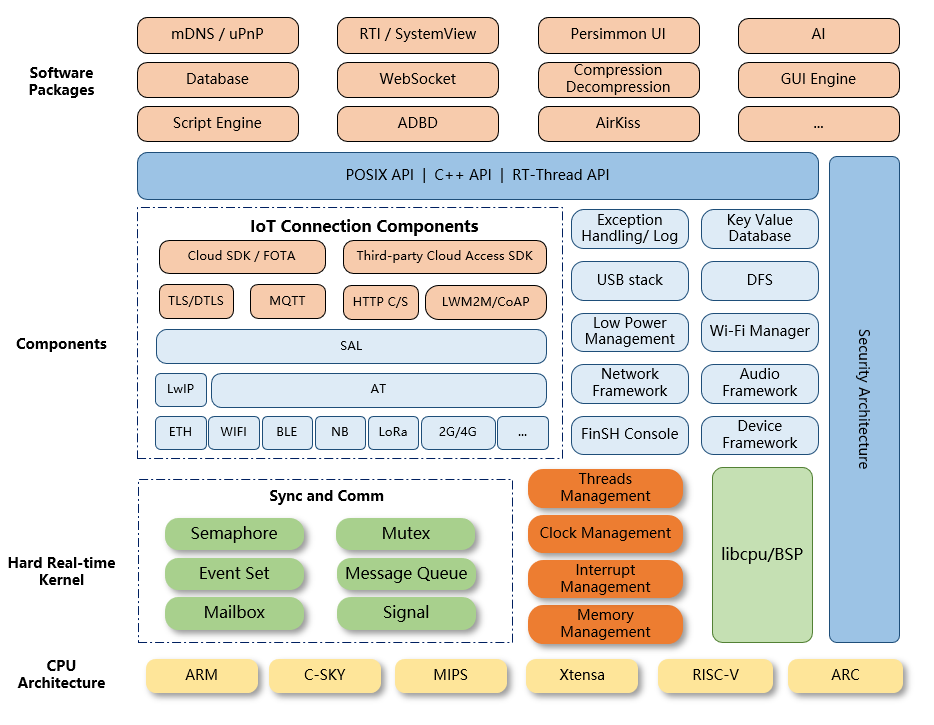 RT-Thread Architecture
It includes:
Kernel Layer: RT-Thread kernel is the core part of RT-Thread, it includes the implementation of objects in the kernel system, such as multithreading and its scheduling, semaphore, mailbox, message queue, memory management, timer, etc.; libcpu/BSP (chip porting-related files/Board Support Packages) is closely connected with hardware and which consists of peripheral drives and CPU porting.

Components and Service Layer: Components are based on upper-level software on top of the RT-Thread kernel, it includes virtual file systems, FinSH command-line interfaces, network frameworks, device frameworks, and more. Using the modular design method to achieve high internal cohesion inside the components and low coupling between components.

RT-Thread software package: Running on the RT-Thread IoT operating system platform, it is a commonly-used software component for different applications, consisting of description information, source code, or library files. RT-Thread provides a package management platform where official or developer-provided packages are stored. The software package platform is an important part of the RT-Thread ecosystem that offers developers a wide selection of reusable packages. The package ecosystem is also a critical element needs to be considered by developers when choosing an operating system, the highly reusable and modularized packages would benefit developers to create the system in the shortest time. The number of packages that RT-Thread supported has reached 250+.
RT-Thread Features
Designed for resource-constrained devices, the minimum kernel requires only 1.2KB of RAM and 3 KB of Flash

Has rich components and a prosperous and fast-growing package ecosystem

Elegant code style, easy to use, read, and master

High Scalability. RT-Thread has high-quality scalable software architecture, loose coupling, modularity, is easy to tailor and expand

Supports high-performance applications

Supports cross-platform and a wide range of chips
RT-Thread Studio IDE
RT-Thread open-source IoT OS provides a handy and free-to-use development tool RT-Thread Studio IDE for developers.
Features:
Free-of-charge
With the intention of benefiting more developers, RT-Thread Studio is free-of-charge.
Highly customized and optimized software interactions
RT-Thread Studio is developed on the basis of the native Eclipse with a high degree of customization and optimization, which makes the complex interfaces and functions concise, automatic and intelligent. In RT-Thread Studio, functions are comprehensible at a glance and many operations could be done just by clicking a button, such as downloading, configuration, debugging, and so on.
Powerful bare-metal development support
RT-Thread Studio supports a full range of STM32 chips for bare-metal development and offers a one-step toolkit, which contains an intuitive project manager, intelligent auxiliary code editor, easy-to-use independent program downloader. What's more, it supports a variety of emulators and serial console printing. All of them shorten the development time and simplify the difficulty of starting a project. In the future, more semiconductor chips will be added to RT-Thread Studio.
A variety of debuggers are supported
In addition to supporting the commonly used J-Link and ST-LINK, RT-Thread Studio now supports the wide range of DAP-LINK hardware debuggers, and more debuggers will be added soon.
QEMU simulator
QEMU is a cross-platform simulator that supports many development boards. It is convenient to validate prototype development if you don't have a development board and hardware debugger on hand. RT-Thread Studio provides direct support to QEMU, you can easily create and use the QEMU project or select and configure the QEMU simulator through RT-Thread Studio.
A rich, reusable code resource
RT-Thread Studio internally integrates rich high-quality reusable code resources. After a simple configuration, developers can reuse a variety of components, drivers and so on, RT-Thread has more than 200 software packages, covering a variety of high-quality categories of reusable software code packs, and the number continues to grow.
Online documentation and video tutorials
RT-Thread builds an Online Tutorial Video Center, which guides you step-by-step to get started using RT-Thread Studio.
Stand-by technical support
RT-Thread is always here to support you. Any questions, no matter software usage problems or project development issues, you can always reach us on RT-Thread Facebook, Twitter, Reddit community, and email.
Since the first release of RT-Thread in 2006, along the way, RT-Thread received many supports from the community developers and manufacturers, we feel so grateful for this. "Open Source is not just about sharing the code, it is about sharing every idea, talking with each other, exploring, finding more possibilities, and making progress together. The community is far more important than the code." This is the spirit of open-source RT-Thread IoT OS.
Topics:
opensource,
rtos,
embedded,
ide,
iot
Opinions expressed by DZone contributors are their own.