Mule has a nice automated testing feature called MUnit. It is actually very easy to build and develop MUnit with simple examples. Good documentation as available with the Mule documentation but I felt It is a little bit complicated for the beginner. In this blog, I am trying to create simple, step by step examples to create an MUnit test.
Here are the high-level steps:
Create a simple project using HTTP.
Create an MUnit test case with asset equals.
Run the test case and verify the results.
Understand the XML for test cases.
Add more test cases and verify the result.
Creating a Test Project
Let's begin.
Open Anypoint Studio and click on File-> New -> Mule Project.
Name the project demo-munit.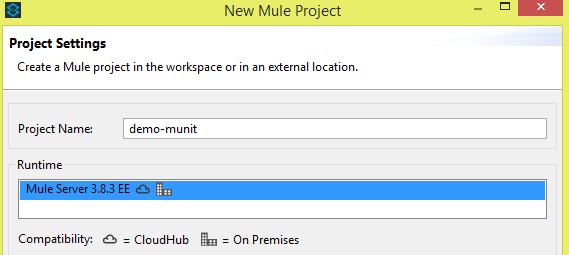 Create a sample project as below and test it, then stop the project.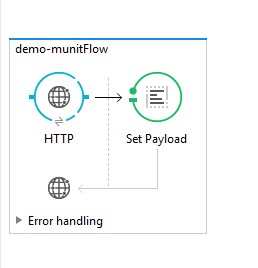 Here is this part of the XML:
    <flow name="demo-munitFlow">

        <http:listener config-ref="HTTP_Listener_Configuration" path="/test" doc:name="HTTP"/>

        <set-payload value="#['Hallo World']" doc:name="Set Payload"/>

    </flow>
Creating an MUnit Test Case
We will create an MUnit test case as follows.
Right-click the project and select new MUnit Test as below.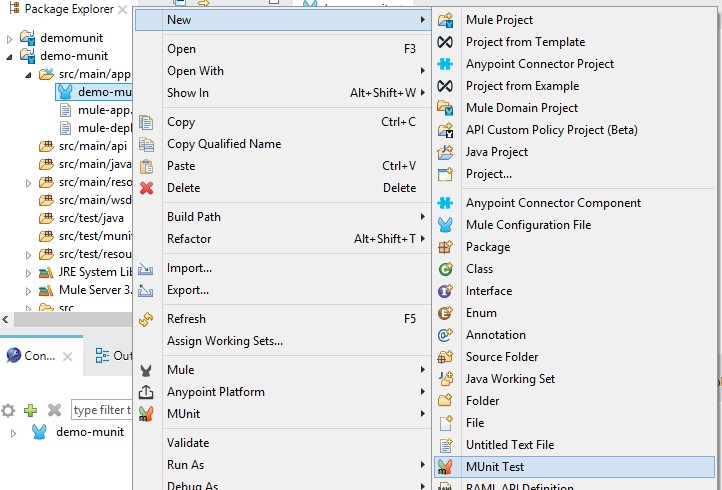 The initial flow should look like this one: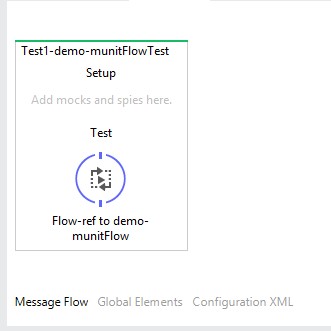 Add an assert Equals as shown below.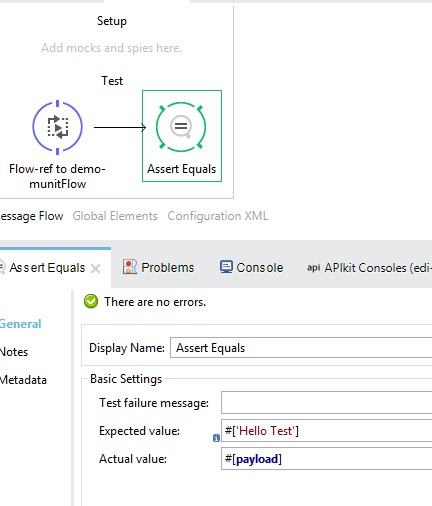 Run the test case as shown below.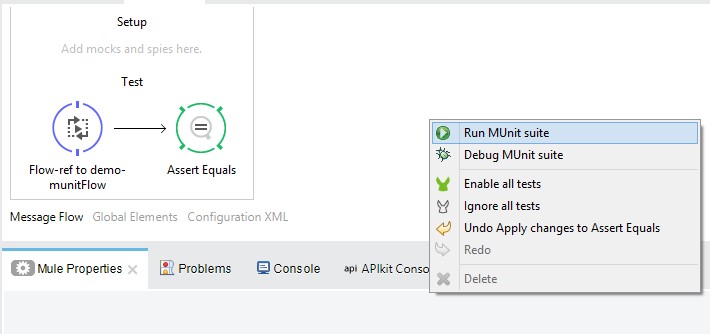 You should see a screen as below – here, the highlighted text says that it is expecting "Hallo Test" but got "Hallo world."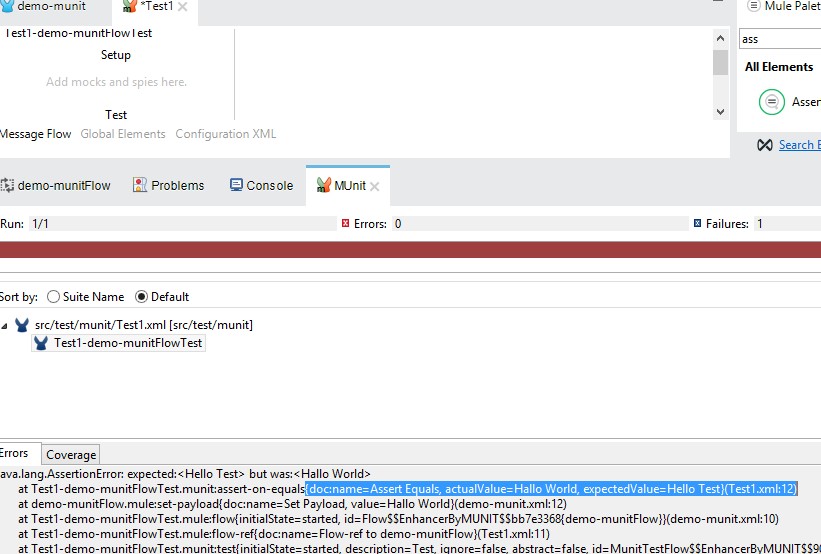 Now let's just make a small change in the test case. Let's go to Configuration file to and change the value of "Hello Test" to "Hallo World" and re-run the test case.
<munit:test name="Test1-demo-munitFlowTest" description="Test">

        <flow-ref name="demo-munitFlow" doc:name="demo-munitFlow"/>

        <munit:assert-on-equals expectedValue="#['Hallo World']" actualValue="#[payload]" doc:name="Assert Equals"/>

    </munit:test>

Taking a Step Forward
In this example, we have taken a simple test case to get started. We can keep on adding a test case which can access values or variables, flows, sub-flow, inbound parameters, etc. We can add the test cases for different scenarios. All it takes is to copy a test case like above and go edit it according to your needs. You can just copy and then go back to design mode to edit, then remove and add different test cases.
<munit:test name="Test1-demo-munitFlowTest" description="Test">

        <flow-ref name="demo-munitFlow" doc:name="demo-munitFlow"/>

        <munit:assert-on-equals expectedValue="#['Hallo World']" actualValue="#[payload]" doc:name="Assert Equals"/>

</munit:test>