Apple Watch Impressions: A Day Without My iPhone
DZone 's Guide to
Apple Watch Impressions: A Day Without My iPhone
I received my Apple Watch yesterday after an arduous, never-ending 10-day wait that I wouldn't wish on my worst enemy. Today I went without using my iPhone.
Join the DZone community and get the full member experience.
Join For Free
I received my Apple Watch yesterday after an arduous, never-ending 10-day wait that I wouldn't wish on my worst enemy. Since the March announcement, I have intentionally kept myself in the dark on the details of this new Apple product. Does it have a microphone? I didn't know. Can you make calls on it? I really had no idea. Had I seen one? Nope, I've intentionally avoided seeing, touching, or ogling any real-life version of the gadget!
Last night I got it and marveled at its clear screen and completely new UI. I spent quite a bit of time tinkering with the configuration and learning more and more about it. Today, I decided to try and go the whole day without my iPhone. I plunked my beloved phone in my desk drawer and am ready to take the day on armed with just my Watch.
Here we go.
8:55 AM – I have a conference call with my client. I'm trying to do it with my Watch since you can make and receive calls with the Watch via the iPhone. Unfortunately, there's no dialer, so I've had to grab the phone and dial the number (and hang up) so it's not on my recent calls list. (I'll add it to my Contact list later.)
8:58 AM – I can't dial the passcode either. :-/ Gonna grab my phone again and dial it in on there so I can continue on the Watch.
8:59 AM – Oh my gods, once I did that on the phone, the watch no longer has the audio. I don't know how to "pass the call" back over to it. Ugg. Alright, that will require some research later.
9:17 AM – I just noticed Nick Arnott has his Watch, too. I can draw a picture to him using something they call "Digital Touch." I drew him a dick. (Obviously.)
10:02 AM – Texting with my brother. There's no keyboard but the microphone does a good job of translating. The lack of capitalization and grammar, as always, does bug me. But it's a text. And it's way better than his Android phone transliterates anyway.
11:10 AM – Playing voicemails is odd. Watch has a mechanism where it turns on when you hold your wrist up. It seems to be able to tell via the accelerometer, but it does get it wrong a lot, too. (It turns on in many situations I don't need it to.) If I go to play a voicemail and want to continue listening while I type, though, Watch just cuts it off and turns off. Not what I want it to do. Am I supposed to stand there looking at my watch like an idiot?
12:10 PM – Asked Siri what movies were playing for my wife. Gave me a nice list. The Digital Crown is a nice scrolling mechanism so you don't have to cover all the content with your fat finger. Reminds me of the Blackberry days, honestly. :-)
12:49 PM – Figured out how to get the Mickey Mouse face watch. Soooooo coooooool. I love the animation. I plan on doing a Disneyland Ride Time app this month, so this matches wonderfully.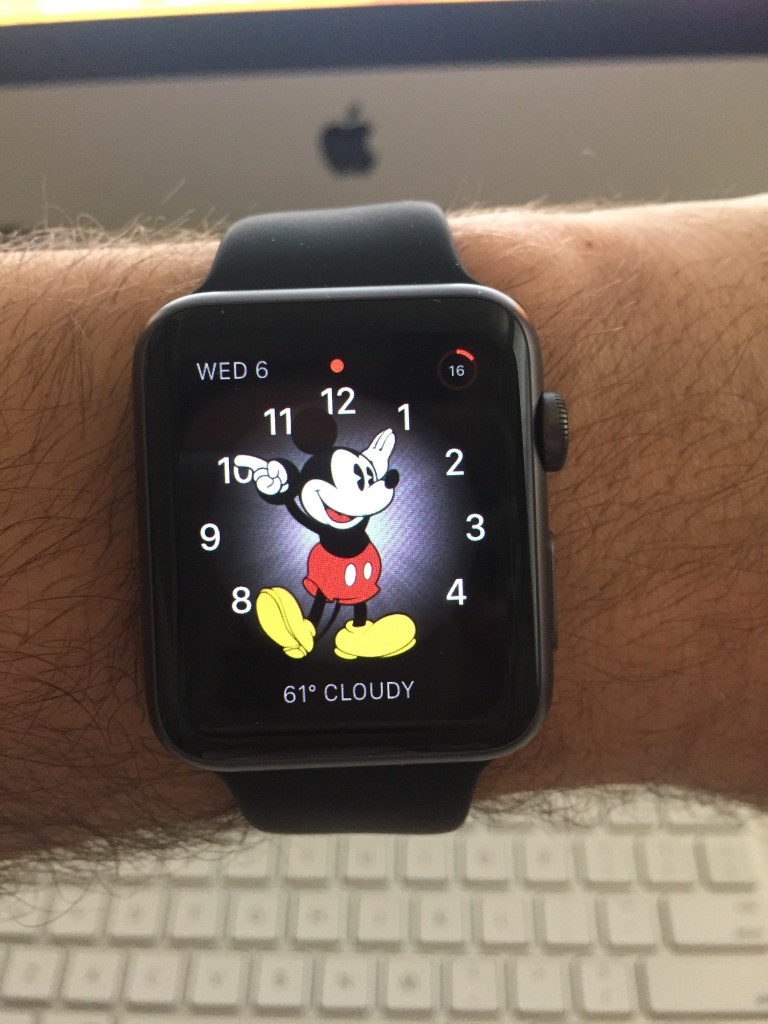 12:50 PM – Used my phone take a pic of my wrist. Surely, that doesn't count…
12:58 PM – Power is down to 16% so charging for the first time. The magnetized charger is cool because there's no port you have to expose, but you do have to place the Watch down carefully so it doesn't come off. The cord is also HUUUGE. I didn't charge it last night…and I can't recall what the charge was when I got it, so I wouldn't draw an inference. Let's see how long it takes to charge all the way now…
2:25 PM – My wrist feels so naked…
2:33 PM – Fully charged! So, I'd guess it takes about 2 hours to go from 0% to 100%. Not terrible. That includes not putting the Watch in Airplane Mode (as I tend to do with the iPhone).
2:51 PM – A lot of apps that have a good idea of how to present themselves on the Watch. I like the Dictionary app which basically gives you a Word of the Day and lets you speak a word. It's not Siri integration, just an API to get spoken words, of course.
2:53 PM – Still can't figure out how to hand off a call from the iPhone to the Watch. Sad.
3:13 PM – Just said "Hey Siri" while three apps were downloading. Watch froze. Uh oh. Just unfroze now after the apps finished. That's a bug.
3:25 PM – Downloaded a few recommended Watch apps. Rules looks like my kind of puzzle game, so that's an easy one. Shazam I grabbed because the integration with Siri isn't there on the Watch, only the phone. (Not sure why not.) Also grabbed a calculator so I can nerd out like the old days with my calculator watches! Ooh, I wonder if there's a calculator face for this…?
3:28 PM – You'll channel your inner OCD when you look at the apps on your Watch and try to get them to form a perfect geometric shape. I added 3 new apps, but had to add a 4th to keep things symmetrical. It was Instapaper. I do wonder why they won't let you hide the Stocks app? What's the hurt? I think the Apple employees are all heavy investors.
3:30 PM – Whoa! When you read something you saved in InstaPaper, it speaks it rather than show it in printed form. Not sure how I feel about it, but that was a surprise! It's playing my iPhone, though, not the watch. It's seem that Watch only plays small sound effects, not music, but Voicemails will play on it. So…
3:35 PM – OK, if turn off "Wrist Raise" in the Watch settings you can let your voicemails play while you type and stuff because the device won't turn off. Of course, it doesn't turn off now. If you cover the face with your palm it does, which is an intuitive thing. But gone are the days of raising your wrist to look at the time. Not sure which I prefer. Wish Watch was just smart enough to not turn off when you're listening to audio.
3:50 PM – Rules! is awesome. Still disappointed Instapaper audio won't play on the Watch. Why on Earth would I want to use my Watch as a remote control to play the audio on my iPhone? I've never made Instapaper on the phone play audio…I didn't even know you could.
4:55 PM – Did a workout and decided to keep the watch on to see the effect. Felt smooth. The sport version really is extremely comfortable. Taking it off it was sweaty on the inside. I'd recommend taking it off during workout if you can. You just want to avoid any wetness on a $400 watch when ya can, ya know?
6:00PM – Keeping track of the Mets, Rangers, and Yankees games. The watch is great for doing this without keeping the phone on ya. I've loved asking Siri for sports scores since I got my iPhone 5. I love the score display, too.
8:15 PM – Well, the day is coming to a close. Overall, I rate the Watch a 7/10. It's most certainly an item of pure convenience, but its utility isn't fully realized yet. Many apps have some limited functionality and I think that's how Watch apps should be, but that functionality has to be useful.
The MLB app has a Glance (think a screen on your lock view) that shows scores for your favorite teams. It doesn't show "featured" games, though. I think it should be on the list…I have to scroll anyway. I can also control game audio, but the audio should be on my WATCH, not the phone. That's why I'm wearing it.
I love the Force Touch. This is the gesture where you press a little harder than a tap. Apple encourages this use in Watch apps, and several do use it. I expect to see it more. (Maybe to get a phone call to handoff to Watch?!)
Still, it will take many months before the apps catch up to what the Watch can do. If you don't have one, the only reason you should get one now is as a developer. As a consumer, you can definitely wait. Maybe even until the second iteration of the hardware when the Watch is thinner. (It's a tad bit bulky now.)
A fun experience. It's like when the iPhone was released. A whole new world and my creative juices are flowing to make something cool!
Topics:
apple watch, iot, mobile, wearables