Application Agility Canvas
DZone's Guide to
Application Agility Canvas
Take a look at this unique way of auditing your applications on several criteria to grade their overall agility and performance.
Join the DZone community and get the full member experience.
Join For Free
It is quite common to do application audits via code, documentation and architecture audits. These audits are very interesting and useful, but they can not have a vision more macro to know if the application is adequate to the needs. I propose here a canvas to estimate the agility of an application according to its needs.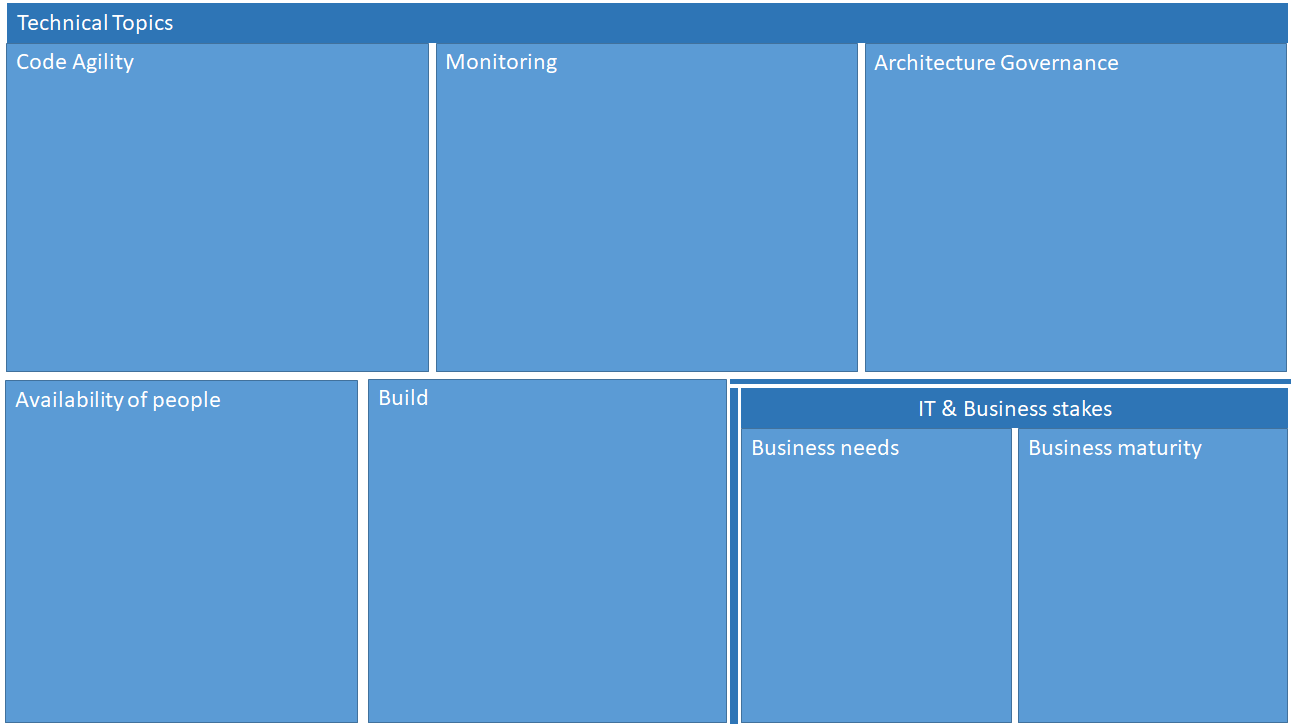 IT & Business Stakes
Business Needs
You need to mitigate your application agility with the business needs. Do you need changes every month? Annually? Sometimes? If you don't need many changes in your application, you don't need too much agility. Keep your effort where you need it!
Business Maturity
Another subject: Are your business needs simple? Do business users know what they want? Knowing that, you'll know how much agility you need.
Technical Subjects
Code Agility
It's a point that everybody studies with code audits. But some questions need to be asked. What is the capacity of your code to evolve? The capacity of your architecture to evolve? The capacity of the data model to evolve? Does the data model loosely coupled? The capacity to integrate with the rest of your IT? Do you have APIs? Connectors?
Monitoring
Monitoring applications, is unfortunately a touchy subject. Regardless, it's a needed topic to study because without a good and scalable monitoring, you won't be able to scale your application.
Architecture Governance
You can have a good solution architecture, but without rules and governance, chances are that in two years your application will not be agile. Do you have an architecture framework? People dedicated to its upkeep? And are good principles of architecture followed?
Availability of People
Do you have devs and ops easily available for your application? Do you wait for them to begin to work on your application?
Building
Ever heard of DevOps? If not you'll get a bad mark. Here we study the capacity to build fast and well. Do you have Continuous Integration? Do you go into production easily and quickly? Do you automate tests?
And you? What would you add in your application agility canvas?
Engineers build business. See why software teams at Atlassian, PayPal, TripAdvisor, Adobe, and more use GitPrime to be more data-driven. Request a demo today.
Topics:
agility ,devops ,agile ,business needs ,code agility
Opinions expressed by DZone contributors are their own.