Are CEOs Ignoring Big Data in Favor of Gut Decisions?
DZone 's Guide to
Are CEOs Ignoring Big Data in Favor of Gut Decisions?
Despite the vast amounts of data currently being analyzed in the market today, decision makers may still favor gut decisions over statistical analysis.
Join the DZone community and get the full member experience.
Join For Free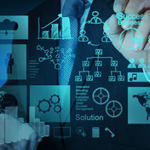 Big data is a hot topic in business right now, and the suggestion is that it will help us to overcome the decision making biases that so afflict us. The promise of wiser, more rational decisions however rests on our willingness to actually listen to the data.
A recent study highlights how forlorn this hope may be. It reveals how when making investment related decisions, executives frequently ignore data in favor of decisions based upon gut instinct.
The paper, written by a German team and published in the Journal of Finance reveals what really underpins executive decision making.
"CEOs systematically put too much money in projects with high potential upside", the authors say. "Many CEOs themselves say that 'gut feeling' is important for their investment decisions. The problem is, that there is by now overwhelming evidence from psychology and economics suggesting that intuitive reasoning in financial matters frequently leads to biased and therefore suboptimal decisions. Our paper shows that investment decisions biased towards long shots may indeed be a serious problem in many firms."
How We Decide
The paper saw around 1,000 conglomerates studied over a 20 year period to try and understand how they invest and which segments they invest in. These decisions were compared against rivals in those segments who specialized in that area and did nothing else.
The authors suggest that conglomerates are more likely to choose projects with an asymmetrical division of chances. In other words, the projects with lots of potential (no matter how remote).
For example, if an executive was given a choice between two projects:
Project A, which offers a 50% chance of a 5% payoff, and 50% chance of an 8% payoff
Project B, which offers a 75% chance of a 4% payoff, but a 25% chance of a 12% payoff
Despite project A offering, on average, a better chance of a good return, most executives chose project B.
Why Are Our Decisions Irrational?
The authors suggest that the prime culprit for this poor level of decision making is the CEO themselves, and especially among younger CEOs who they found were more inclined to go for long-shots.
There is also a tendency towards this form of decision making in companies with weak corporate governance, and also in ones whereby the CEO is extremely powerful.
I've written previously about the rise of automated traders that attempt to remove some of this irrationality from investment decisions. I suspect it would take a brave person to suggest the final say should be taken away from the boss and given to an algorithm however.
Topics:
big data, business intelligence
Big Data Partner Resources