Isn't it frustrating when something comes between your smartphone and what you want to do with it? Limited storage space. Expensive data package. Low battery backup. Then there's this install hurdle in app stores, which is time-consuming, uninteresting and unexciting.
Have you ever wondered how easier life would be if the basic requirement of installing native apps wiped off the face of Earth? Apps become accessible with a simple tap – just like a mobile website. Well … that's the idea behind Instant Apps, recently announced by Google at I/O developer conference.
What Are Instant Apps?
Instant apps are native Android apps that don't need to be downloaded from the Play Store or installed on your mobile device. They give speedy, native functionality with just a click. They're simply available in the form of sharable links / URLs. Take a look at the Fruit Ninja instant app below:
All the user had to do is tap on the Fruit Ninja link and they could play the game instantly – without installing it. After the demo of its Instant App, Fruit Ninja nudges the users to download the full native app after delivering them a brief instant experience.
Making It Easier for Developers
" Android Instant Apps functionality complements an existing Android app, but does not replace it. Android Instant Apps uses the same Android APIs, the same project, the same source code." - Google
That means Android developers don't need to create Instant Apps separately – they just need to partition the existing native apps into small parts that can run in an instant.
This will allow developers rethink the entire native app experience and at the same time save time in developing Instant Apps.
How Instant Apps Will Change the Game?
Instant Apps will provide noticeable benefits to enterprises and customers alike. Enterprises need not worry about app rankings in the Play Store anymore. And they can reach out to more people making it simpler for them to use their app by removing the installation roadblock. Marketers can promote Instant Apps by sharing links via social channels, instant messengers, email marketing, etc.
Instant Apps will allow Android users to make mobile payments in a faster, more convenient manner. Suppose you want to buy tickets for your favorite movie and you don't have the cinema app. So instead of using the mobile website with not-so-great user experience, you can use the app's lean checkout screen with just a click. If your card is registered with Android Pay, you can complete the payment in another click or two.
Google is expected to launch Instant Apps by the fall of 2016. These apps will be functional on any device running Android Jellybean or newer operating system.
A Blow to Mobile Web
The usage of mobile web is gradually plunging. A recent report shows that Americans spend most of their time on mobile apps while using their smartphones. Below is the comparison chart: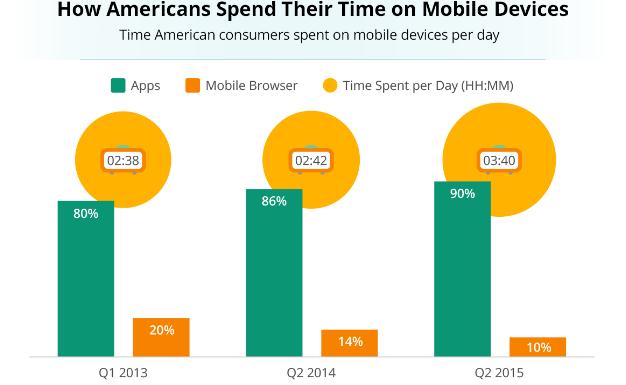 The arrival of Instant Apps might prove to be yet another blow to the mobile web. Or it could blur the lines between mobile websites and native apps.
Bottom Line
Instant apps are indeed a phenomenal innovation by Google and its benefits are evident. But it will be too naïve to say that Instant Apps will be the future of mobile. Let's wait for their launch later this year and see whether they'll be able to change the game.
I'd be excited to hear your thoughts about Instant Apps in the comments.