Artificial Intelligence in Agile Test Automation
DZone 's Guide to
Artificial Intelligence in Agile Test Automation
Where Performance, Agile, and Machine Learning meet is the implementation of AI-powered automated testing tools. Find out what one can do for your productivity.
Join the DZone community and get the full member experience.
Join For Free
Problem Statement
Today's applications are complex and demand high quality release and deployments. They require speedy methods to get test results to make adequate decisions for production deployment. But minor lapses in the test script update as per the latest changes in application may seriously affect the overall automated test flow. It will add overhead to the QA team and makes it very difficult to provide required test metrics to management on time for decision making. Keen attention to skilled resources always required and it is mandatory for smooth running of automated test flows in different levels.
Solution
The effective implementation of Artificial Intelligence and Machine learning is a way to make the testing effort more effective. It may speed up the Agile feature development and its deployments in several stages as well as in production.
Challenges with the Agile Test Automation Approach
As per the recent survey result, major sharing of the present automation depends on the a few factors:
Test automation is dependent on skilled resources to develop, manage and maintain effective test scripts.

Minor changes in the application UI seriously affect the overall test execution and its results.

Test script updating and maintenance is a time consuming process. It requires regular updates and walkthrough.

Maintaining an additional test automation team, creates more overall cost.

Lack of skilled people may slow down the test automation activity prior to the sprint relelase.

Configuration overhead with multiple environment is a time-consuming challenge.
Expectations from an AI-based Test Automation Tool
Here are some of the expected features that a good AI-based testing tool should have:
Identify and understand the environment.

Cloud-based support with low cost.
Multi-platform support for wide range of test executions including web and mobile.

Generate Test cases and Test scripts automatically, with easy machine learning system.

Code less test automation.

Identify and auto correct the machine learned UI or element changes in the recurring test execution and report the auto corrected changes for further script enhancement and mainteance.

Reduce the script development and maintenance effort, with inbuild features / tools.

Intelligent trace logging to analyse the Test flow and failures.

Integrated with built-in build and release systems.

Better reporting mechanism for quick decision making.

Better execution history maintenance and matrics avaibility.

Customizable metrics projection
Objective of AI Tool Implementation
The objective of AI tool implementation, is not replace manual testing, instead, use the possibility of Artificial Intelligence and Machine Learning to speedup testing and getting trustable Test result, on required time / demand.
AI Tools Available on the Market
There are several tools popping up and emerging to fulfill the new requirements of Artificial Integlligence in test automation space. Some of the tools are listed below.
Implementation of Artificial Intelligence in Test Automation
Let us take an example of a AI powered Test automation tool named "Mabl".
How Does it Work?
Mabl, uses a sophisticated leaner tool named "Mabl trainer", a Chrome plugin, to train the tool about the test scenarios with input data and expected verification points. Refer the below image to learn more about "Mabl Trainer".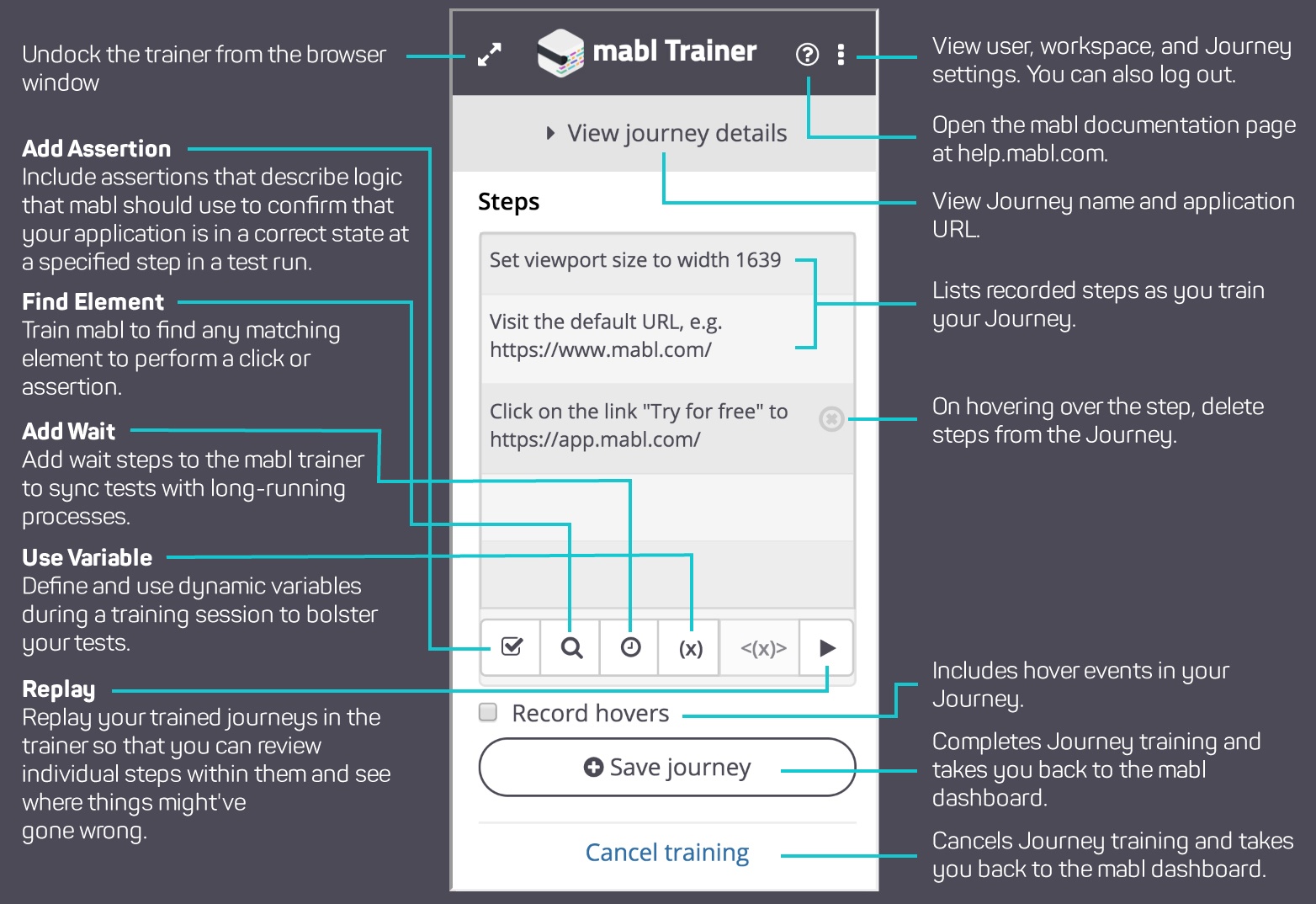 As per Mabl terms, the work flow of the tool listed as below:
Create a new journey.

Train the new journey with test actions, verifications and expected results using "mabl trainer".

Save the Journey.

Run the tests to execute the trained steps.

Once the test execution is completed, user will get access to verify Test Results, Test history and Steps.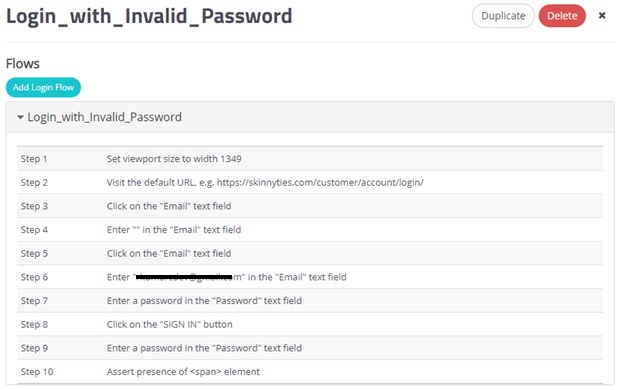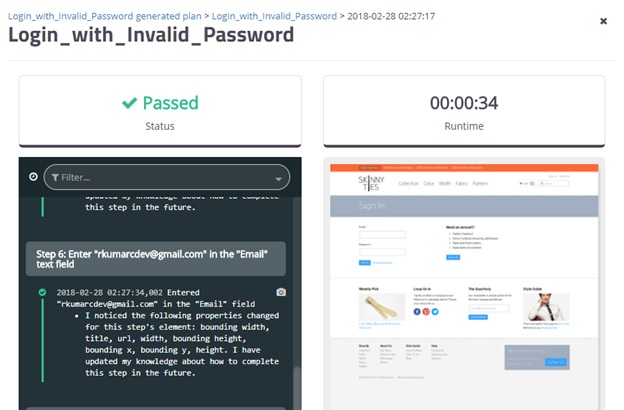 Auto-Healing Feature of Mabl.
Auto healing is the ability of a tool to understand changes in the application interface.
As per Mabl team, it does this change by collecting lots of information about each UI element. So if there is any changes like XPath, name, CSS, etc., the tool will be able to incremently update what it knows about the element and then adapt in order to continue the test to completion.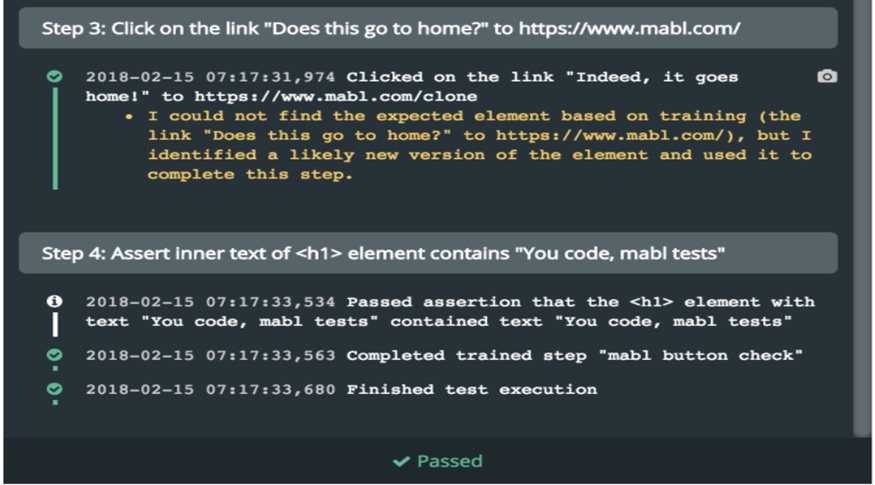 Topics:
agile ,artifical intelligence ,monitoring and testing ,performance ,testing automation
Opinions expressed by DZone contributors are their own.