Big Data Scoop: AI, Data Science, MongoDB, Google Analytics, and More
The Twitter polls are in! Here are the six topics that you care most about. Everything from Artificial Intelligence to Data Science to MongoDB.
Join the DZone community and get the full member experience.
Join For Free
The Twitter polls are in! Here are the six topics that you care most about. Everything from Artificial Intelligence to Data Science to MongoDB.
Your Top Six Data Connectivity Topics
We love that we have an active community that votes to tell us what they like. For recent "Get to Know Your Customer" days, we have released several Twitter polls to get an understanding of what content you are interested in and want us to create. The Infographic below summarizes the six biggest things we learned about you.
The #GetToKnowYourCustomersDay Infographic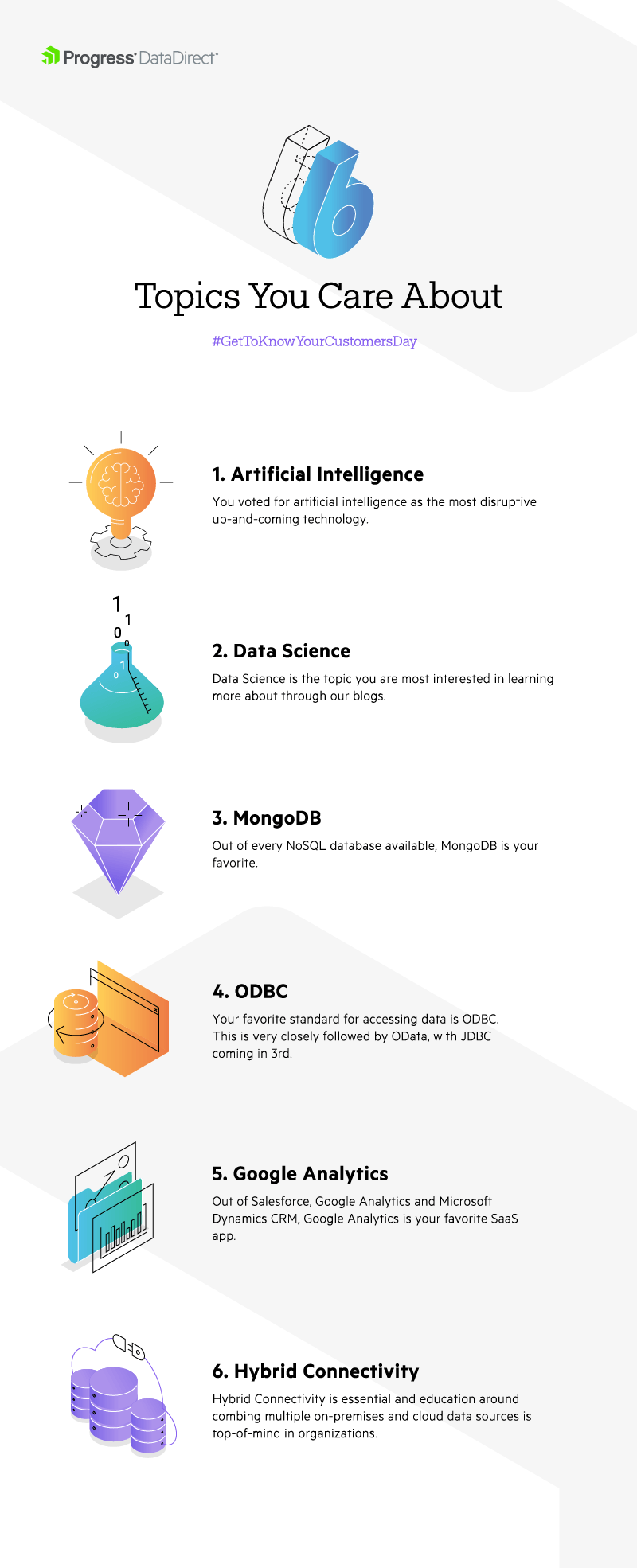 A Closer Look at These Topics
Our goal is to give you as many connectivity resources as we can to help you succeed. Here is some content we have already created regarding these topics. Hopefully they are of help to you, and if not, please comment below with any questions you have.
Artificial Intelligence
This is a topic that we discovered you care a lot about. We will definitely start writing and researching this topic to bring something fresh to the blog. On this note, one amazing development in the artificial intelligence space is the creation of AI music.
In an article by Quartz, "The first pop song ever written by artificial intelligence is pretty good, actually," they describe how researchers at Sony CSL Research laboratory just released the first pop song ever composed by AI entitled "Daddy's Car." The basic concept is that the AI analyzes a database of a certain genre and tried to create its own, original version.
Data Science
This topic fascinates us and we have quite a bit of content written about the subject. Below are the blogs in our three part Data Science series.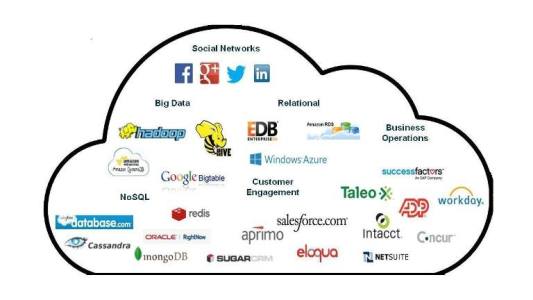 A Deep Dive Into the World of Data Science
A Deep Dive Into Data Applications
A Deep Dive Into Data Enrichment
MongoDB
MongoDB caused a huge disruption in big data technology, but we stayed on top on this technology and developed ODBC and JDBC connectors that are certified by MongoDB Inc. Here are some helpful resources: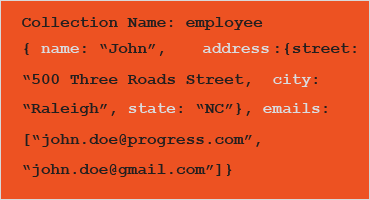 MongoDB ODBC Driver—SQL Access to MongoDB NoSQL Data
Killik & Co Seamlessly Integrates MongoDB and SQL Server
Using Salesforce JDBC Driver and MongoDB with StreamSets
MongoDB ODBC Driver for Data Integration with Power BI
ODBC
You elected ODBC as your favorite standard (although they are all incredibly important). The following are some of the more prominent posts we have on the recent announcement of ODBC 4.0 along with some helpful tutorials.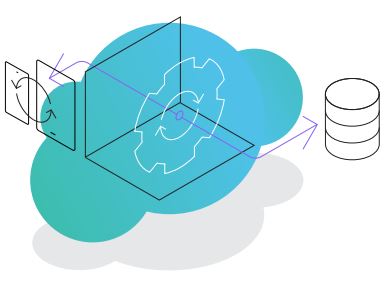 What Does the ODBC 4.0 Announcement Mean?
Connect Microsoft Power BI to OpenEdge via ODBC Driver
First Public Viewing of ODBC 4.0 Specification
Quick Guide: Build a Custom ODBC Driver in C/C++, Java or C#
Google Analytics
Google Analytics is a key pillar of any business' analytics stream. It is free, intuitive and a great way to start understanding your business' web traffic. Take your Google Analytics strategy to the next level. Here are some tutorials for advanced use of Google Analytics data.



Logi Info to Google Analytics with DataDirect Cloud ODBC
Hybrid Data Connectivity to Google Analytics
Seven Reasons Why Timely Analytics Is So Hard
Hybrid Connectivity
With the relatively new advent of an easy-to-use, low-cost cloud, more and more business are leveraging their resources in the cloud and making the move from on-premises connectivity. But, there is still a tremendous need for on-premises connectivity because many companies cannot move 100% of their resources to the cloud. It would pull the rug out from under their organization and cost an excessive amount of money.
What if you could have the best of both worlds and embed a lightweight connector behind your on-premises firewall to have a single, standardized interface for all of your data? You can! Our latest release, Hybrid Data Pipeline, does just that. Learn all about it with these resources:
Webinar: New Data Pipeline Transforms How Clouds Access Data
The API economy comes with complications
AI
Data science
Big data
MongoDB
Analytics
Google (verb)
Scoop (news)
Big Data Partner Resources