Can Connected Devices Cure Addiction?
DZone 's Guide to
Can Connected Devices Cure Addiction?
As wearables and smart devices enter healthcare, see how some manufacturers are embracing IoT and creating new devices to help, and the challenges therein.
Join the DZone community and get the full member experience.
Join For Free
In terms of mental health conditions, addictions remain one of the most difficult to cure with their treatment involving a myriad of psychological, psychiatric, nutritional and lifestyle approaches. Over the last decade, connected devices have been evolving which are designed to treat a myriad of additions from nail biting to smoking and opioid addiction. Will sensor tech become a successful tool in the quitter's toolkit? Let's take a look.
Quitbit
The Quitbit is a connected lighter designed to help smokers track and ultimately reduce their smoking with the intention to quit. It tracks the number of times you light your cigarette, as well as frequently with the numbers displayed on the lighter. The corresponding app monitors the user's progress and helps set goals with the option to share the data with others. It connects to any smartphone through Bluetooth Low Energy and the company will even send a notification if you lose it.
NSS2-BRIDGE
The NSS@-BRIDGE is an FDA approved, prescription only, hardware device designed to reduce opioid withdrawal syndromes. The device sticks behind the ear and contains four electrodes that are used to deliver electric current to a set of occipital and cranial nerves (V, VII, IX, and X), with the aim of helping addicts to avoid agitation, insomnia, and other symptoms of kicking opioids. It's a step up from the use of acupuncture to treat those in opioid withdrawal.
WELT
The Samsung funded WELT is a connected belt that enables the wearer to monitor their weight-related health. The belt tracks their waist size, eating habits and the number of steps taken, as well as their time spent sitting down. Sensors in the back of the belt buckle send data to an app for analysis, which results in the production of a range of personalized healthcare and weight-management plans.
It's nice to see a wearable move off the arm and its a wearable that most likely benefits those who wear belts - most often men. It's a product perhaps focusing on those in the earlier stages of weight gain rather than those with a serious eating disorder.
Pavlok2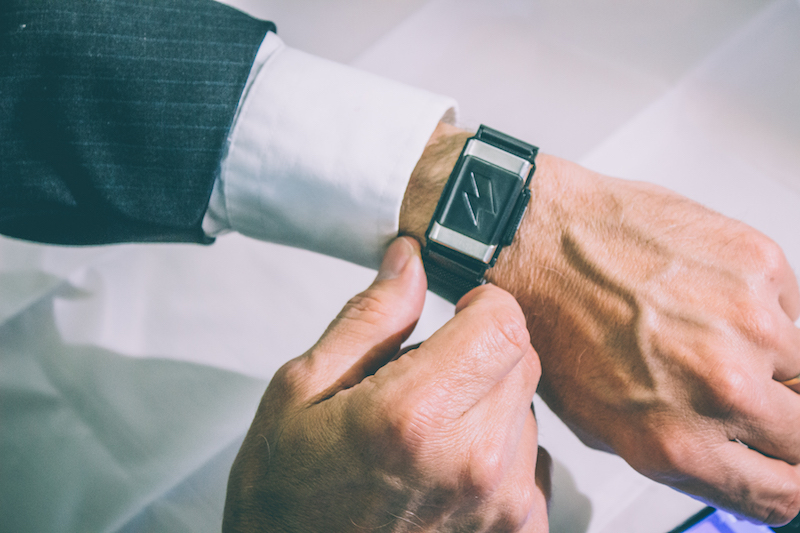 Perhaps the most shocking device at all, the Pavlok is a wearable device that is designed to administer an electric shock ranging from 50-450V, every time you do an undesired of your choosing behavior (such as nose picking, nail biting, oversleeping, eating sugar, trichotillomania or smoking). It's based on the principle of operant conditioning, where you will reduce and ultimately cease a behavior if it causes you pain.
The company has enjoyed two successful crowdfunding campaigns, a terrible experience on Shark Tank and has released three related products with over 50,000 users. Their most recent Pavlok 2 is focused on breaking poor morning habits, combining accurate tracking, commitment techniques, and 'on-your-wrist' reminder triggers to change users' brains and form new habits. It also includes sleep and step tracker -the latter to shock you if you don't meet a requisite number of steps per day. Each product comes with corresponding behavioral modules on the related app.
They've integrated with IFTTT (Fitbit, SMS, GPS, Amazon Echo, etc) and include an open API for developers wanting to try out the technology ( If your bad habit is not listed, you can train the wearable and program in your own).
Biosensors to Track Opioid Use and Other Addictions
It's highly likely that we'll see sensor data become a key tool in managing addiction-related behaviors whether stress, craving, smoking, drug use, or eating over the next few years.
A 2016 study into tracking opioid use involved the use of wearable biosensors by a group of patients in an emergency room who were receiving opioids for severe pain relief. 30 emergency room patients that were prescribed intravenous opioid analgesics to treat their acute pain. The particular medication and dose administered to each patient were determined by the attending physician. The patients agreed to wear a wristband biosensor, which allowed the researchers to detect how the patients' bodies reacted to the dosages. It picked up that patients moved less after they received the drug, and that their skin temperature also rose. These are among the ways in which the body is known to react to an opioid.
While only a small preliminary study, the researchers believe that biosensors could help monitor developing opioid tolerance and identify people who are at risk for substance abuse or addiction. They could also be applied to opioid addicts in rehabilitation to detect whether they are relapsing. Such relapse data could either be reviewed retrospectively or transmitted wirelessly to trigger an intervention (for example to alert a family member or a community support system).
One organization to watch is The Center of Excellence for Mobile Sensor Data-to-Knowledge (MD2K) who won $10.8 million from the National Institutes of Health to develop hardware and software that compiles and analyzes health data generated by wearable sensors. MD2K's ultimate goal is to use these sensors and data to anticipate and prevent "adverse health events," such as addiction relapse.
According to the researchers, commercial wearables don't work well for research purposes because they only collect a small amount of health data about users, and they only share specific results, instead of raw sensor data. Also, their batteries are not able to handle a full day's worth of constant data collection. Thus the team has produced a group of gadgets that are able to gather a plethora of raw, reliable sensor data for a full day, before needing to charge. For example, a wrist sensor might identify a hand movement to the mouth that could mean anything. But, when that information is combined with a respiratory sensor that shows inhalation and exhalation, the moment a puff is taken becomes clear.
The devices are currently in use by a number of researchers looking into smoking, drug addiction, and behavioral change. Though the project is aimed at researchers and clinicians, its tools are freely available so these innovations could turn up in consumer wearables.
We're a long way from tech being able to definitively cure addictions, but their value as a treatment option is clear.
Topics:
addiction ,wearables ,sensor technology ,iot
Opinions expressed by DZone contributors are their own.