Can Spire Health Tags Bring New Value to Wearables?
Wearable purchases and use have fallen drastically in the past year. But one company might have stumbled onto the secret to wearable device success.
Join the DZone community and get the full member experience.
Join For Free
As consumer products, wearables have promised a lot in increasing our ability to monitor our biometrics, reduce our reliance on our phone and increase our personal safety. We've seen the evolution of wearable tech into a booming market that now includes Alexa integration. But it's come at a cost.
We've seen declining sales in sports wearables, including the liquidation of Jawbone. Smart clothing has never really gone mainstream. Sales of Fitbit devices fell 35 percent in the first quarter of this year. Countless wearables have come to market, but all have faced significant challenges because they required too much daily maintenance — like charging or collected health data with no actionable insights. That's why consumers have come to perceive wearables as gimmicks and are abandoning them in junk drawers by the millions.
Despite these challenges, there's one company that has managed to continue to create useful wearables. Spire was founded in 2013 with backing from Rock Health, Stanford University, and YCombinator. Their first product, Spire Stone, has been proven to treat mental health and pain-related conditions. In a peer-reviewed study by Stanford University at the Anxiety and Depression Association of America conference in February 2017, use of Spire Stone resulted in 37 percent calmer and 25 percent more focus-related breathing patterns among LinkedIn employees. Thousands of health professionals recommend it to their patients worldwide. To date, Spire has grossed over $8M and is one of the only wearables available globally in Apple Stores.
However, mindful of the fundamental flaws of wearables 1.0, Spire are now releasing their second product, Spire Health Tag. I met with co-founder and CEO Jonathan Palley to find out more.
Spire Health Tag is a wearable device that can be attached to an item of clothing once to provide personalized, real-time health guidance for sleep, stress, and daily activity through continuously analyzing breath and heart rate inflection points. Tags come in packages ranging from 1 ($49) to 8 ($199) and 15 ($299) with the idea that they can be attached and, in effect, forgotten.
Palley explained: "We created Spire Health Tag with the belief that the health wearable should be completely invisible unless it has something important to tell you in-the-moment. Only by making the wearable disappear can the industry drive better outcomes. Spire Health Tags can be attached to bras, underwear, workout clothing, pajamas. The battery lasts a year and a half, and it can go through the washer and dryer. You just don't need to think about it anymore."
To achieve these benefits the company had to undertake a number of core innovations:
"Firstly, to make the miniaturization possible, we literally invented fundamentally new low-level sensors. We had to dive into material science and come up with these new sensors because everything on the market degraded under the sustained heat of repeated drying use. So we used a material process called silicon microdots. Going down to a molecular level at some of the underlying components and reinventing new them, meant coming up with a new manufacturing process to ensure a long battery life and survival in the washer dryer cycle.
"We also combined technology with apparel manufacturing innovations to make the outer layer of the tag in a microfiber fabric that is super soft and feels like part of a piece of clothing."
An Evolution of Meaningful Biometrics and Machine Learning
Spire's first product Spire Stone measures breathing patterns and steps to alert you to when you're feeling stressed or anxious and provide strategies to reduce tension. The Spire Health Tag does this and more, also measuring heart rate and sleep patterns to assess your sleep, stress, and activity. The accompanying mobile app helps you understand the connections between them. Consumers can choose a tailored app program which understands your patterns, identifies outliers or anomalies and suggests actions to help you improve your health outcomes like: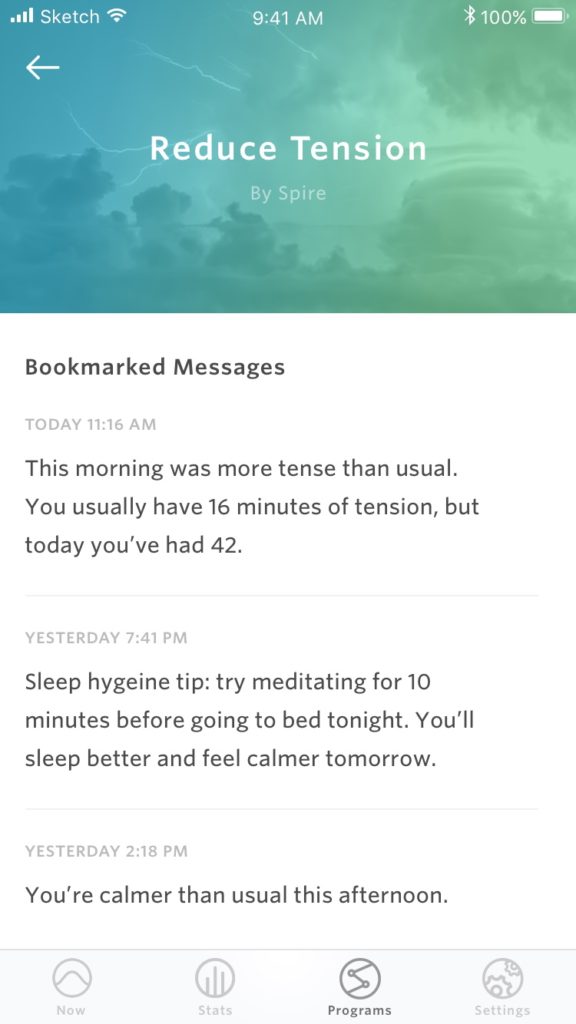 Machine Learning Algorithms Mean Greater Insights
"There are two levels of where we use machine learning. The first level is in the raw sensor data, getting respiration, heart, activity and sleep data and there's machine learning in how we process those signals. Then the outlier intervention is designed around what are your needs and how can we surface the most actionable information in response to those needs is a result of machine learning."
Palley sees their new product as "an opportunity to increase the number of health areas that we can help with.We're able to tie sleep, exercise and activity tracking together and really able to draw the connections between behavioral changes during the day and what will really help you sleep better at night."
Palley notes that the consumer data could in future be used in research to benefit serious health conditions:
"The respiratory data we get is extremely accurate and rich. We're certainly working on serious disorders such as COPD, asthma and sleep apnea. Behind the scenes, we're considering how that data can add value in managing serious disorders such s COPD and sleep apnea."
Topics:
connected health,
wearables,
iot
Opinions expressed by DZone contributors are their own.