CARLOS Brings Collaborative Robotics to the Shipyard
DZone's Guide to
CARLOS Brings Collaborative Robotics to the Shipyard
A look at the CARLOS project, which showcases the use of automation in a shipyard environment.
Join the DZone community and get the full member experience.
Join For Free
Digi-Key Electronics' Internet of Things (IoT) Resource Center Inspires the Future: Read More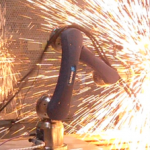 I wrote recently about a new robotic bricklayer called SAM (or semi-autonomous mason) that is capable of bringing a high degree of automation to a building site.
The humble bricklayer may also be at risk of automation. A new robot, called the semi-automated mason (or SAM), offers automated bricklaying services.
The robot will perform many of the more rote tasks associated with bricklaying, such as picking up the bricks, applying the mortar and placing them in the correct location.
Such advances are driven by advances such as the recent MIT project to improve collaboration and coordination between robots.
Robots in the Shipyard
A recent EU backed project is bringing such technologies to the shipyard. The CARLOS project was recently completed to showcase the use of automation in a semi-structured environment.
It's the kind of environment that has traditionally stumped researchers. Most modern shipyards utilize block construction, whereby chunks of the ship are constructed in the ship yard and then joined together at the building dock.
It's very repetitive, not to mention dangerous, and is typically done by manual labor. The environment has proven beyond automation, until now at least.
The initial trials of CARLOS showed that it was capable of performing semi-autonomous navigation within the various blocks of the ship. It navigated using data from the CAD file and was capable of performing stud welding and mark information onto cabin walls to support the work of human laborers.
Collaborative Robots
The researchers used many of the collaborative techniques demonstrated in the MIT project mentioned earlier to allow the robots to cooperate in the complex environments in which they were placed.
The team hope that CARLOS will eventually be capable of operating in a host of industrial and civil construction sectors, with the eventual aim being that it provide a strong competitive edge to European based manufacturers.
The project was recently awarded first prize in the FreeBots competition at the Festival Nacional de Robótica, a Portuguese national robotics competition that aims to show off cutting edge R&D.