Cloud Computing: How Does it Benefit Your Business?
DZone 's Guide to
Cloud Computing: How Does it Benefit Your Business?
Cost-efficiency, mobility, scalability, and managed security are just a few of the benefits that cause over 69% of businesses to choose the cloud.
Join the DZone community and get the full member experience.
Join For Free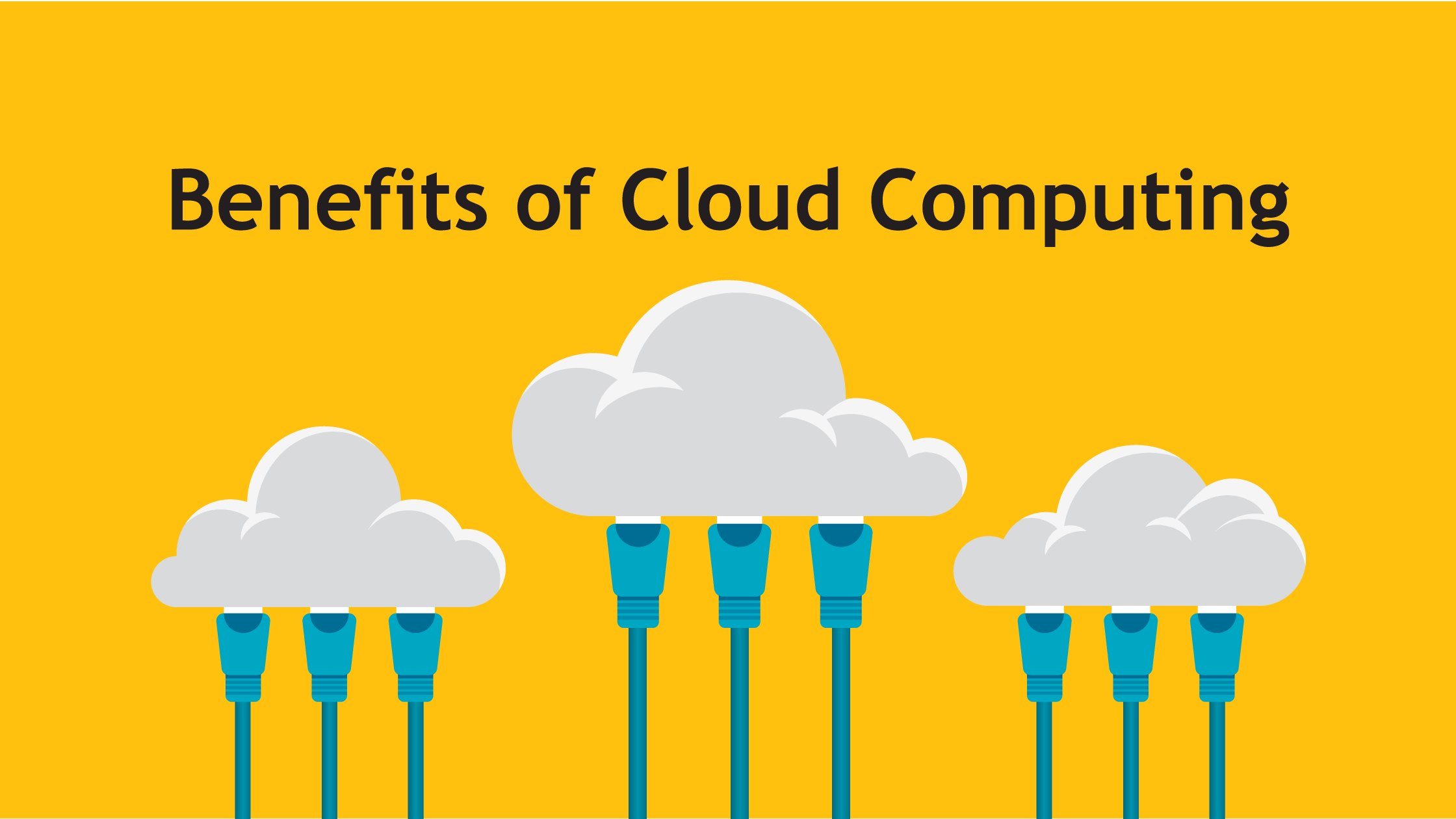 The International Data Group study shows that in 2018, 69% of businesses were already cloud-based while 18% were only planning to get on board with digitalization. Hundreds of companies around the globe are talking about the benefits of cloud computing while you are reading this article!
Nearly two decades ago, cloud computing became a breakthrough in delivering computing power to business. Thanks to large-scale data centers connected to high speed, low cost, broadband networks, users can have secure access to more business apps on more devices wherever they are 24/7. It's no wonder that traditional onsite computer facilities are struggling to keep up.
Now that the IT bottleneck is gone, the importance of cloud computing is increasing rapidly. This means:
No more waiting

No more servers rooms

No more firewall and routes with support teams

No more constant investment in updates and rebuilds
Instead, you cover your business needs by simply plugging your blue cable into the wall: support and expertise paid for as a service.



You may also enjoy: Cloud Computing: How Does It Benefit Your Business?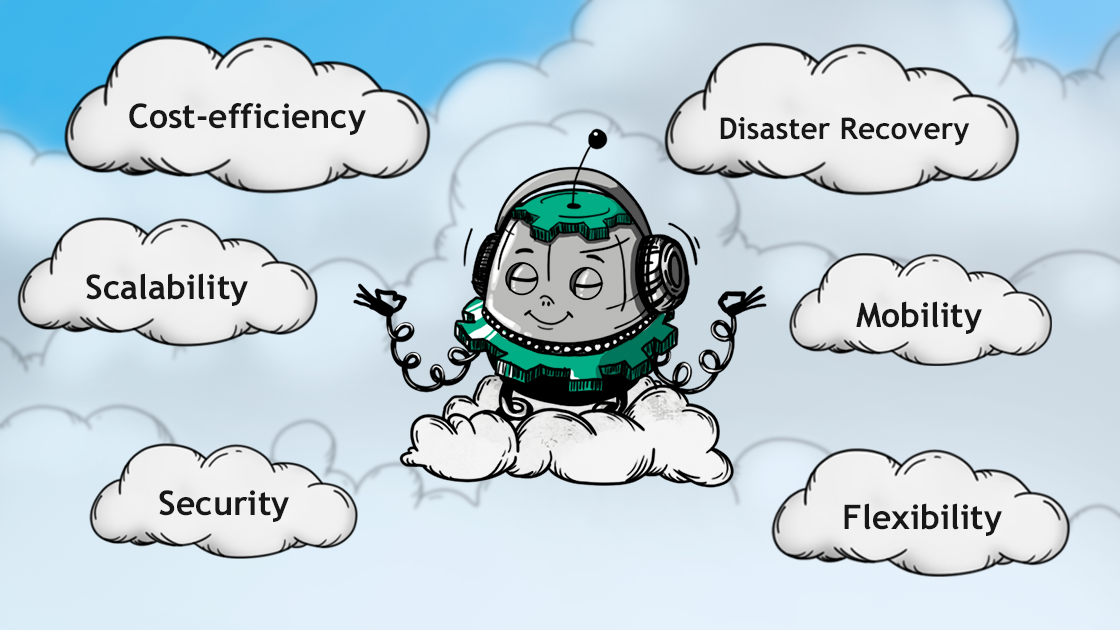 Cost-Efficiency
The Dell report shows that cloud-based and big-data-oriented businesses hit 53% faster income growth compared to those that are only planning to follow the digital transformation of the 21st century. Paying no idle fees is the top financial benefit of cloud hosting. Providers call it a "pay as you go" model.
The classic approach of data storage includes having the computing power in-house and, correspondingly, updating and managing it on your own. You can scale your business up and down as you see fit. Therefore, you won't get an enormous electricity bill or pay a fortune for server maintenance, especially for low traffic hours. "Pay as you go" means that the check includes only the time when the cloud provider serviced you!
All the benefits of cloud computing are interrelated: scaling up and down depending on your business needs gives you the flexibility that helps businesses grow faster and with fewer safety concerns. This exact flexibility helps minimize costs by not paying for time/space/energy when you are not using it.
Also, having the equipment in-house requires constant software updates and even more expensive hardware updates. This point significantly affects security. See, hackers work day and night to find an old and outdated computer to break into your system and steal your data. Hacker attack recovery may cost a lot, so why take a risk if you are not sure that you will be able to purchase an update? Anyway, having a cloud package that corresponds to your business needs will be much cheaper than a disaster recovery or data loss.
However, if you are in that 18 % that are considering transferring to the cloud, you need to know about the cost of the shift. Migrating your IT infrastructure to the cloud costs a bit more than buying a new server. Moreover, it's more about labor costs than infrastructure and maintenance fees. Although, it isn't comparable to what you'd pay having in-house computing power when your business scales up.
Also, hiring a DevOps Engineer as an in-house employee to execute the migration will not be enough. It would also be much more expensive than hiring an agency. Here you will find all the information on this point: why, where, and who to hire?
There is no need to pay for new clusters creation (up to a certain number: you can check all of the metrics of cloud providers here in our comparison table). Also, by paying for a package, you get an updated environment, around-the-clock support, data backup, etc. Here is a full list of packages and services you get from different cloud providers.
Altogether, the factors mentioned above will result in lower infrastructure maintenance costs and faster revenue growth.
Scalability
Business needs differ from one organization to another. An IT startup's needs might not match those of a big enterprise with thousands of employees. A company with the following characteristics will eventually have to migrate to the cloud due to in-house storage pains in the developing environment:
fluctuating demands, so it needs flexibility;

a high load system that needs to minimize downtime;

operating with tons of fragile data, like payment systems, banks, healthcare companies.
The most significant advantage of cloud computing for companies is the opportunity to focus on developing business/brand, increase sales, etc. This is because cloud providers offer hundreds of support tools in addition to space on their servers.
However, some managers that consider the cloud as a solution for their business needs believe that the cloud is a miracle pill that would make their infrastructure an independent unit, and Amazon or Google would be happy to manage all your infrastructure issues by themselves. It's a pity, but this is not the case. Companies still need to have a System Administrator or a DevOps Engineer to maintain the infrastructure and fix their weaknesses.
Security
When it comes to trusting a cloud provider with fragile data, business owners usually think: "What prevents hackers from stealing data from the cloud provider's storage as opposed to my in-house storage?"
However, cloud storage providers' job is to monitor, log, and protect their customer's data 24/7. Although in-house System Administrators may seem more reliable, they don't spend long nights in the server rooms, do they? Moreover, they need to spread their attention over dozens of daily tasks. Therefore, it turns out to be more efficient to rely on the provider for your security. They will have their eyes on your infrastructure every second.
Two more advantages of dependence on a cloud provider are its cost and compliance:
Infrastructure maintenance by a cloud provider is cheaper than hiring a full-time System Administrator or DevOps Engineer;

Compliance requirements of governments are not such pain with cloud solutions.
Disaster Recovery
20% of cloud users report disaster recovery in four hours or less, while only 9% of non-cloud users can say the same. It means that in case of a natural disaster, a power outage, or any other crisis, your data is backed up by your cloud provider, and will be recovered within 4 hours after the crisis occurs.
This doesn't mean that your in-house team cannot set up a backup; they can. However, simple math says that you'd spend much more time and money on setting it up than paying for a ready solution by a cloud provider.
For a considerably lower bill, you minimize the downtime of your system and maximize its efficiency.
Mobility
The 21st century is not only the cutting-edge of digital transformation; more and more people also work remotely for companies that are not even in their country. This is why mobility is quite an advantage. With cloud computing, you can access your corporate data from anywhere in the world. You can use any device as long as it's connected to the internet.
But something even more pleasant is that the system you access updates automatically. So, even if a team member is working remotely, he or she can access the same updated system as the rest of the team.
Flexibility
In addition to what was already said, to meet security requirements, budget limits, and data protection standards, companies can deploy their software on either private, public, or hybrid clouds. It offers businesses the flexibility to develop effectively and sensibly.
Also, cloud-based infrastructures can automatically increase or decrease their capacity as needed.
With the flexibility that cloud computing provides, companies that have not yet migrated to the cloud are struggling to compete in modern markets.
Final Word
It's been almost two decades since cloud computing brought its advantages to the market. And it's no wonder that more and more enterprises migrate to the cloud due to higher levels of efficiency, increased security, and lower costs.
Here is a concise infographic that illustrates the importance of cloud computing for business: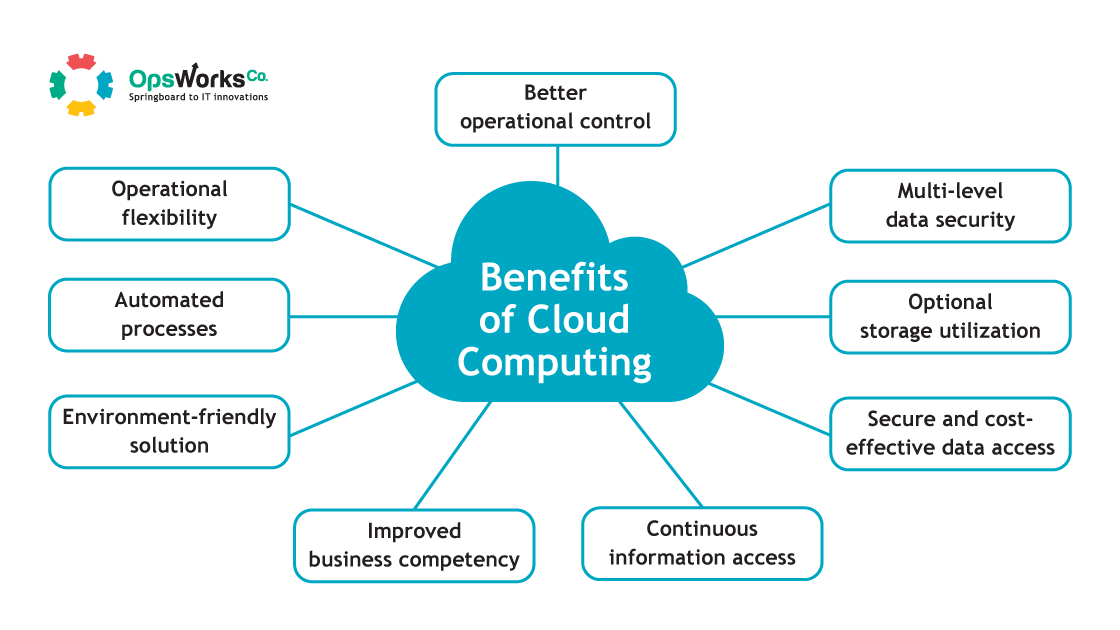 Further Reading
Challenges and Benefits of the Cloud
Intro to Cloud Computing: Types and Benefits [Infographic]
Topics:
aws ,azure ,cloud ,cloud computing ,cloud migration ,cloud migration strategy ,devops ,gcp cloud ,infrastructure as a code
Opinions expressed by DZone contributors are their own.