COBOL and The Definitive State of the World's Greatest Legacy Ecosystem
DZone's Guide to
COBOL and The Definitive State of the World's Greatest Legacy Ecosystem
Look at the picture!: A career COBOL'er asserts that the inflexibility of the IBM Mainframe is killing digital transformation initiatives.
Join the DZone community and get the full member experience.
Join For Free
First, I'm going to "introduce" myself in an attempt to establish a greater level of credibility than I might otherwise be able to muster!
I've been working for over 30 years. My entire career has been in the COBOL space, the vast majority of it working with Global 2000 companies to deliver COBOL application development and deployment platforms that were primarily focused on adding value to the IBM Mainframe ("the world's greatest legacy ecosystem").
I have worked at the "coal face" developing bespoke commercial COBOL applications. I have worked developing COBOL compilers and runtimes. I have led global teams of astoundingly brilliant people that have built COBOL ecosystems from scratch. Back in 2010, myself and a group of others with similar career profiles founded Heirloom Computing to bring a new COBOL ecosystem to market: one that automatically transforms online and batch mainframe applications so that they execute (unchanged) on industry-standard Java Application Servers. A career COBOL'er, I am.
Credibility enhanced? Either way, on we go...
Mainframe is without a doubt (and by far) "the world's greatest legacy ecosystem." Its reliability, pervasiveness, and keeper-of-systems of record is unmatched. Today, however, that proud legacy is increasingly burdensome. These (crucial) systems are severely and systemically constrained — and today, agility really matters. They have paralyzed IT with a fearful, non-viable, "do nothing" strategy that impedes the execution of strategic initiatives (like digital transformation) that are needed to compete. And up to this point, we've not even mentioned the operational expense nor the risks of an ever-aging/depleting skills pool.
Some of these systems, especially in government, have eroded/warped to the point that paper processes have been introduced to integrate legacy workloads with new services! This is NOT a failure of DevOps, nor tooling, but a failure of leadership and the brutal reality that mainframe systems of record are inherently NOT agile because: first, monolithic applications are inherently NOT agile; and second, the fundamental attributes of the IBM COBOL ecosystem (an archaic compute-model, a procedural language, a failure to embrace open source, a lack of application frameworks, an entrenched culture, ...) are NOT agile.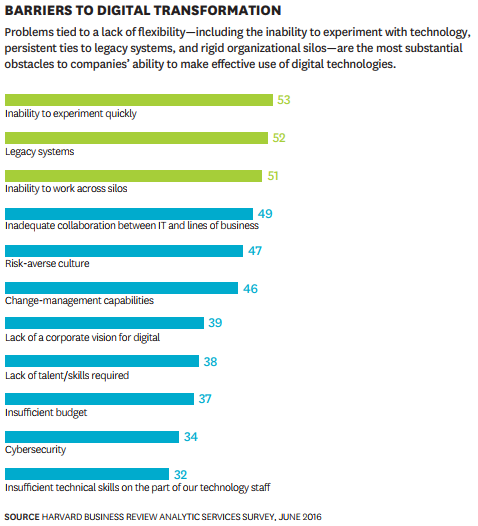 A quick exercise: look at the chart above and consider how each barrier relates to the IBM Mainframe. Check, check, check...
In article, after article, after article, IT leaders and analysts have clearly identified the challenge. The emerging FinTech industry is receiving huge amounts of investment. And so, progressive enterprises like GE and Capital One are already working on solutions. Mainframe workloads are an essential part of any digital transformation strategy, but those workloads will persist in a different form. One that protects existing function, but also one that is seamlessly integrated with an agile ecosystem.
Engineers build business. See why software teams at Atlassian, PayPal, TripAdvisor, Adobe, and more use GitPrime to be more data-driven. Request a demo today.
Topics:
cobol ,java ,digital transformation ,mainframe ,ibm ,Agile