Codey: A Scribble Pad for ColdFusion Builder
DZone's Guide to
Codey: A Scribble Pad for ColdFusion Builder
Join the DZone community and get the full member experience.
Join For Free
I've written a new ColdFusion Builder extension, called Codey, that opens up as a View. After opening it is a little scribble pad to quickly run a few lines of code. Its inspired partially by how I often use the console log in Chrome -- writing a few lines of JavaScript or jQuery and see what happens.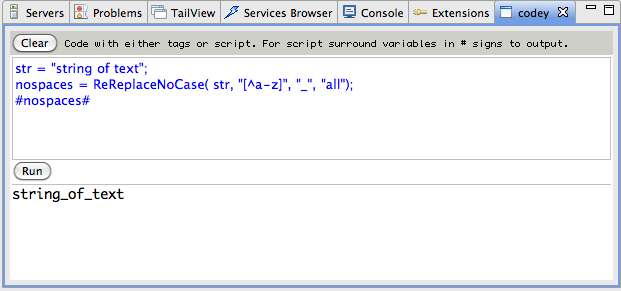 After installing you can pull it up by either going to Window > Show View > Other > ColdFusion > Codey or Right-Click on a File and select Codey.
Once up enter code in the textarea and click Run. Both tags and script syntax are supported and the latter without defining cfscript first. This allows you to write code like:
a=now();
#a#

and have it work.
Errors are trapped within the code and the error returned.
The extension is on github and details are on RIAForge.
Web Dev Partner Resources
Web Dev Partner Resources