Conversational UI, AR/VR, and More—Telerik R2 2018 Webinar Recap
DZone's Guide to
Conversational UI, AR/VR, and More—Telerik R2 2018 Webinar Recap
In an overview of the webinar with Telerik representatives, insight on the prospects of UI and AR/VR within the realms of IoT development is further explored.
Join the DZone community and get the full member experience.
Join For Free
Digi-Key Electronics' Internet of Things (IoT) Resource Center Inspires the Future: Read More
Join us as we recap the latest enhancements to the Progress Telerik UI tools, including Conversational UI and other new features. If you missed the webinar, you can now watch the recording on demand.

The R2 2018 release of our Telerik UI tools, covering the latest features and new Conversational UI controls, was announced live earlier this month. Sam Basu, Stefan Stefanov, and I hosted a live webinar from the ProgressNEXT conference in Boston! Conversational UI is a set of chatbot framework-agnostic user interface controls that enable .NET and JavaScript developers to create modern conversational chatbot experiences in their web, mobile, and desktop applications.
Webinar Recording
Don't worry if you didn't get a chance to watch the webinar live. We've posted it on YouTube. You can watch it now!
Make sure to check out our what's new page for an overview of the latest features we've added to Telerik R2 2018.
Webinar Questions and Answers
Historically, we've answered questions on Twitter using the hashtag, #HeyTelerik. This time around, we decided to answer most of them during the webinar. That's why it's a good idea to watch the recording. We got through a lot of them in a short period of time! That said, here is a small sampling of questions we got (along with their answers):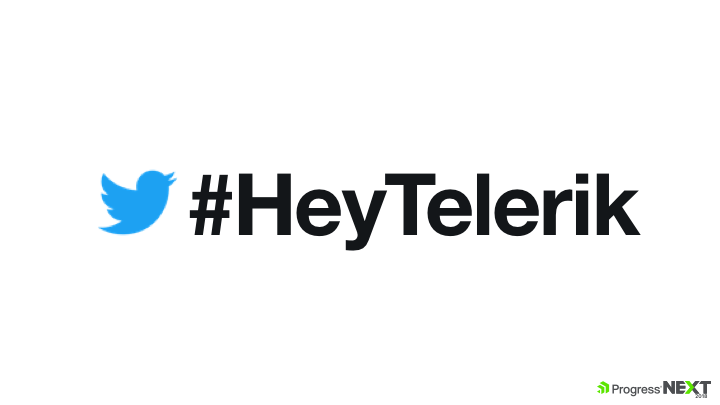 Any plans to make a Xamarin-like framework for AR/VR so we can code once for all?
Yes! This is our plan, but in the meantime, we'd love to hear what you think about a HoloLens sample app that we've posted online called AR for LoB Unveiled by Progress Telerik. We've also published an article entitled AR VR And What It's Good For.
Are you working on making widgets compliant with the new WCAG 2.1?
We're definitely looking at WCAG 2.1, but don't have compliance at the moment. Keep an eye out for future updates and roadmap pages as we want to make sure we can work with this updated standard.
Can the chatbots be integrated with Cortana or Alexa?
We covered this live during the webinar. In short, the components are framework-agnostic so you can tie them to any framework you use for your bot backend.
Will there be any support for SSRS reports for MVC web applications?
Telerik Reporting uses its own report definitions format, which you may consider for your next reporting project. Supporting other formats is out of the scope of the product.
Can we use chatbot to develop an app like WhatsApp?
Absolutely!
Thank You!
Thanks as always to everyone who joined for the webinar and for all of the great feedback. We hope all the improvements we've made across our .NET tooling give you what you need to develop your apps faster. Don't forget to check out everything our DevCraft bundles have to offer and feel free to leave your thoughts at our Feedback Portal or in the comments below.
Topics:
iot ,webinar ,telerik ,ui ,ar ,vr ,wcag 2.1 ,chatbots ,r2
Published at DZone with permission of John Bristowe , DZone MVB. See the original article here.
Opinions expressed by DZone contributors are their own.