Cracking Interviews: About Yourself
Join the DZone community and get the full member experience.
Join For Free
Description
This is the first article of Cracking Interview Series where I am going to talk about my experience in facing panels from best software technology brands and also interviewing candidates from some of the best technology and management institutes of India and renowned employers.
About This Article
I will cover one of the most pressing questions, "Tell me about yourself", which is asked by almost every interviewer. There is right answer because every person is different, and their expectations are as well. But, here, I will guide you through how to best prepare yourself regardless of the situation.
How to Benefit Most From This Article
Make sure you read this article carefully and understand the pattern and format and practice many times before your interview.
Answer:
Generally when a candidate visits the campus for an interview or it is conducted virtually, the interviewer starts the conversation by saying, "Introduce yourself", "Tell me about yourself", etc. Ideally, you would have done some ground work before answering this question.
Read the job description and make note of what is expected out of this role
What all technology knowledge it requires
What are a "must have" and what are "good to have" skills
Sample Job Description(JD):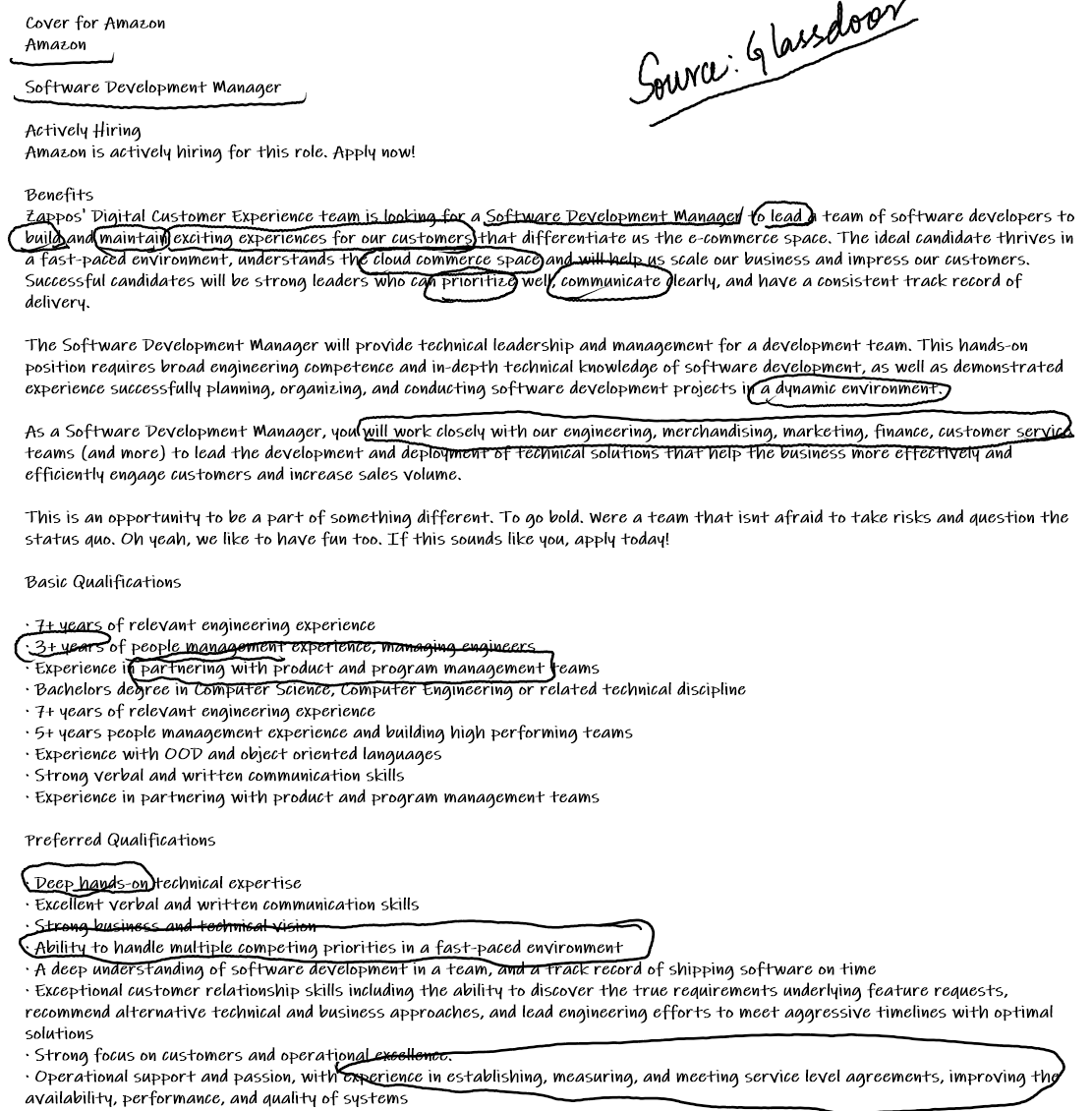 I have taken a sample from Glassdoor for an Amazon Software Development Manager position. I have selected some of the keywords from that I would prefer including in to my introduction.
Sample Response Texts
My intro will include,
"I have experience in leading teams in highly dynamic environments where requirements are driven by customer and markets dynamics. In ABC project, my customer kept getting new requirements and everything was a priority for him. While delivering core functionalities on time was a priority, some of these adhoc issues were impacting customer experience. I managed to deliver adhoc items weekly and core functionalities in a couple of increments"
"While working with XYZ organization, I realized that customer engagement and creating technology solutions are my core strengths because I love talking to people, understanding their needs, and solving their problems. I was a go-to person on my team and then started building on it. My successive roles are more focused on technology delivery where customer engagement is key"
"My role allows me to experiment and implement best of technology solutions and my hands-on expertise compliments to it. Also, ever changing ecommerce industries challenges grew me in to a well managed, balanced person who manages multiple key priorities and communicates effectively to stakeholders."
Above sentences could be part of introduction. In general, it's best to avoid reading your resume, talking about your professional life mostly. You should also include,
"I am ITIL certified and have very good exposure of ServiceNow and managing technical support teams, SLAs and SRE function."
"I am regular Yoga practitioner as it keeps me calm, takes care of my health"
"My son is 6yrs old and with him I learnt how being curious about anything can bring different solutions and out of the box thinking"
"My design thinking certification helps me understanding customer problems and adding empathy to it to capture a clearer journey map"
Things to Keep in Mind
It requires lots of practice to have such introduction. Every interview and job is different. Your preparation preparation for each should be as well. Practice the interview multiple times, memorize your responses to common questions, and whenever you can, add some story to stand out.
Let me know if you need help. Post your queries in the comment box.
Topics:
interview preparation,
interview coaching,
interview points,
interview practice,
interview tips
Opinions expressed by DZone contributors are their own.