Crowdsourcing music (and muzak)
DZone's Guide to
Crowdsourcing music (and muzak)
Join the DZone community and get the full member experience.
Join For Free
A while back I suggested that the events industry might benefit from crowdsourcing, and proposed a model similar to Threadless, whereby participants create their own 'fantasy' events, and if enough people pledge to attend, the event is put on. There are one or two interesting developments in the music business that are looking to involve the crowd in similar(ish) ways.
Rabbl is a site where fans from around the land (it's US based) can preorder tickets to hypothetical concerts. The city that registers the most ticket sales is then rewarded with a gig in that location.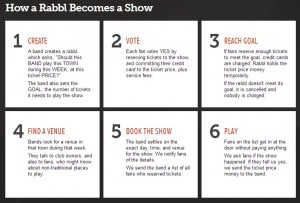 It's certainly an interesting approach, although there are signs that some promoters are looking to distort things a bit. With the crowd based popularity a big factor in who gets to play, some promoters are booking bands on their ability to drum up support rather than their musical talents.
The Washington Post talk about a venue in the city using Rabbl as an alternative to the age old practice of 'pay to play', with the local bands that secure the most pre-order ticket sales added to the bill. There are many opponents to the crowdsourcing model who argue that it undersells talent, and puts all of the power in the hands of the buyer rather than the seller. Of course, there will be others who will contest that talent will rise to the top and be rewarded accordingly. The Rabbl story highlights the divergent points of view on the matter.
A possibly more innovative way of showcasing new music is underway in Boston. Their new mayor announced last year that he wanted to crowdsource the music people would hear when they call up city hall and are placed on hold. The city took suggestions from people via a range of social media for bands and music they'd like to hear whilst on hold late last year.
There are only two rules to this game. One member of the band has to live in Boston, and the music should not contain any profanity. Other than that, as is written on the DoIT's webpage, "We think that music should be as uniquely Bostonian as you are."
Of course, the city government are also pledging to cut waiting times when you do ring in, so you may not actually get much of a chance to listen to the music itself, and they must certainly hope you won't get to listen to a full albums worth, but nevertheless it's an interesting way of engaging with the local artistic community.
Opinions expressed by DZone contributors are their own.