Data Fabric for Kubernetes Extended
DZone's Guide to
Data Fabric for Kubernetes Extended
Learn how MapR's Data Fabric for Kubernetes enables the deployment of stateful applications across clouds.
Join the DZone community and get the full member experience.
Join For Free
MariaDB TX, proven in production and driven by the community, is a complete database solution for any and every enterprise — a modern database for modern applications.
Thanks to Jack Norris, S.V.P. Data and Applications at MapR Technologies, Inc., for introducing me to the MapR Data Fabric for Kubernetes, which addresses the limitations of container use by providing easy and full data access from within and across clouds and on-premise deployments. The data fabric enables stateful applications to be deployed in containers for production use cases, machine learning pipelines, and multi-tenant use cases.
A typical issue with containers is that most organizations just look at containing lightweight ephemeral apps. They haven't been able to do this with stateful apps since it is more complex to control data access and to determine how to maintain access once the data has been moved. As data volume scaled and databases were added from disparate locations, solutions would break down. Security of the data is also a concern because organizations are not able to replicate authorization and access.
With a natively integrated Kubernetes volume driver, MapR provides persistent storage volumes for access to any data ­—­ like from databases, files, and streaming — located on-premises, across clouds, and to the edge. The data fabric's extension to Kubernetes also provides scheduled automation for multi-tenant, containerized, and non-containerized applications located inside and outside of a MapR cluster.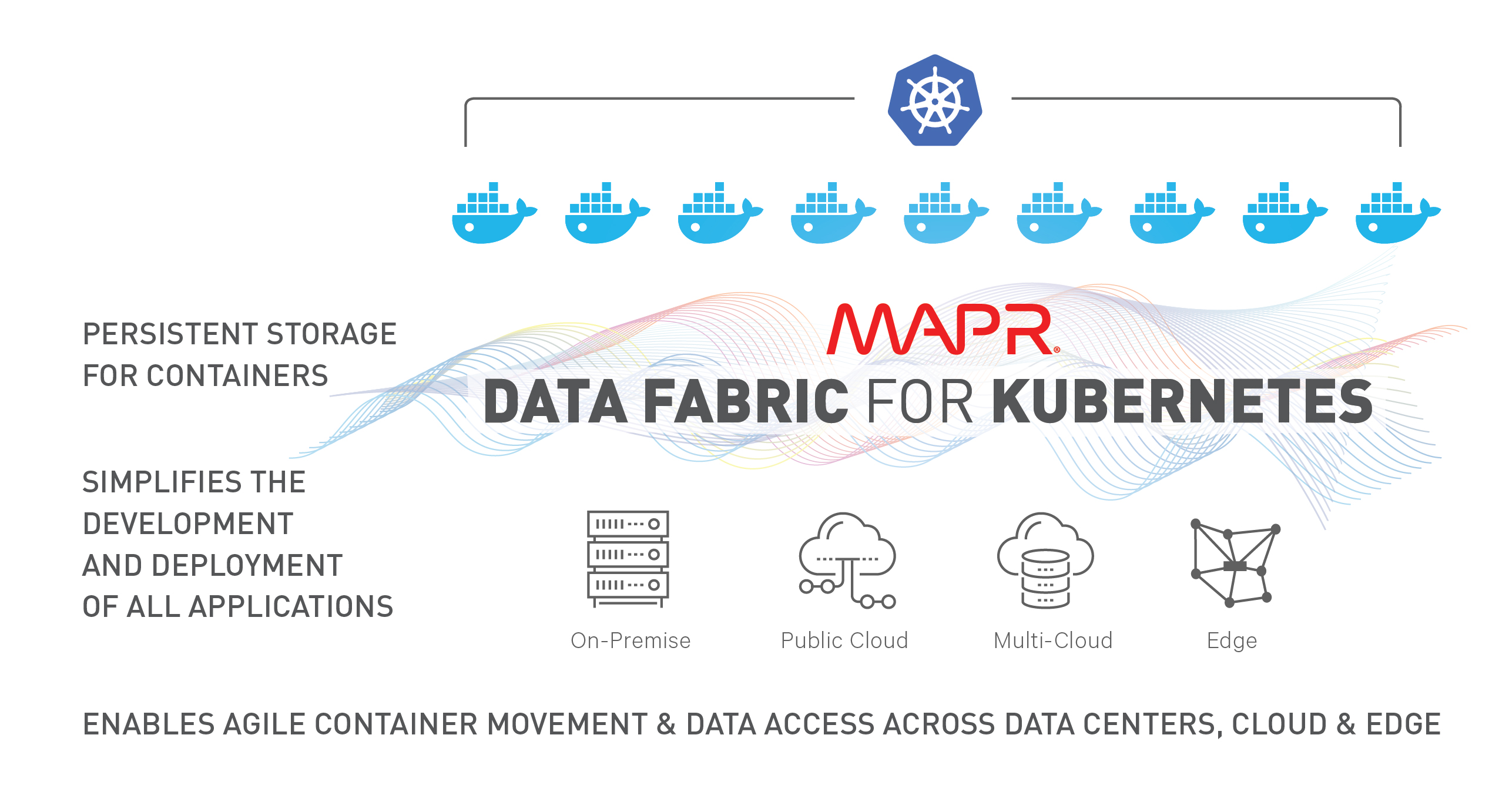 "Stateful and data-driven applications can't elegantly live in the cloud without an elegant means for persisting state and making it available, securely and robustly, to containerized microservices," says James Kobielus, lead analyst at SiliconANGLE Wikibon. "Container technology has traditionally failed to address the data portability challenge. Ideally, developers should be able to build containerized applications that can directly access persisted data volumes of any scale. Likewise, data architectures and operations personnel should be able to ensure this data remains available to containerized apps regardless of the platforms to which those containers have been moved."
Using the MapR Data Fabric for Kubernetes, organizations can enable a global, flexible data fabric that provides high-performance access to data as if it were local and can benefit from enterprise security protection, container high availability, snapshots, mirroring, and disaster recovery.
"MapR provides the flexibility, elasticity, and simplicity for next-gen application deployment, eliminating concerns about how, where, and if the underlying platform can grow with your data and business needs," says Anil Gadre, Chief Product Officer at MapR Technologies. "We provide a unique advantage for our customers by enabling them to build a data fabric that extends to disparate environments, where they can capture, store, process and analyze any type of data," continues Anil. "Extending the data fabric to Kubernetes is a needed advancement to accelerate the deployment of Containerized applications in Enterprises while allowing them to harness value from their data."
The new container extension also brings comprehensive cloud capabilities to the Data Fabric, including:
Differentiated data services within a cloud through data synchronization and integrity across availability zones to meet high availability requirements.

Cross-cloud data bursting to support cloud neutral deployments with the ability to optimize application processing for cost, performance, and compliance. Cross-data access support includes NFS, S3, HDFS, and ODBC.

Supports easy on-ramp from on-premises and private cloud deployments to public cloud.
MariaDB AX is an open source database for modern analytics: distributed, columnar and easy to use.
Topics:
databases ,kubernetes ,data fabric ,mapr ,containers
Opinions expressed by DZone contributors are their own.
Database Partner Resources
Database Partner Resources