How to Deploy a Specific Mule Configuration File
DZone 's Guide to
How to Deploy a Specific Mule Configuration File
Let's see how we can deploy a specific Mule configuration file.
Join the DZone community and get the full member experience.
Join For Free
Mule configuration file
Problem
How do we deploy a specific Mule configuration file on the Mule server [3.8.4]?
In the below project structure, there are three Mule configuration files — a. xml, b.xml, and c.xml — under the src/main/app. So our requirement is to deploy only a specific configuration file on the Mule server runtime for testing purposes or debugging purposes. In this scenario, we want to deploy only the a.xml and b.xml files. How can we achieve this?
You might also like: Securing Configuration Properties in MuleSoft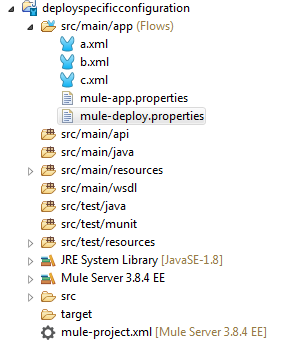 Solution
Mule applications can contain various Mule configuration files, so when we deploy it on the Mule server, it picks all the configuration files mentioned against the key config.resources from the (src/main/app/mule-deploy.properties ).

First Thought
Let's try deleting all of the specific XML configuration files and keep only the specific configuration file that is required. But then we see the mule-deploy.properties had again added all the configuration files when we deployed.
Final Solution
1) Delete the configuration files from the mule-deploy.properties against the key config.resources and keep only the required configuration file (i.e Removed the c.xml configuration file)
2) Right-click on mule-deploy.properties
3) Go to properties
4) Check the read-only option
5) Click Apply and then OK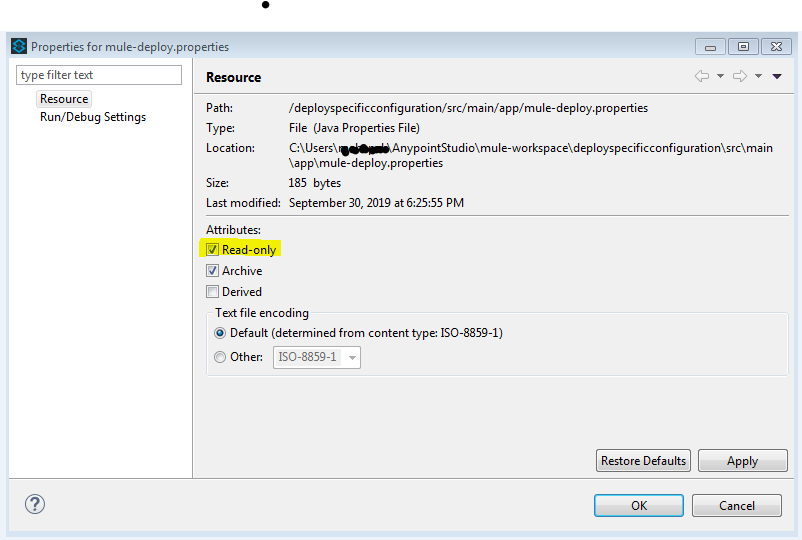 So when we deploy again, we see only a.xml and b.xml will be deployed.
We can verify this from the output console, as shown below.

Thanks for reading!
Further Reading
Property File Handling in Mule 4
Topics:
mule ,mulesoft api ,mule 3.8 ,mule application tutorial ,tutorial ,integration ,mule configuration files
Opinions expressed by DZone contributors are their own.
Integration Partner Resources