The Difference Between a DevOps and a Mobile DevOps Lifecycle
DZone 's Guide to
The Difference Between a DevOps and a Mobile DevOps Lifecycle
When it comes to Mobile DevOps lifecycle, different steps are needed to tackle specific challenges.
Join the DZone community and get the full member experience.
Join For Free
In app development, both technical and non-technical people are familiar with the infinity symbol representing the never-ending DevOps lifecycle and its steps — which are usually along the lines of planning, building, continuous integration, deployment, operation, and feedback.
You may also enjoy: The Four Pillars of Mobile DevOps Strategy
The Mobile DevOps lifecycle, however, is quite different. The continuity is still represented by the same symbol, but the steps have changed in order to be able to adapt better to the specific needs of mobile. An up-to-date mobile development lifecycle would most likely be comprised of the following stages: measuring, ideation, building, testing, shipping, and monitoring.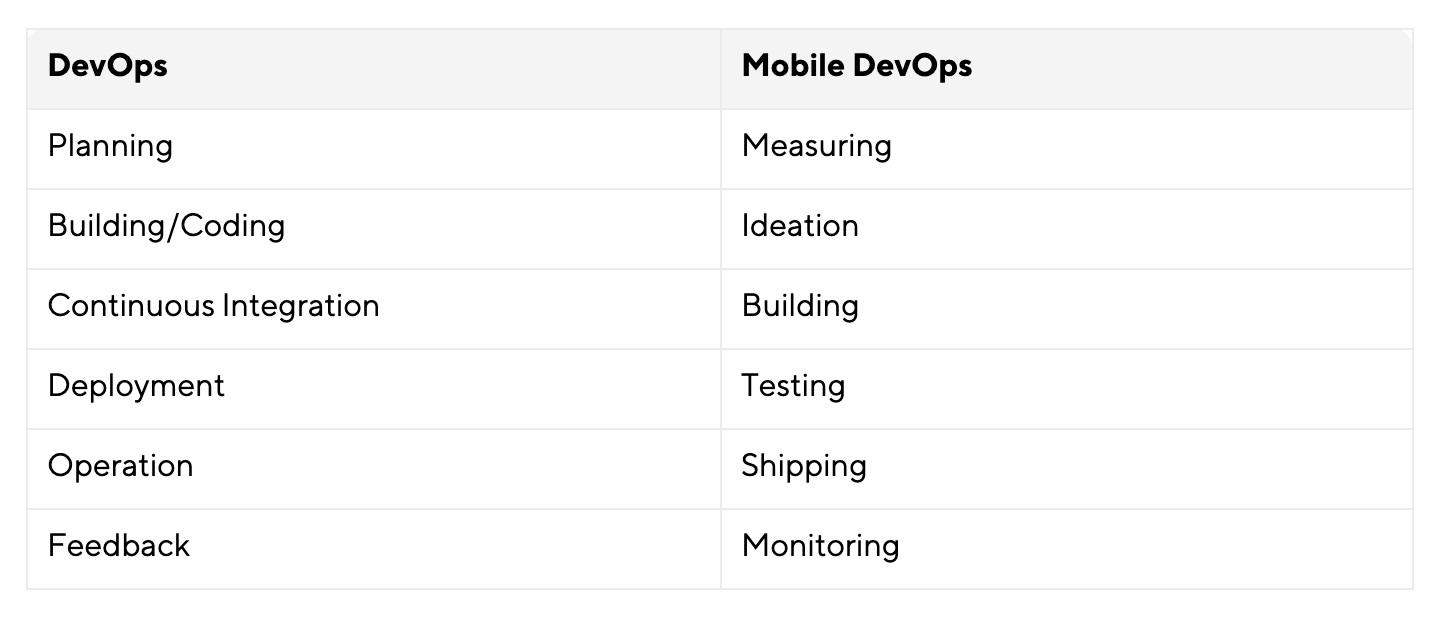 What These Steps Mean
In the measuring stage, a quantitative and qualitative analysis is conducted, based on usage metrics and direct user feedback. This data highlights any potential for product improvement and gives useful insights into the performance of a previous iteration — whether it has moved the needle or not.
During the ideation phase, Product, Engineering, and Design teams get together to come up with a plan regarding a set of product changes — including non-functioning prototypes — which will later be the hypothesis for improving the product.
Next, the building stage involves implementing the proposed changes to a minimum standard required to prove (or disprove) the hypothesis. This is the stage at which the User Interface is designed, code is implemented, and automated tests are written.
During the testing phase — depending on the maturity of the app and the size of the team — different types of testing practices take place. These can range from conducting automated unit and UI interaction tests all the way up to manual QA testing. The aim is to understand the quality level and potential risk of the new release.
Shipping happens when the changes are deemed stable enough that the app can be released to users. Initially, at this stage, internal and external beta users can try out new changes via Testflight, Deploy steps, or alpha testing.
And finally, the last stage, monitoring. During this phase, multiple things are tracked, such as app consumption (how much resource our app is consuming), app usage, responsiveness (how long the app takes to load and switch between screens), and stability (how many errors and crashes an app is generating). Other common analytic tools monitor how the users interact with the app via custom events.
Why It Makes a Difference
Building apps for mobile has its unique challenges — which is why we believe that following these steps throughout your app development process is key for a more productive development lifecycle. In alignment with other Mobile DevOps principles, these steps help you improve not only your apps, but your entire process as well.
Further Reading
Our partner Bitrise's Mobile DevOps blog
Why Mobile App Companies Need to Adopt Mobile DevOps Practices
Topics:
app development, cicd, devops, devops approach, mobile app development, mobile devops
Opinions expressed by DZone contributors are their own.