Digital Transformation and the Evolving Role of the CIO
DZone 's Guide to
Digital Transformation and the Evolving Role of the CIO
As digital transformation and a move to cloud-native environments are the top priorities for organizations, the role of CIOs is changing and expanding.
Join the DZone community and get the full member experience.
Join For Free
In the tech industry, it's important to stay up on what chief information officers (CIOSs) are thinking, what their goals are and what obstacles they encounter in meeting these goals. That's why I make it a priority to keep in constant contact with CIOs and other IT leaders around the world, both through personal meetings and through Flexera research that solicits their input. One thing that's crystal clear is that the CIO's role is evolving at a rapid pace.
A few years ago, CIOs had command and control of the IT environment. Anyone who needed an IT resource had to first go through the IT department. CIOs ran their departments as cost centers and managing the IT budget was their primary concern, as they were under continuous pressure to do more with less.
This mentality has shifted: today CIOs are becoming partners to the business and enablers of business growth with digital transformation leading their strategy. Digital transformation is accelerating that evolution and putting pressure on the CIO to modernize the business — and to do it superfast.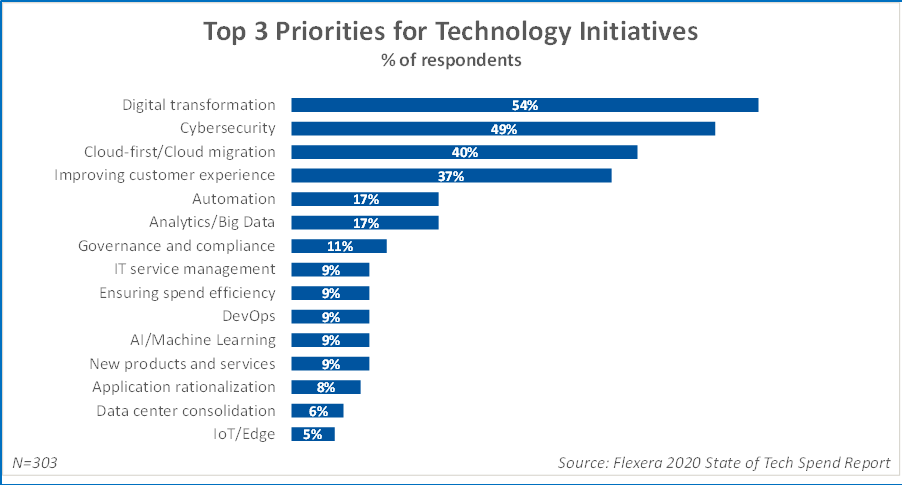 Flexera survey data
As Figure 1 shows, in a recent Flexera survey of CIOs and other senior IT leaders, more than half of the respondents rank digital transformation as their number one focus. Digital transformation is closely followed by cybersecurity, cloud-first/cloud migration and improving the customer experience—all three of which are tightly interwoven with digital transformation.
According to the report, the cloud is the vehicle companies are focusing on first for their digital transformation journey. Its advantages include agility, nearly unlimited scalability and economy. That's why organizations are increasingly moving their workloads to the cloud. According to the research, more than 80 percent of the organizations surveyed are taking a multi-cloud approach in that move.
Properly executed, digital transformation propels a company forward with new and innovative services to customers, employees, and partners. This not only helps boost revenue but also, through automation, reduces costs and increases profitability. To achieve successful digital transformation, CIOs must shift their focus to improving the company's bottom line and expanding beyond the I in ROI to include the R.
As with all disruptive technologies, the cloud coin has a flip side. Gone are the days when the CIO had tight control over the acquisition of IT resources. Today, with the swipe of a credit card, an employee can spin up a computer that NASA would have been proud to own a few years ago. That single swipe often happens without IT's consent or knowledge. And while it may not involve a significant amount of money by itself, when multiplied across thousands of employees in a large enterprise, the total cost becomes significant.
The decentralization of IT spend control is not limited to employees swiping credit cards. The report also states that more than one-fourth of a company's tech spend is controlled by the business units. This means, they are making major expenditures as they implement cloud-based systems for human resources, marketing and sales force automation, financial reporting and other functions.
Despite the decentralization, senior leaders turn to the CIO when it comes to optimizing IT spend across the enterprise. Yet the CIO has only a partial view of those expenditures. Gaining full visibility of technology spend, as Figure 2 shows, presents a number of challenges.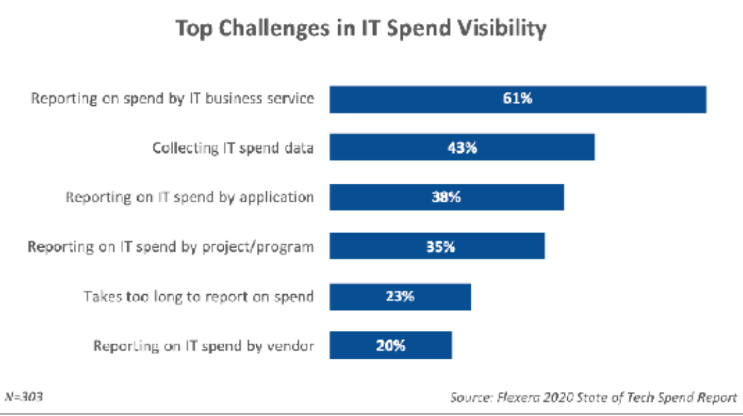 IT spend visibility
The challenges increase when organizations adopt multi-cloud strategies. In multi-cloud environments, there are hundreds, maybe thousands of different providers spread across many different business units. Those providers all have different rate structures. Just aggregating cost data, let alone optimizing cost, is a formidable challenge.
Cost optimization is not the only challenge CIOs face in digital transformation. Decentralization means that applications are often acquired outside of IT's purview. Consequently, those apps are probably running outside the IT governance framework – and the ramifications are scary. A CIO's worst nightmare is the vision of a front-page news story describing how the company's systems were hacked, exposing sensitive employee or customer data. Lack of proper governance can also introduce the risk of noncompliance with government regulations or vendor license terms. Such noncompliance can result in substantial financial penalties.
As with cost optimization, senior management expects the CIO to ensure the security and compliance of all software running in the enterprise. Again, the CIO is faced with managing software for which he or she has only partial visibility.
Returning to the days of CIO command and control over IT resources is not the answer. That would deprive business managers of the flexibility and agility that cloud offers them in allowing them to quickly acquire the software that best meets their needs.
Instead, the CIO should position IT as a trusted partner and technology consultant. Business managers retain spend control but keep IT apprised of all software acquisitions. IT brings all software into the governance framework. This approach delivers maximum benefit to both IT and the business. Business managers stay agile while taking advantage of IT's technology expertise in acquiring and integrating software. With software visibility across the enterprise combined with vendor management experience, IT can optimize spend and identify and mitigate security and noncompliance risks.
To reach the promised land of digital transformation requires broad and deep visibility into the IT assets across the enterprise. With the insight gained from this visibility, the CIO can help the organization save money, identify vulnerabilities and make better business decisions. That directly aligns with the CIO's modern-day role.
Topics:
digital transformation ,cio ,it ,strategy ,cloud ,cloud migration ,decentralization ,modernization ,agile ,cloud transformation
Opinions expressed by DZone contributors are their own.