Conceiving a Disruptive, Digital Architecture
DZone 's Guide to
Conceiving a Disruptive, Digital Architecture
We take a look at what legacy organizations can do with their architectures to bring them up to speed with this brave new Agile world.
Join the DZone community and get the full member experience.
Join For Free
Nowadays, companies are operating in an economy of disruption. Ever-growing Customer Expectations drive the disruptive biz environment and thsu is causing the development of newer technologies – which in turn are further fueling the disruptive trends.
As depicted in the diagram below, it used to be that the user applications (running in the browser) were the consumers of the information produced by a large server kept in an enterprise data center. Thus, managing this server was the major main responsibility for an IT team.
But now, the users are not just information consumers! They are generating the content themselves! They are reviewing the product, rating the product, and sharing their remarks. They chat and expect two-way participation in the process of sales and service. As depicted in the diagram below, they are EXCHANGING VALUE which is far beyond mere INFORMATION EXCHANGE.
EXCHANGING VALUE demands an immersive experience. Now the front-end is not just a renderer of the HTML page generated by the server. It is expected to handle huge concurrency needs to support immersive, 24x7 Connected Live Sessions. All of this is demanding modern front-end and backend technology.
But introducing newer technologies for a legacy enterprise (Telco, Banking, Insurance, Retailers, etc.) is not easy. The technology pace is exponential. It is causing technology adoption issues as depicted in the diagram below. Efficiency is going down with each introduction of newer technology in the landscape.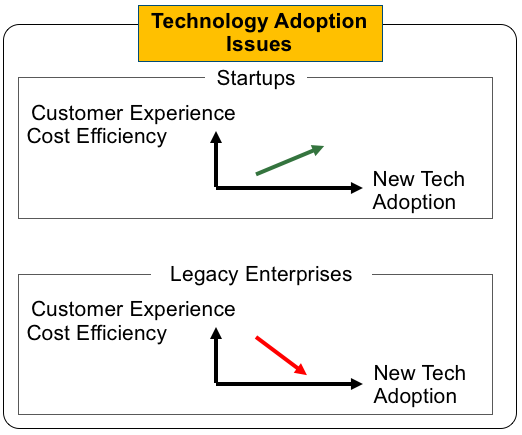 I believe, ARCHITECTURAL SHIFTS like the ones depicted in the diagram below can help legacy organizations adopt newer technology with efficiency and help to create a better customer experience.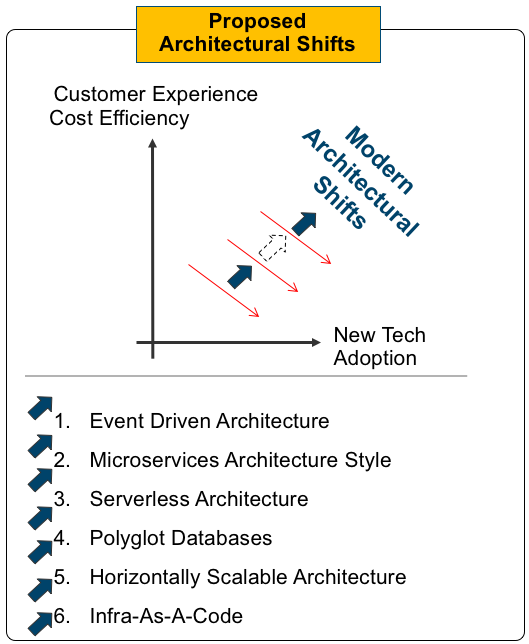 Proposed Architectural Shifts>>

TRADITIONAL

MODERN

BENEFIT

Monolithic architecture style for developing applications.

Event-Driven Architecture:

Conceives entire business as an eco-system of events.

•Ability to keep detecting newer customer touchpoints.

•Enhanced customer experience.

•Unit of deployment.

IT System – Layered IT

Event-Driven Architecture

•Business department ownership.

•Each moment becomes topic of focus and monitoring.

Limited ability to adopt new technology due to monolithic architecture.

Microservice architecture style allows plugging in of newer technology in the IT landscape.

•Keep pace with technological advancements.




Architecture Style for Organizing Code:

•IT Layered Architecture.

•Central governing ESB.

•Microservices architecture style for organizing code around business functions.

•IT agility for business agility.




Development and Operations teams are at loggerheads.

Infra-as-a-Code provides automation of provisioning, configuration management of dev and operations environment.

•Tools like Vagrant automate provisioning for dev/test.

•Tools like Ansible/Chef automate provisioning in a cloud-based production environment.

Automated processes and tools induce collaboration and trust between development and operations teams.

Agility in build, release, and rollout of incremental features.

Support for multiple iterations.

Servers Scalability

•Limited scalability due to Vertical Scalability Architecture.

•Horizontal Scalability Architecture.

•Ability to operate at hyper-scale without altering the architecture and applications.

Database Technology:

RDBMS

• Good for Transactions, but not good for unstructured data and high volumes of data.

Polyglot Database Architecture:

•RDBMS for transactions and structured data.

•NoSQL for unstructured data and high volumes of data.

•Many customer touchpoints generate lots of unstructured data which needs a Polyglot DB Architecture.

•Schema-free NoSQL databases for agility in making changes.
Topics:
digital transformation ,agile ,agile architecture
Opinions expressed by DZone contributors are their own.