DZone Trend Report: Leaders in Tech
Dipti Borkar, Ahana co-founder and containers expert, offers key advice to the Kubernetes community.
Join the DZone community and get the full member experience.
Join For Free
Kubernetes has matured significantly over the last few years. Speeding deployments, automating CI/CD pipelines, and getting rid of inefficiencies — that's what Kubernetes is all about.
According to our survey, nearly 90% of respondents are currently using containers in some manner. We decided to sit down with co-founder and cloud expert, Dipti Borkar, to talk about our key research findings and her advice to the Kubernetes community.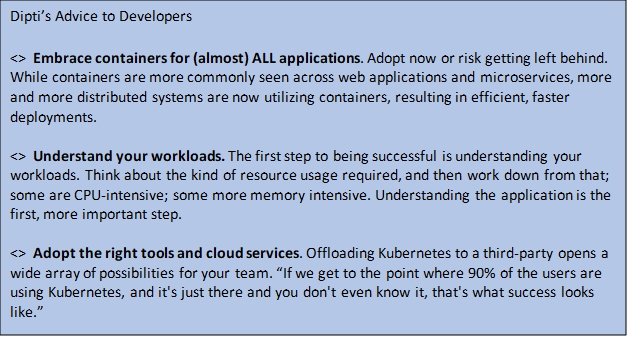 According to our survey, the current level of container adoption (90%) is very high. What is your reaction to this statistic? And what is your advice to teams who've NOT adopted containers? 
Containers have come a long way. From test and dev to production, many different applications now widely use containers. There are areas where containers have not been adopted as much and a lot of those relate to data. For web applications and microservices in operational databases, containers make a very very good fit. But for some of the more distributed systems, it is just now starting to become more adopted because these are persistent systems and it's taken some time for containers to come up to speed as it relates with these persistent applications where they have to process data. And that's an area where we will see more growth in the future.
In terms of specifically the 10% [who've not adopted containers], they are in the microservices web application space; operational databases — they are getting left behind. Somebody is out-innovating them because they're basically getting there faster and being able to get into development, test, and deployment faster with containers. And so, it's time to move on in terms of data workloads. It is the innovators and the early adopters that are already using containers and increasingly Kubernetes. And that adoption will continue. I don't have a number for you but it's probably less than 50% — and that's where the future adoption of containers and Kubernetes will go.
---
To read the full interview, please check out page 16 of our Trend Report, Kubernetes and the Enterprise.
Topics:
kubernetes,
interview,
k8s,
trends,
k8s trends
Opinions expressed by DZone contributors are their own.