E3: The xCloud-Stadia War Starts, Nintendo and Square Enix Own the Week, and E3 Comes to a Close
DZone 's Guide to
E3: The xCloud-Stadia War Starts, Nintendo and Square Enix Own the Week, and E3 Comes to a Close
A review of this year's E3, recounting the highs, lows, and mehs of the popular gaming conference.
Join the DZone community and get the full member experience.
Join For Free
E3 2019 has been quite a week, starting with disappointment and ending with extraordinary excitement. In general, the presentations by the major studios—EA, Bethesda, and Ubisoft in particular—were underwhelming, but Nintendo and Square Enix redeemed the week with some massive announcements and some great gameplay trailers. Amidst the ups-and-downs, E3 2019 brought numerous major announcements, which we will cover in detail in this concluding article.
Coverage From the Week
To review DZone's E3 2019 coverage from the week, see the following articles:
Top News From the Week
Each day of E3 2019 has been packed with presentations, announcements, Tweets, interviews, and shadow drops. The most prominent of these stories include:
Google reveals Stadia details
Microsoft teases Xbox Scarlett, xCloud, Halo: Infinite, and Gears 5.
Nintendo reveals a Breath of the Wild sequel, Banjo-Kazooie in Smash, and Animal Crossing delayed.
Square Enix sends fans into a frenzy with 20 minutes of Final Fantasy VII remake gameplay.
Bethesda reveals DOOM: Eternal details and Orion streaming framework.
Ubisoft shows of Watch Dogs 3, Gods & Monsters, and UPlay+.
AMD shows new Navi-based graphics card and Ryzen 3000-series processors.
Limited Run Games announces 50 new physical releases.
Devolver Digital adds some comic relief to the week.
Many Unsure About Google Stadia
Leading into E3 2019, many were hesitant about Google's game streaming service, Stadia. The concept of game streaming is innovative and does have its merits, but the technology may not be available yet to match deeds to words. Layer on the implementation decisions made by the companies looking to market game streaming, and it is understandable why there is so much trepidation about this upcoming change to the video game market.
Google, in particular, has struggled in the past to bring this vision to life. Back at the Game Developers Conference (GDC) in March, Google announced that it would be developing Stadia. While the concept sounded positive, Google seemed to treat the challenge as a computer science problem more than a gaming problem. They applied a very technical solution to the problem, which made the service somewhat challenging to market to the gaming community. All that said, many were willing to hold off final judgment until Google disclosed more details.
During this year's E3, Google finally revealed the details that the gaming community was waiting for in its first Stadia Connect. Stadia will launch in November of this year and will eventually be $9.99/mo for Stadia Pro, but the only way to use Stadia at launch is to purchase a Stadia Founder's Edition membership for $129.99. The Founder's Edition includes:
A Chromecast Ultra.
An exclusive Night Blue Stadia controller (color available only in Founder's Edition).
Three months of Stadia Pro for free.
A buddy pass that allows a friend to subscribe to Stadia Pro for free for three months.
First shot at desired Stadia username.
Google also confirmed 31 games that will be available for Stadia, with two exclusive titles: Gylt and Get Packed. Surprisingly, Google did not focus on its advantages — namely, Massive Multiplayer Online (MMO) games, where hundreds or even thousands of players can play on the same map. Instead, Stadia seems to be focusing on streaming some of the most popular games from third-party studios, such as Destiny 2 and Call of Duty: Modern Warfare.
Google also revealed that the following network bandwidth requirements for playing Stadia:
10 Megabits per second (Mbps): 720p, 60 frames per second (fps), and stereo audio.
20 Mbps: 1080p, High Dynamic Range (HDR), 60 fps, and 5.1 surround sound audio.
35 Mbps: 4k, HDR, 60 fps, and 5.1 surround sound.
At launch, Stadia will be available on TVs (using Chromecast), desktops, laptops, tablets, and Pixel 3 smartphones. Google mentioned that other Android phones could be added in the future, only requiring certification that the device provides a quality experience. Google also stated that a cellular connection (i.e., 4G) could not be used to stream Stadia, but the introduction of 5G may change that in the future. Overall, many are not optimistic about Stadia's future, seeing Microsoft's xCloud as the better alternative in the upstarting game streaming war.
For more information, see the following:
Microsoft Does Adequately
In light of Sony's absence and the lukewarm reception of the first Stadia Connect, Microsoft was in an excellent position to command E3, but most impressions seem to be that they did okay — not weak, but not great. The first major announcement made by Microsoft was that the next-generation Xbox — codenamed Scarlett — will be launching in Holiday 2020 and Halo Infinite will be a launch title. The Xbox Scarlett did not provide many details, but Microsoft did disclose that Scarlett will include the following components:
Custom Zen-2 based AMD processor.
Navi-based Graphics Processing Unit (GPU) with real-time ray tracing and up to 120 frames per second (fps) and 8k resolution.
Graphics Double Data Rate (GDDR) 6 memory.
Solid State Drive (SSD) doubling as virtual Read-Only Memory (RAM).
While it is exciting to get a first look at Scarlett, the lack of details is disappointing. It appears that Microsoft is not quite ready to show-off details about its next console, but this teaser makes it more likely that Xbox Scarlett will be the focus of Microsoft's E3 2020 presentation.
In addition to announcing Xbox Scarlett, Microsoft also teased its game stream service: Project xCloud. In much the same way as the Scarlett teaser, the xCloud exposition provided a cursory look at the streaming service. From the presentation, we do know the following:
Players can stream their personal Xbox games library from their Xbox.
Players can stream games from Microsoft's datacenters.
The service will go live in October of this year.
Initial show floor trials of the service seem optimistic, with games like Halo 5: Guardians being surprisingly playable, even when streamed from Microsoft datacenters around 400 miles away from the convention floor, but the jury is still out on other games. More time with the service will be needed to gain a better understanding of how well this service will work at scale and across a wide array of titles and genres.
Microsoft also announced a slew of games and release dates coming this year and next. Among the most prominent included Halo Infinite and Gears 5, both of which fans showed excitement and disappointment for, due mainly to Microsoft's use of cinematic trailers that lacked gameplay footage. Monday's E3 article enumerates a complete list of announced games.
Lastly, Microsoft had a few other significant announcements, including:
Xbox Game Pass is now available on PC for $9.99/mo, with a promotional $1 for the first month and $4.99/mo while the beta phase lasts.
A new Game Pass level, Ultimate, is now available that includes Xbox Live Gold, Game Pass for Xbox, and Game Pass for PC for $14.99/mo.
A new Xbox Elite controller will be available on Nov. 4 for $179.99.
Microsoft bought gaming studio Doublefine.
For more information, see the following:
Nintendo Blows the Doors Off E3
Wow. That word does not quite do it justice, but that was the reaction of many fans after watching Nintendo's E3 2019 Direct on Tuesday. In the days leading up to the Direct, gamers had become accustomed to disappointing presentations, or presentations with a single highlight, but Nintendo broke that mold and fired away with some of—if not, the most—surprising announcements of E3.
First, Nintendo teased the sequel to Breath of the Wild, which depicts what appears to be Ganondorf of Ocarina of Time, Wind Waker, and Twilight Princess fame, coming to life in the depths of Hyrule. Even the most die-hard Zelda fans could only have dreamed of a teaser for the follow-up to the renowned Switch launch title so soon, but Nintendo took out all the stops and showed off some of the most gripping minute and twenty-seven seconds of E3. Being that the teaser announced that development is currently underway for the sequel, it is likely that Nintendo will not release this title until 2021, or maybe holiday 2020 at the earliest (image from Collider).
Just as surprising, Nintendo also announced that Banjo-Kazooie would be joining the Super Smash Bros. Ultimate roster in Fall of 2019. Being that Microsoft now owns Rare, the studio responsible for popular titles such as Banjo-Kazooie and Banjo-Tooie, it appeared to be a dream that Banjo and his avian companion would come to Smash Bros., despite all of the rumors; but Nintendo made that dream come true. Nintendo also announced that the Hero from Dragon Quest XI would also be joining the roster in Summer of 2019 (image from DeviantArt).
Unfortunately, not all of the announcements were positive: Nintendo delayed Animal Crossing until Mar. 20, 2020. Despite this setback, Nintendo showed off a good deal of gameplay in both the Direct and the Treehouse: Live that followed and detailed some of the mechanics of the game, including more advanced town-building progression and an intricate crafting system. Nintendo also announced the official name for the title: Animal Crossing: New Horizons.
Nintendo also showed off gameplay for Luigi's Mansion 3, which is confirmed for 2019 and includes both couch and online co-op, and its Legend of Zelda: Link's Awakening remake, which adds a reimagined modernity to the classic title. Link's Awakening also received a release date of Sep. 20, 2019, and includes a dungeon builder not seen in the original game. Beyond these first-party titles, Nintendo also announced a slew of other games coming to the Switch, including:
Those are only a few of the dozens of titles announced in the Direct, including four shadow drops: Cadence of Hyrule (available June 13), Contra Anniversary Collection, Collection of Mana, and The Last Remnant. For more information on all of Nintendo's announcements from E3, see the following:
Square Enix Drops the Final Fantasy Bomb
Square Enix sent fans into a frenzy on Monday with the 20-minute demonstration of Final Fantasy VII Remake. The presentation included extended gameplay, narration by Square executives, and the reveal of two special editions available for pre-order. After waiting since 2015, fans were thoroughly impressed by both the visual enhancements as well as the nostalgic return of favorite characters. Square also confirmed that the game would launch on Mar. 3, 2020 for PS4 (image from VG24/7).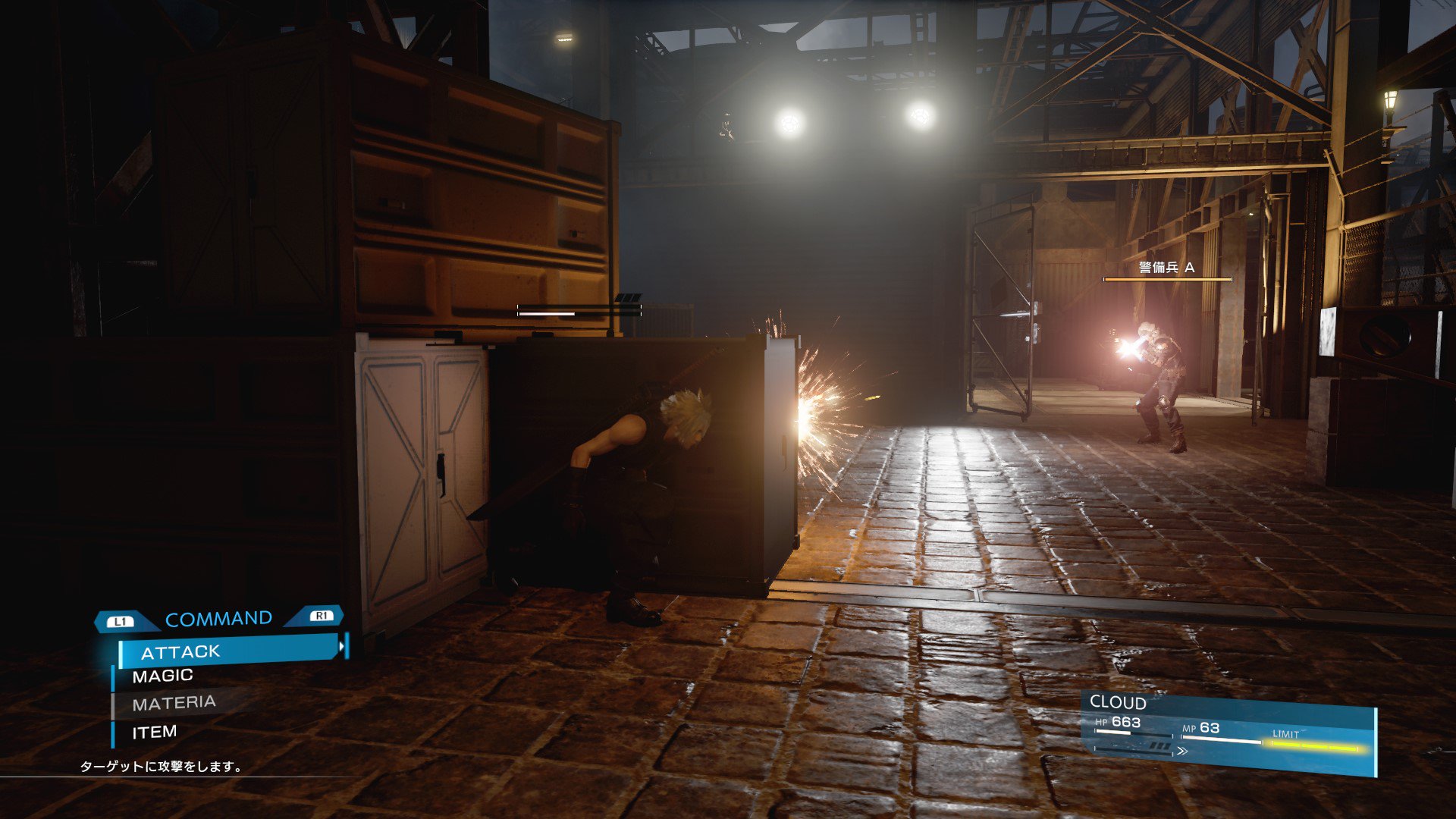 Square revealed that there would be three ways to purchase the title:
1st Class Edition ($329.99): Includes the game, Play Arts Kai Cloud Strife & Hardy Daytona, artbook, mini-Soundtrack, steelbook, Cactuar Summon Materia DLC, and Carbuncle Summon Materia DLC.
Deluxe Edition ($79.99): Includes the game, artbook, mini-Soundtrack, steelbook, Cactuar Summon Materia DLC, and Carbuncle Summon Materia DLC.
Standard Edition ($59.99): Includes the game only.
Apart from this major announcement, Square also revealed more information on the following games:
For more information, see the following:
DOOM: Eternal Saves a Lacking Bethesda Presentation
Although Microsoft headlined Sunday night, Bethesda made some big announcements. The foremost of these reveals was DOOM: Eternal, which will launch Nov. 22, 2019, for PC, Nintendo Switch, PS4, and Xbox One X. This star title was a bright spot in an otherwise lacking presentation. In general, the Bethesda presentation was deficient in the same way as many other presentations: lack of gameplay and a shortage of groundbreaking announcements.
After the catastrophic release of Fallout 76 in Nov. 2018, Bethesda announced that it would be releasing an expansion, Fallout 76: Nuclear Winter, which launched as a sneak preview on Monday and brings the stereotypical battle royale mode to Fallout 76. Bethesda also announced it would be adding Non-Player Characters (NPCs) to Fallout 76 through its Fallout 76: Wastelanders update, which will launch in Fall 2019.
Besides DOOM: Eternal and Fallout 76, Bethesda also mentioned that development is continuing on Elder Scrolls VI—although no trailer or update was provided—and spoke about the following titles:
Kotaku has published a complete list of games discussed by Bethesda.
Bethesda also announced the creation of a game streaming framework, Orion, that would integration with game engines and act in conjunction with existing game streaming services (such as Google Stadia) to increase the performance of games when streamed. Preliminary results show a 40% reduction in bandwidth for a high-fidelity stream, a 30% reduction in encoding time for frames, and a 20% reduction in computing power used when streaming a game. Bethesda has already incorporated this technology into DOOM: Eternal, which will be available for testing later this year on iOS 11 (or higher) for those signed up to the Slayers Club, with support for PC and Android to follow soon after.
Ubisoft Fails to Meet Expectations
Ubisoft came to E3 on Monday with numerous titles and packed an hour-long presentation, but many of the trailers shown did not include gameplay. Instead, Ubisoft leaned on cinematic trailers, which had many questioning how the games looked in actuality and how the controls functioned from a player's perspective. In spite of this, Ubisoft did show off some impressive features in its new Watch Dogs Legions, which allows players to recruit any NPC to join in a rebellion taking place in a dystopian London. Each NPC behaves differently and is voice-acted based on each NPC's personality. For example, Ubisoft showed off a rebel grandmother, complete with all of the idiosyncracies a player would expect from an octogenarian.
Ubisoft also showed off an intriguing Greek-mythology-inspired title called Gods & Monsters but did not provide any backstory or gameplay footage. While we do not know much about this game, the colorful palette and whimsical style make for an exciting game. Gods & Monsters will release on Feb. 25, 2020, for PS4, PC, Xbox One, Nintendo Switch, and Google Stadia (image from the Gods & Monsters premier trailer).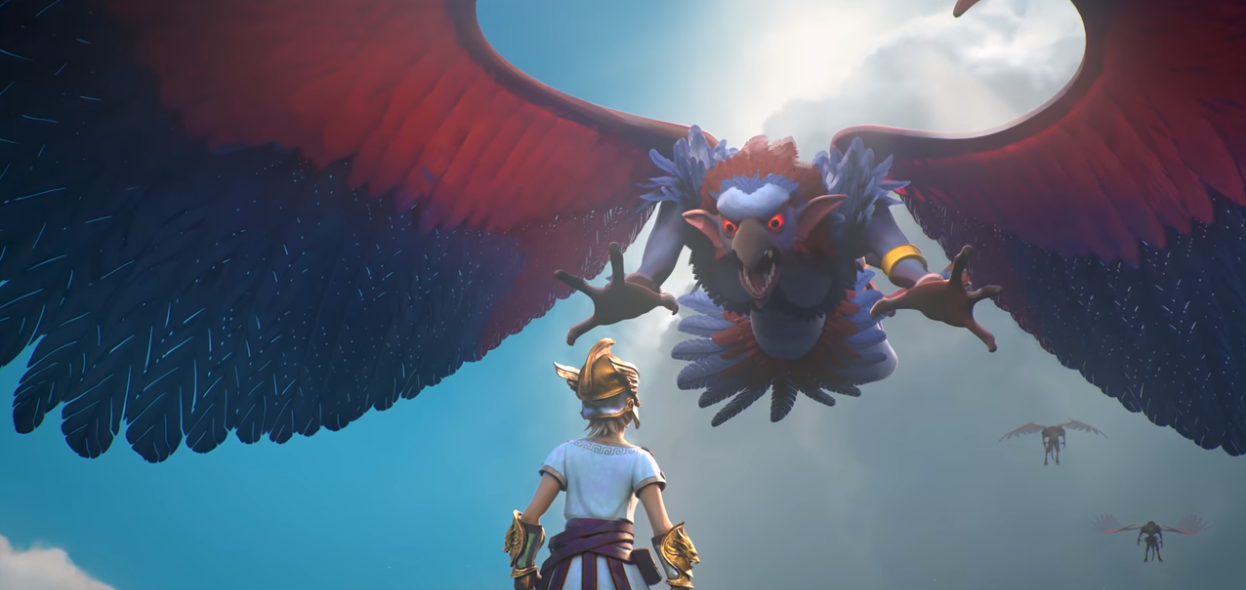 Apart from this new title and Watch Dogs Legion, Ubisoft also showed off the following titles:
In addition to games, Ubisoft also announced the creation of a new subscription service, UPlay+, that allows players to get early access to Ubisoft games and acts as a central repository for downloading and playing over 386 games (100 of which are free on PC). UPlay+ will be free between Sep. 3 and Sep. 30 for users who sign up before Aug. 15, but will be $14.99/mo afterward.
Ubisoft also announced that it is working on a sitcom called Mythic Quest: Raven's Banquet, staring It's Always Sunny in Philadelphia's Rob McElhenney that follows the humorous process of a development studio bring a game to life. The French company also announced Division movie exclusive to Apple TV+, directed by David Leitch (Deadpool 2) and starring Jessica Chastain and Jake Gyllenhaal. Mythic Quest: Raven's Banquet is expected to launch this Fall, but no release date was announced for the Division movie.
AMD Showcases New GPUs and CPUs
With the release of its RTX 2070 and 2060 line of Graphics Processing Unit (GPU) cards back in Sep. of 2018, NVIDIA put AMD on the hot seat. Many were hoping that the introduction of AMD's Navi architecture would finally put AMD over the top and make the company a true competitor in the GPU market. On Monday, AMD finally announced these long-anticipated cards at their E3 AMD: Next Horizon Gaming press conference:
| CARD | COMPUTE UNITS | STREAM PROCESSORS | MAXIMUM PERFORMANCE | MEMORY | BOOST CLOCK | GAME CLOCK | BASE CLOCK |
| --- | --- | --- | --- | --- | --- | --- | --- |
| Radeon RX 5700 | 36 | 2304 | 7.95 TFLOPS | 8 GB GDDR6 | 1725 MHz | 1625 MHz | 1465 MHz |
| Radeon RX 5700 XT | 40 | 2560 | 9.75 TFLOPS | 8 GB GDDR6 | 1905 MHz | 1755 MHz | 1605 MHz |
| Radeon RX 5700 XT (50th Ann.) | 40 | 2560 | 10.14 TFLOPS | 8 GB GDDR 6 | 1980 MHz | 1830 MHz | 1680 MHz |
While AMD claims that these cards outperform the RTX 2070 and 2060 cards by single-digits to twenty percent or more, depending on the particular game, the announcement has received a lukewarm response. The mood seems to be that many were expecting more from the cards at their price-points, mainly because the AMD GPUs do not contain any type of Ray-Tracing (RT) technology or Artificial Intelligence (AI) technology similar to NVIDIA's Tensor Cores. Only time — and consumers — will tell if this release by AMD makes a severe impact on the RTX line (image from cnews.cz).
AMD also announced a new series of standalone and integrated Central Processing Units (CPUs) during its presentation on Monday:
Standalone CPUs
| CPU | PRICE | CORES | THREADS | CLOCK FREQUENCY | CACHE SIZE | POWER |
| --- | --- | --- | --- | --- | --- | --- |
| Ryzen 9 3950X | $749 | 16 | 32 | 3.5 GHz to 4.7 GHz | 72 MB | 105 W TDP |
| Ryzen 9 3900X | $499 | 12 | 24 | 3.8 GHz to 4.6 GHz | 70 MB | 105 W TDP |
| Ryzen 7 3800X | $399 | 8 | 16 | 3.9 GHz to 4.5 GHz | 36 MB | 105 W TDP |
| Ryzen 7 3700X | $329 | 8 | 16 | 3.6 GHz to 4.4 GHz | 36 MB | 65 W TDP |
| Ryzen 5 3600X | $249 | 6 | 12 | 3.8 GHz to 4.4 GHz | 35 MB | 95 W TDP |
| Ryzen 5 3600 | $199 | 6 | 12 | 3.6 GHz to 4.2 GHz | 35 MB | 65 W TDP |
Integrated CPUs
CPU
PRICE
CORES
THREADS
CLOCK FREQUENCY
CACHE SIZE
POWER
GRAPHICS
Ryzen 5 3400G
$149
4
8
3.7 GHz to 4.2 GHz
6 MB
65 W TDP
Vega 11
(1400 MHz)
Ryzen 3 3200G
$99
4
8
3.6 GHz to 4.0 GHz
6 MB

65 W TDP

Vega 8
(1250 MHz)
For more information on AMD's CPUs, see the following:
Limited Run Games Drops an Abundance of Physical Releases
On Monday, Limited Run Games — the company known for creating physical released of classic and digital-only games — announced that it would be releasing the remainder of its PS Vita collection and a glut of Lucas Arts titles on their original platforms. In all, Limited Run Games announced fifty new titles, including:
Atari Flashback Classics (Vita)
Metal Slug 3 (Vita)
Super Meat Boy (Switch, PS4, Vita)
Power Rangers: Battle for the Grid (Switch, PS4)
Star Wars Episode I: Racer (PC, N64)
Star Wars: The Empire Strikes Back (NES, Game Boy)
Star Wars: Jedi Knight (PC)
Star Wars Jedi Knight: Jedi Academy (PC)
Star Wars: Rebel Assault (PC)
Star Wars: Shadows of the Empire (PC, N64)
The Limited Run Games' E3 press release details a complete list of announced games.
Devolver Digital Goes Off the Wall...Again
E3 is never dull when Devolver Digital is around, and E3 2019 was no exception. In its Big Fancy Press Conference on Sunday, Devolver announced a bootleg release of its classic games on Steam, which were 1% lower than the regular price. The company even set up a promotional website devolverbootleg.com, to advertise the bootlegged games. According to The Verge, the following games will be available (on bootleg):
Enter the Gungeon (Enter the Gun Dungeon)
Hotline Miami (Hotline Milwaukee)
Ape Out (Ape Out Jr.)
Downwell (Shootyboots)
Luftrausers (Luftrausers 3)
Absolver (Super Absolver Mini: Turbo Fighting Championship)
Gato Roboto (Catsylvania)
Pikunuku (Pikunuku Ball-Stars)
Devolver also announced that it would be selling a $5,000 arcade cabinet of Enter the Gungeon: House of the Gundead. For those interested, a 6-month financing option is available. They also announced a new title, Carrion, that reverses the roles of regular horror games, pitting the player as the monster and the monster hunters as the villains. Carrion will release in 2020 (image from devolverbootleg.com).
Other News
THQ Announces a Trifecta of Titles
While THQ Nordic did not plan a special presentation for E3, they did warm the hearts of their fans by announcing three new games on Wednesday (June 5), Thursday (June 6), and Friday (June 7) (descriptions from THQ Nordic and image from THQ Nordic Twitter):
SpongeBob SquarePants: Battle for Bikini Bottom Rehydrated: Are you ready, kids? The cult classic is back, faithfully remade in spongetastic splendor! Play as SpongeBob, Patrick, and Sandy and show the evil Plankton that crime pays even less than Mr. Krabs. Want to save Bikini Bottom from lots of rampant robots? Of course you do!
Darksiders Genesis: Strife is called upon to save humankind from certain destruction at the hands of Lucifer. This spin-off gives players their first look at the world of Darksiders before the events of the original game.
Destroy All Humans!: Destroy all Humans! returns in all-new glory to PlayStation 4 and Xbox One and premieres on PC! Experience this faithfully rebuilt game just in time for its 15th anniversary in 2020.

Some were hoping for a surprise announcement of Darksiders 4, but judging by the response, most seem content with Darksiders Genesis as a hold-over until a true Darksiders quaternary release comes. As for Battle for Bikini Bottom and Destroy All Humans!, most seem thrilled to relive the classics from their childhood on modern hardware.
Mario Maker 2 Developers Listen to Fans
Super Mario Maker 2 is shaping up to be one of the highlights of Nintendo's summer, but one major complaint has hamstrung the release: the inability to play online co-op with friends. After the Mario Marker 2 Direct on May 15, fans were severely disappointed that the game only included random-matchmaking online co-op. This restriction meant that friends would not be able to play co-op unless they were sitting in the same room.
It appears, though, that Nintendo heard fan's complaints and is working on friend online co-op. During the Treehouse: Live event that followed the E3 Direct, Takashi Tezuka (Producer) stated that Nintendo was working on improving the co-op capability of Mario Maker 2. Nintendo of America later confirmed via Twitter that online multiplayer with friends would be coming in a future update. In a day when many video game studios seem unconcerned with fan complaints — think microtransactions and loot boxes — it is a welcome surprise to see Nintendo respond to the legitimate grievances of fans.
Konami Joins the Classic Console Wars
Seeing the success of the Nintendo Entertainment System (NES) Classic Edition and the Super NES (SNES) Classic Edition — as well as bids by Sega (with the Genesis Mini) and Sony (with the PS Classic) — Konami has joined the crowd and announced on Tuesday that it would be releasing a TurboGrafx-16 Mini. Konami confirmed that this retro console would include the following titles: R-Type, New Adventure Island, Ninja Spirit, Ys Book I & II, Dungeon Explorer, and Alien Crush. Konami has not revealed a price, and an only announced a Coming soon release date.
Playtonic Announces Yooka-Laylee Sequel
Playtonic, the studio behind the Banjo-Kazooie-esque Yooka-Laylee announced on Friday that it would be launching a sequel, Yooka-Laylee and the Impossible Lair, coming to Nintendo Switch, PS4, Xbox One, and Steam in 2019. Yooka-Laylee initially met with mixed receptions in 2017, but this sequel seems to be a much simpler game, having a 3D overworld and 2D side-scrolling stages in the style of Donkey Kong Country: Tropical Freeze. In keeping with the Rare origins of Yooka-Laylee, David Wise and Grant Kirkhope will be leading the composition of the soundtrack for this new release.
See the Presentations Again
To watch the prominent E3 2019 presentations, see the following:
Conclusion
E3 2019 has been a wild ride, with the beginning of the week starting out slow, and disappointing at some times, but accelerating and downright exciting at the end. In retrospect, the absence of Sony may have been a good thing, as the company saved itself the problem faced by companies such as Bethesda and Ubisoft: not having much to show but having an E3 presentation anyway. Save for Square Enix and Nintendo, the week was notable for its lack of gameplay and scarcity of information, but those latter companies have turned an otherwise underwhelming E3 into a very exciting start of the second half of the gaming year.
Topics:
e3 2019 ,gaming ,video games ,conference ,web dev ,game dev
Opinions expressed by DZone contributors are their own.
Web Dev Partner Resources