Ericsson Aims to Get Your City Networked
DZone 's Guide to
Ericsson Aims to Get Your City Networked
Join the DZone community and get the full member experience.
Join For Free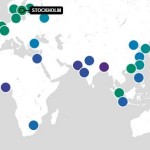 One of the more interesting trends of recent times has been the growth in so called smarter cities. It's been a topic I've covered a few times on the blog, as there have been a number of projects that have sought insights from the crowd as to what a smart city should be like.
For instance, last year Intel teamed up with the Irish city of Dublin to crowdsource how the city should evolve. The project was part of the cities Open Innovation 2.0: Sustainable Economy & Society initiative.
This was followed up by a project run by the European Union towards the end of last year that took a crowdsourcing competition approach to smarter cities. The project was offering $400,000 in prizes for new applications that can be used to build smarter cities.
It's a fascinating area, and one that the big tech companies are all over. From Cisco to IBM, nearly all of them have a huge interest in facilitating the future of our cities. Not least amongst them are the Swedish telco Ericsson, who have recently launched a new crowdsourcing platform to map ICT related projects throughout cities in northern Europe and central Asia.
The project, called Get Your City Networked has produced a tool that will hopefully map some of the fascinating projects going on in the region. The aim is to collect up to date information about cities from across the 22 countries covered by the tool, which will in turn hopefully aid the improvement in connectivity between the people and organizations in those cities.
Charlotta Sund, head of region Northern Europe and Central Asia, said: "ICT is a key enabler for cities to address the numerous challenges in a smarter manner by providing a variety of tools for people and business. Ericsson has a long track record of advocating the increasing importance of ICT in the development of society.
"This project encompasses our ambitious effort to collect location-based information about ICT-based initiatives implemented in the cities. We believe that the benefit of this interactive map will extend way beyond sharing the information; it will serve as a tool to explore ever-evolving opportunities associated with the connected world. Let's map those opportunities, let's get our cities networked."
The project has some similarities to one launched earlier this summer by the European Commission that has a crowdsourced map at its heart. The map, which currently has over 400 entries, is a project backed by the European Commission and involves Esade, FutureEverything, IRI, Swirrl and Waag Society and will feature what they call 'digital social innovation' ventures currently in operation throughout Europe.