Everything You Need to Know About Cellular IoT
Cellular IoT devices work across networks such as 2G through 5G. Depending on the devices being connected and the requirements of the app, connectivity could vary.
Join the DZone community and get the full member experience.
Join For Free
Valued at around $212bn globally, the Internet Of Things (IoT) is one of the fastest-growing tech sectors in the world. With over 35 billion devices anticipated to be connected to the internet by the end of 2021 and 75 billion by 2025, an average household will have over 50 devices connected to an IoT infrastructure at any point in time.
With its rapid adoption rates, what's becoming evident is its inevitability. As people and businesses both equally benefit from connected devices, insights, and user experience, they would want to utilize the tech concept to its full potential.
However, there's a catch.
Setting up a wireless infrastructure to accommodate so many devices at once is not just a challenge but almost an impossible task. Internet service providers would have to roll out tangible peripherals like cables, routers, and receivers apart from managing bandwidth and downtime at the backend. With data generation becoming more large-scale and perpetual, there's a situation where wireless internet is becoming expensive and unavoidable. People with advanced gadgets or IoT-enabled devices like connected cars, for instance, require more connectivity.
So, how can companies ensure perennial connectivity to consumers without deploying an infrastructure that could cost a bomb to their expenses? At the same time, how can consumers enjoy uninterrupted internet connectivity regardless of their location, device, and numbers?
Say Hello To Cellular IoT
For those of you asking what cellular IoT is, let's quickly understand that it is the technology that allows your smart device to connect to the internet via your cellular connection. In short, your IoT architecture or network in your house or workplace can connect to the internet and the devices in it can communicate with each other through your mobile internet connection.
With cellular internet has become a primary feature, consumers enjoy internet connectivity all through the year. Using that to power IoT devices means eliminating the need to deploy new physical infrastructure to bring in internet services. For instance, you could use your mobile data on your smartphone to enable your hotspot for the IoT devices connected in your homes, such as your smart television, FitBit, tablets, laptops, smart refrigerator, and more. Apart from personal use, cellular IoT is also increasingly finding its application across industries such as agriculture, power grids, healthcare, and more.
Now that you know the basics of cellular IoT, let's dive in a little deeper and explore more about the concept.
Types of Cellular IoT
Cellular IoT devices work across networks such as 2G through 5G. Depending on the devices being connected and the requirements of the application, the connectivity could vary. Though networks like 2G and 3G have become obsolete, they can be still experienced in parking meters and other linear applications. So, let's look at the most commonly used cellular IoT networks today.
LTE-M
Abbreviated from Long Term Evolution for Machines, LTE-M offers advanced connectivity solutions to cellular devices. Its mission-centric capabilities power devices and applications that require real-time data transfer and high bandwidth for functioning. LTE-M's offerings include voice support, data support, longer battery life, lower consumption of power among many others. Thanks to its features and functionalities, LTE-M is ideal for massive deployments including self-driving cars, healthcare equipment that requires perpetual connectivity, and the likes.
NB-IoT
Abbreviated as Narrow Band IoT, this is the opposite of LTE-M. It is ideal for applications that involve low power consumption and low data generation processes. If you're into IoT product development processes, data and power consumption, and long-range transmission, NB-IoT is our perfect recommendation for an ideal network. It is compatible with 4G.
The Rise Of Cellular IoT
According to statistics, there were over 840 million IoT devices that are powered by cellular networks in the year 2020 and by 2026, this number is forecasted to increase by around 5.7 billion. If you notice, the number of cellular IoT devices is anticipated to increase rapidly. Let's understand why cellular IoT is on the rise through the advantages it offers.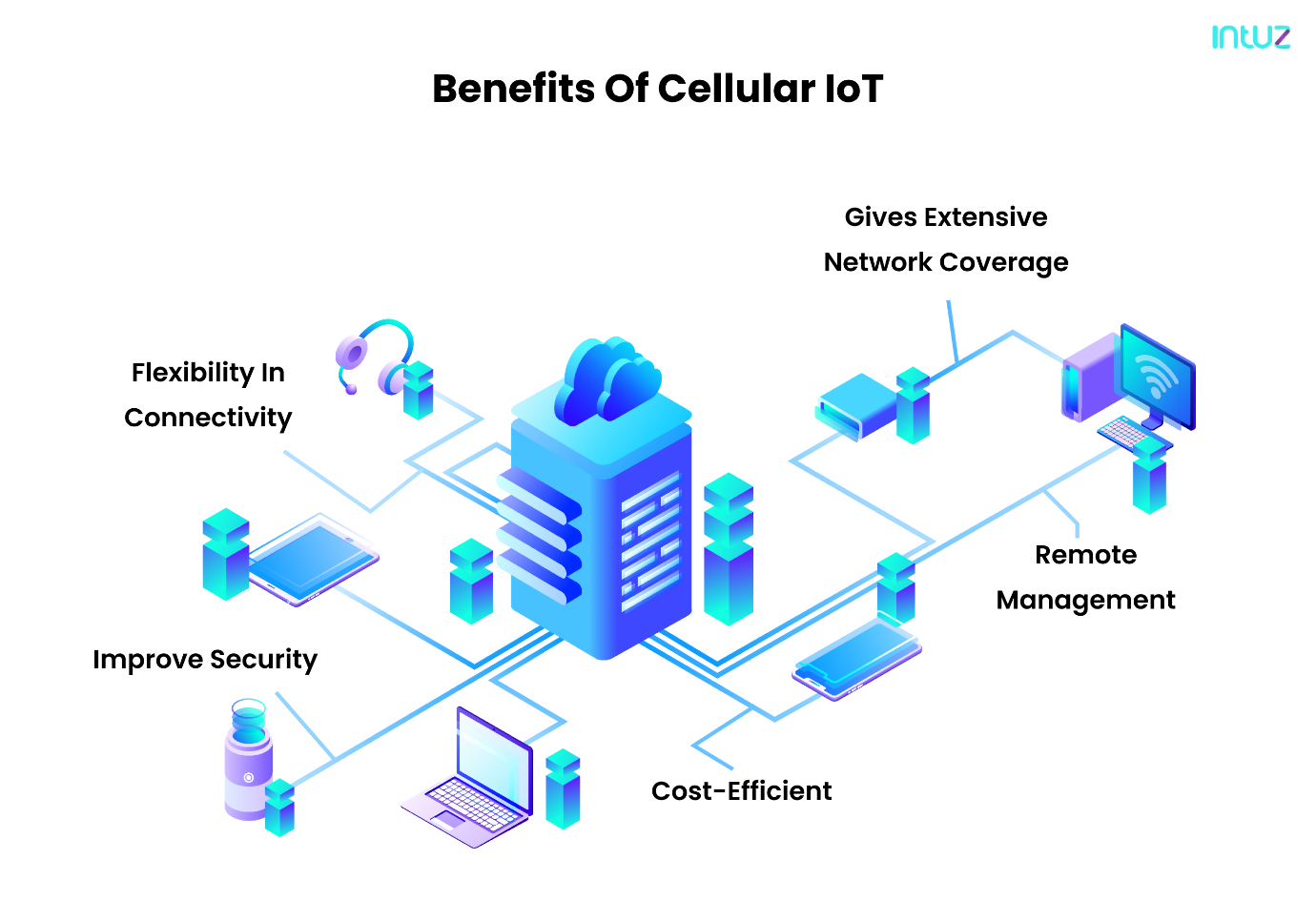 Extensive Coverage
One of the primary reasons behind this is to take the power of the internet and IoT even to places that are inaccessible and remote. For instance, for a secluded island nation, deploying infrastructure for wireless internet to power the entire nation would not just be expensive but unreliable as well. However, deploying cellular networks is cost-effective and practically possible.
With cellular networks, the smartphones in the region have a working internet connection that can be used to power the cellular IoT devices. Flexibility in deployment or extensive coverage is one of the major advantages of cellular IoT.
Customized Connectivity
Though devices would connect to the same IoT network, the requirements of each device vary based on its application and data needs. For instance, your wearable health device has distinct requirements which wouldn't be the same as the requirement of smart television. While the former requires short-range connectivity, the latter requires high data bandwidth. There are real-time data needs and then downloadable data requirements. Cellular IoT can accommodate the requirements of all devices and this flexibility makes it a standout tech concept.
Cybersecurity
This is an increasing concern that businesses and organizations are trying to tackle and establish safer spaces on the web for customers and civilians. With the number of ways to exploit data and devices increasing by the minute, companies are indeed pushed to being a step ahead of hackers in terms of thought processes. In that case, wireless networks through Wi-Fi and routers are some of the easiest hotspots for hackers to intervene and hijack data and confidential information.
When a device is part of a Wi-Fi network, it becomes easily detectable and hackable.
However, that's not the case with cellular IoT devices as they still function as standalone devices despite being connected to the same network. With GSMA protocols already ensuring adequate security, customers could also choose to add an additional layer of connectivity through the use of IoT tools and platforms such as VPNs.
Cost-Effective
Like we mentioned, the financials involved in setting up physical infrastructure for wireless internet is excruciatingly high. On the other hand, it's extremely cost-effective through cellular IoT. With aerials and bases already set up by telecommunications companies, the infrastructure is already in place for internet services. Also, cellular IoT devices of up to a thousand in number can connect to a cellular tower in every square kilometer. Ideal for both immovable and assets in motion, cellular IoT is as affordable as it gets from a business perspective.
Remote Management
Maintenance of cellular IoT devices becomes easy and further cost-effective as tech professionals can make use of online platforms instead of going out in fields to service and maintain infrastructure. From troubleshooting concerns and diagnosing them to scheduling monthly maintenance procedures, everything can be seamlessly done from the remote.
How Cellular IoT Is Transforming The 5G Era?
This section is ambiguous as there has not been a full-fledged rollout of the technology yet.
Key Enablers Of Cellular IoT
To make cellular IoT fully functional and effective, tons of diverse components have to work simultaneously and in tandem with each other. For those of you curious about key cellular IoT enablers, here's a quick walkthrough.
Network Slicing
Network slicing paves the way for flexibility, scalability, and cost-efficiency by enabling the creation of several logical networks over an umbrella network infrastructure across the core, transport, and radio networks. Network slices involve necessary network resources connected and configured across these networks, where the resources can either be physical or virtual and shared or dedicated.
Network Exposure
Network programmability is enabled through network exposure with the help of RESTful APIs and integrations. Some of the common service exposure types include network configuration and control, payload interfaces, device-specific APIs, and network monitoring.
Network Data Analytics
This allows service providers and enablers to optimize the performance of their networks by extracting crucial insights through consistent monitoring, the devices connected to the network, and their applications using them.
SIM Flexibility
With consumers preferring diverse service providers and with devices rolling out with different form-factor requirements of SIM cards, newer protocols are being launched to accommodate the changing needs. One such protocol is the e-SIM Facility, where an embedded SIM is deployed on devices without any physical contact with the device whatsoever. Recommended by GSMA, this establishes a standard set of credentials for a subscriber regardless of the telecommunication provider they use, the device they switch to, and more.
Wrapping Up
Cellular IoT is a very beneficial tech concept that can be deployed for your IoT-enabled products and services. From helping you reach more consumers in your market segment to offering them uninterrupted services, cellular IoT can offer more advantages than what meets the eye.
With 5G on the way, it would be interesting to witness a paradigm shift in cellular IoT devices and the power they would carry. Let's wait and find out how it would be like in the near future.
Topics:
iot analytics,
cellular iot,
iot applications,
lte-m,
nb-iot
Opinions expressed by DZone contributors are their own.