Exploratory Testing: A Guide Toward Better Test Coverage
We take a look at exploratory testing, dicussing what it is, how exploratory testing is done, and how it helps organizations improve their products.
Join the DZone community and get the full member experience.
Join For Free
Exploratory testing is a black box testing technique which gives testers the freedom to think outside-the-box with a minimal dependency on pre-designed answers and checklists in order to improve the quality of an application. Exploratory testing is a detailed series of testing conducted by exploring the platform, designing test cases, executing those test cases, and measuring the results. The rule of thumb for exploratory testing is minimum planning and maximum execution.
Exploratory testing is a crucial aspect of software testing as it is not a script-based test – it involves the art of being creative and productive. Nowadays, this type of testing is preferable as it doesn't define a fixed set of methodologies which a tester has to follow. The tester is completely free to follow their own path, to play with an application, and to identify potential bugs. This is actually a process that simultaneously carries out the activities of test design and test execution without formally documenting the test cases and test conditions.
Like every other testing technique, exploratory testing also has some pros and cons; let's take a quick look at those.
Pros and Cons of Exploratory Testing
Pros
As this type of testing doesn't require any extensive test planning, the testing can even be done when requirement documents are not available.
Efficient in short-term projects where minimal planning is required and important bugs are found quickly.
It uncovers more defects than regression testing, as regression testing is only performed according to a fixed set of test cases.
It can also be done by the management team and stakeholders since this doesn't require any kind of scripting.
In an agile environment with continuous deployments, exploratory testing is a perfect testing style that can allow you to gain insights in a limited timeframe.
Cons
It is dependent on the tester's skillset, knowledge, and experience.
As no formal documentation is made before performing exploratory testing, this might create a negative impact on long-term projects.
It is difficult to review the test cases later, which creates the possibility of missing critical bugs.
Exploratory Testing Techniques
Strategy-Based Exploratory Testing
This type of exploratory testing is mostly done by testers familiar with an application's functionalities that need testing. Familiarity with the product is important to defining testing strategies. The strategy to test is usually developed using various analyses, such as Boundary Value analysis, the equivalence technique, and the risk-based technique to identify more potential bugs.
Freestyle Exploratory Testing
As the name suggests, this technique provides a freedom to the testers to investigate bugs or defects without any detailed planning. This technique is usually carried out by a tester when there is a need to become familiarized with an application and to perform parallel continuous testing without defining any ground rules for test coverage.
Scenario-Based Exploratory Testing
This type of testing is usually carried out after the initial phase of testing in order to make revisions to the testing flow, as per the observations from the initial testing process. The idea is to develop end-to-end scenarios according to real users' interactions. Testers tend to consider different sets of possibilities by exploring the platform to match each developed scenario and provide maximum test coverage.
When and How to Use Exploratory Testing in a Testing Workflow
Exploratory testing should be performed early in the software development lifecycle (SDLC). In the Agile development environment, where the sprints are short and software builds are released very frequently, exploratory testing plays a vital role in discovering and reporting bugs and getting them resolved within the same sprint. The experience gained by testers from exploratory testing can be valuable in later stages of testing and to design in-depth test cases. Once the test cases are designed, they can be automated and added into the regression suite.
Exploratory testing is not only done to understand the product's functionalities, but also to understand the customers' requirements. For quality benchmarking, it is important to navigate the software according to the end-users' perspective. Though there is no defined process for exploratory testing, the below depiction will define a structure of exploratory testing commonly adopted by testers.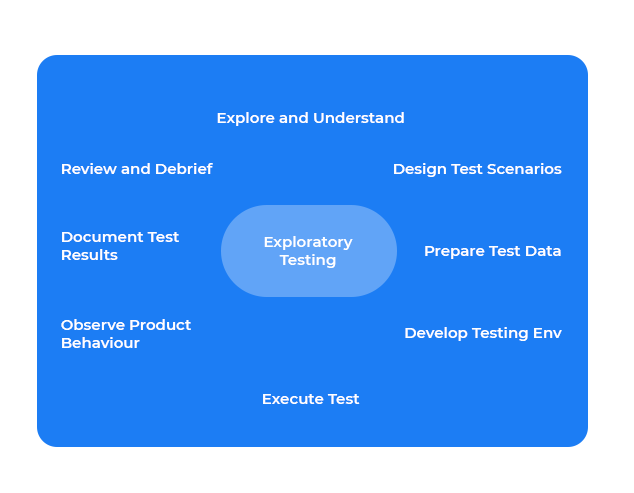 Examples of Exploratory Testing
Example 1
What we see is what we believe, right? You might still be wondering what exploratory testing looks like. Let's take an example of a food delivery app and list a few testing modules that come to mind:
Login
Search and filter
Nearby locations
Restaurant selection
Adding food items to a cart
Modifying the cart
Promo codes
Payment gateway
Delivery tracking
During exploratory testing, it is good practice to start the testing from the initial module, like a login page, and then move on to the next relevant module. Following this testing workflow will also cover the testing according to the end-users' perspective. Always remember, speed and accuracy are the most important factors in such applications.
Since the food delivery app will have multiple restaurants and dishes, it is important for an exploratory tester to test with different test data.
The login page and payment gateway are security sensitive areas, thus it is important to test them with multiple test scenarios.
Example 2
Let's take another example of exploratory testing using pCloudy's Certifaya AI Bot.
The new trend of intelligent automation has opened up a new avenue for exploratory testing. AI testbots have been introduced to reduce the burden on the QA team.
In exploratory testing, an AI testbot investigates and reports bugs during functionality crashes or unexpected errors. For each test iteration, it has the power to store execution logs, video recordings, and screenshots for future references.
pCloudy's Certifaya features a testbot that allows a tester to upload an application that needs to be tested and sit back until the test report is handed over. The key feature of this testbot is that it not only performs exploratory testing but also cross-device testing. Once an application is uploaded and a session is triggered, the smart bot crawls the application without any human intervention in order to uncover the maximum number of bugs it can find. As soon as the Certifaya session is completed, an insightful report gets mailed to the team to document the test results.
The comprehensive report includes scenarios performed by the testbot along with logs and snapshots. The functionality performance score is also wrapped up in the report in the form of charts and graphs like a battery chart, memory chart, and CPU chart, in addition to each frame's rendering time.
In Agile methodology, where software is released in multiple small iterations and developers have to wait for rapid feedback from testers, the testbot plays a vital role in performing quick exploratory testing for new software versions and smoke testing for the entire build.
Myths About Exploratory Testing
Let us discuss some misconceptions related to exploratory testing that can mislead testers on their way to becoming an expert.
Myth: Exploratory testing doesn't require planning and documentation,
Many people think that exploratory testing can be done without planning or documentation.

Reality: This is a big myth that testers need to incinerate before beginning exploratory testing. It is a structured approach to testing; but the way the testing is structured completely depends on the tester. This means the tester definitely needs some kind of planning to move forward. Since the probability of change in requirements is so high in agile development, exploratory testing isn't possible without documenting the testing plans and statuses.
Myth: Exploratory testing is similar to ad-hoc testing
Though some of the factors of exploratory testing match with ad-hoc testing, that doesn't mean that these two approaches are completely similar.

Reality: Ad-hoc testing is a very informal and random approach to testing that doesn't specify any strategy towards testing. In ad-hoc testing, the agenda is to first learn the background processes of an application and then perform the testing, whereas, in exploratory testing, the agenda is to understand an application while exploring and testing.
Myth: Exploratory testing is not applicable on complex systems.
Sometimes the complexity of a system causes testers to think that exploratory testing cannot be applied to that system, thinking it will require more in-depth planning and training.

Reality: Exploratory testing gives testers a freedom to choose their own way to test. This helps testers to understand these complex systems more while performing in-depth crawls. The more complex an application is, the more test cases get designed and implemented, which leads to a better coverage of the system.
Myth: Either exploratory testing or scripted testing can be done.

Reality: 100% coverage with scripted testing just isn't possible. Though the implementation of scripted testing requires a lot of prior planning and designing of test scenarios and test cases, exploratory testing cannot be replaced with scripted testing. In exploratory testing, the tester gets a chance to carry out additional tests that were never pre-defined. In the process of exploratory testing, the critical test cases can be dug out to make sure they can be scripted later for better test coverage.
Achieving Success in Exploratory Testing With Test Automation
Many people wonder if exploratory testing can be automated.
While some testing activities can be done by a testbot, it is actually not possible to do a full exploratory test via test automation. Common things that we can automate in the flow of exploratory testing are generating random test data, performing functional test executions, output logging, developing reports, and sharing insights with the development team.
In an agile development model, the process structure is defined in such a way that testing can be done in parallel with development. Once the new build is deployed on a testing environment, testers get the go ahead from the dev team to start testing.
To start exploratory testing, initial plans are developed and testing is continued accordingly. Each edge case, critical case, flaky test case, or other test cases are recorded separately so that they can be retested.
It is very complex and time consuming for the QA team to retest such test cases every time a new build is deployed in a testing environment. Hence, once the exploratory testing of a particular module comes to an end, a new plan is developed to automate such test cases which can have a direct impact on the performance of the production environment. In this way, we can achieve success in exploratory testing with test automation, which further leads to better test coverage by covering all corner cases and uncovering all major defects and serving continuous improvements in quality.
Wrapping Up
Without any doubt, exploratory testing brings out the creativity of a tester and has an extreme effect on improving the product's quality. Investing too much time in exploring and discovering edge case scenarios might affect the regular testing. It is important to maintain a healthy balance between the two. The kind of reporting done in exploratory testing matters a lot. The tester may only find one bug in exploratory testing but the way the reporting is done can change the decisions made by management to enhance the growth of the product.
Topics:
accessibility testing,
usability testing,
exploratory testing,
software testing,
performance
Performance Partner Resources