Exporting Data from RavenDB, the New Way
DZone's Guide to
Exporting Data from RavenDB, the New Way
Join the DZone community and get the full member experience.
Join For Free
RavenDB vs MongoDB: Which is Better? This White Paper compares the two leading NoSQL Document Databases on 9 features to find out which is the best solution for your next project.
In RavenDB 2.5, we provide an easy way to grab all the data from the database, regardless of the usual paging limit.
I had the chance to experiment with that recently during a course. Here is the code we wrote. For fun, we made it use the async API: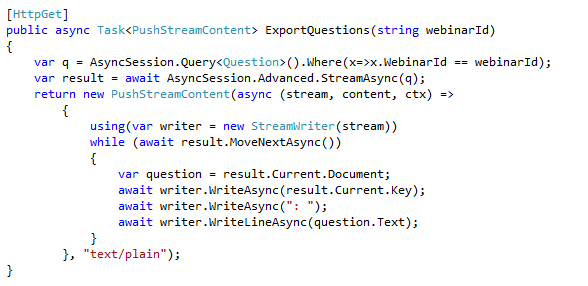 I am pretty happy about that. We have stuff that streams all the way from the ravendb to the end client.
Published at DZone with permission of Oren Eini, CEO RavenDB , DZone MVB. See the original article here.
Opinions expressed by DZone contributors are their own.
Database Partner Resources
Database Partner Resources