Farmobile Shows the True Value of IoT Data
DZone 's Guide to
Farmobile Shows the True Value of IoT Data
In this article, we discuss how an agricultural data company is working with IoT devices and farmers to fairly compensate them for their data.
Join the DZone community and get the full member experience.
Join For Free
When you think of data monetization, you're probably thinking of data generated from cars (the ultimate computer on wheels) or perhaps wearables, and then sold on through a marketplace. But, today's farm is a hotbed of data analytics, taking the lead from laboratories and factories. Data enables farmers to gain critical insights to assist with precision agriculture, including planning, water and fertilizing, yield optimization, etc. But, it also is a product that can be bought and sold and a former commodity trader has created hardware and a market place to sell this data. That company is Farmobile.
I spoke to CEO Jason Tatge to find out more. Jason shared:
"I'm first-generation removed from the farm, and the first one of my family go to college where I got a degree in financial economics. And I always wanted to help my grandfather be better at marketing his grain because he always complained that he didn't get the prices that he thought he deserved for the crops.

The first 20 years of my career were in the trading industry. So corn and soybean and wheat futures and in the physical delivery crop as well as risk management, using the futures market, so I did that for 20 years."
The idea for Farmobile emerged after he sold an earlier company in 2020 to DuPont Pioneer; due to a non-compete, he was looking for a new career. Farmobile's DataStore is the world's first online marketplace for agricultural data, created to fairly compensate farmers for their digital assets. The exchange facilitates transactions between a data buyer and interested farmer-sellers. Those who choose to participate can sell single-use licensed copies of their certified agronomic and machine data for use by the licensing party only after approving the buyer and all transaction details.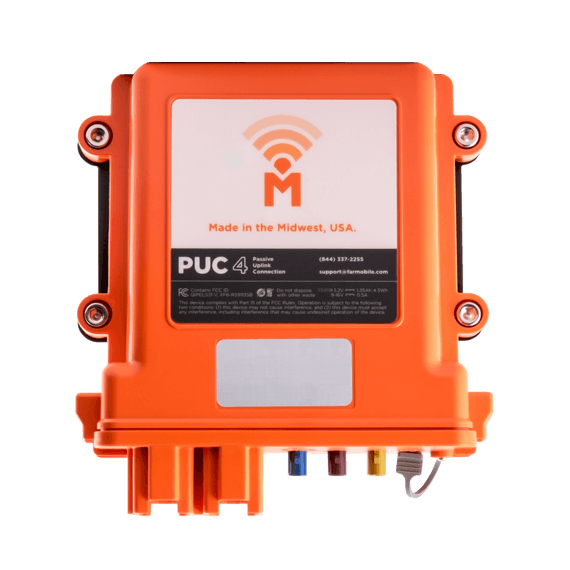 PUC-NoLabel-sfw-TIN
How Is Data Collected?
Farmobile has created a device the PUC (passive uplink connection), a listening device that targets farm machines such as tractors, sprayers and combines so that engine data and agronomic data can be transmitted in real-time to a central data repository.
The PUC sends a full data transmission to the data repository every second over a cellular connection with data stored locally if cellular connectivity is lost. The data is organized into Electronic Field Records that provide farmers with an immediate visual record of field and machine data and can be viewed on any device including via mobile using the Farmobile app.
You may also like: IoT: Device Data and Stream Processing
What Data Is Most Valuable?
The PUC collects layers of data in one-second increments that can be sold collectively or individually to different buyers. This means the data single field can be monetized several times over. Jason notes he thought harvest data was going to be the most sought after data because:
"While we can use satellites to kind of give us an idea if the crops are healthy, we can't really tell from them how much yield is on that particular field. But the most in-demand dataset is actually in planting and harvest data: When you have a planting field record, and then a harvest field record at the end of the year, having that match of what was planted and where it was planted, and matching that up with how much yield came off the field."
It's data that is highly valuable to not only the farmer but also researchers that want to study crop fertility data: " So what fertilizer and seeds were put down? What type of protection was used on that field and what kind of harvest layer was there?"
All data is sold under strict NDAs and is valuable to a broad cohort including agronomists, meteorologists, seed and genetics companies, crop protection manufacturers, equipment manufacturers, and insurers. The data is also used by companies seeking training data sets for weather and image algorithms.
Farmobile farmers own their data outright and opting into the Data Store is always a farmer's choice. The dashboard can have a real-time value beyond data monetization such as the ability to see a farm-hand driving to the wrong field and redirect them before any damage was done and ensuring machines are working properly and efficiently.
Why Create Your Own Solution?
I was interested to learn why Farmobile decided to create their own solution instead of piggybacking on existing technology. Jason explained, "When I first started this business, my co-founders and I assumed that the data was already being collected in this manner and stored at the big companies." However, they found that a lot of the data simply isn't being collected because infrastructure within the cab doesn't exist, or the largest companies haven't seen it as a priority.
Enter the Blockchain
Last week, Farmobile announced a new blockchain technology patent. It ensures that only authorized individuals have access to data they have personally purchased, licensed or uploaded through the Farmobile DataStore exchange. Jason explained that farming is a competitive business where farmers want to protect their recipes to grow crops:
"Farmers are really, really good at figuring out how to grow crops on their land. And if you or I had farms and we were right next door to each other and we switched farms, it would take each of us a couple of years to figure out how to actually farm that dirt, as well as the person before, did it. So they're very resourceful. And so they're saying, 'I want to be able to put a fence around my data, I want to be able to collect and protect, my unique methods for farming this particular piece of dirt. And if someone wants to pay me for a discussion about letting you know what I did, but if you're not going to give me an incentive to do so, that's a different story. And that's where the whole future of data monetization gets really unique in the fact that that, individual field-level data produces an output is something that's just really, really unique."
The adventure of utilizing blockchain technology means that all transactions can be tracked, immutably recorded, and reliably audited. Farmers get to choose who sees their data and who doesn't, and buyers have greater confidence that they're getting accurate information. All of this data is fed into their powerful analytics software in the DataStore, or can be exported for users' own models.
Jason notes,
"I believe the technology we're building is vital for the future of agriculture and a way to put new dollars back into our rural communities. Science-worthy, machine-readable data can impact many stakeholders in the industry. Companies providing services and products to farmers become better informed and more efficient in their ability to improve a farm's bottom line. The Farmobile DataStore exchange is just one more tool that can add value for farmers."
Further Reading
Topics:
agtech, ai, big data, blockchain, data monetization, farming, machine learning, sensor tech
Opinions expressed by DZone contributors are their own.